How to Find Wells Fargo ATMs Near Me
Wondering "Where is a Wells Fargo ATM near me?" Here's how to find one easily — on any device.
Whether you're traveling or roaming the streets of your own hometown, finding the nearest ATM is quick and easy, thanks to the Wells Fargo's user-friendly online tools. Follow these step-by-step instructions to help you locate Wells Fargo ATMs on your smartphone, tablet, laptop or desktop computer. Get cash, check your balance, or deposit money easily when you know how to find your bank's nearest ATMs.
How to Find a Wells Fargo ATM Online
Conducting an online search will put Wells Fargo ATM locations at your fingertips. Here's how to find the nearest ATM online:
From a browser on your desktop, laptop or mobile device, visit the Wells Fargo home page and select "ATMs/Locations."
Under "Find a Wells Fargo location," enter your city and state, ZIP code, specific address or landmark where you want to find a nearby ATM.
Narrow your search by clicking on the options you want to the right of the location box. For example, you can filter out all Wells Fargo ATM locations except for drive-up or 24-hour machines.
If you have a specific issue related to your search, click on the "Locator Help" link below the ATM map. The help page provides tips for improving your search, using the map without a mouse, understanding locator terms and other issues you might have.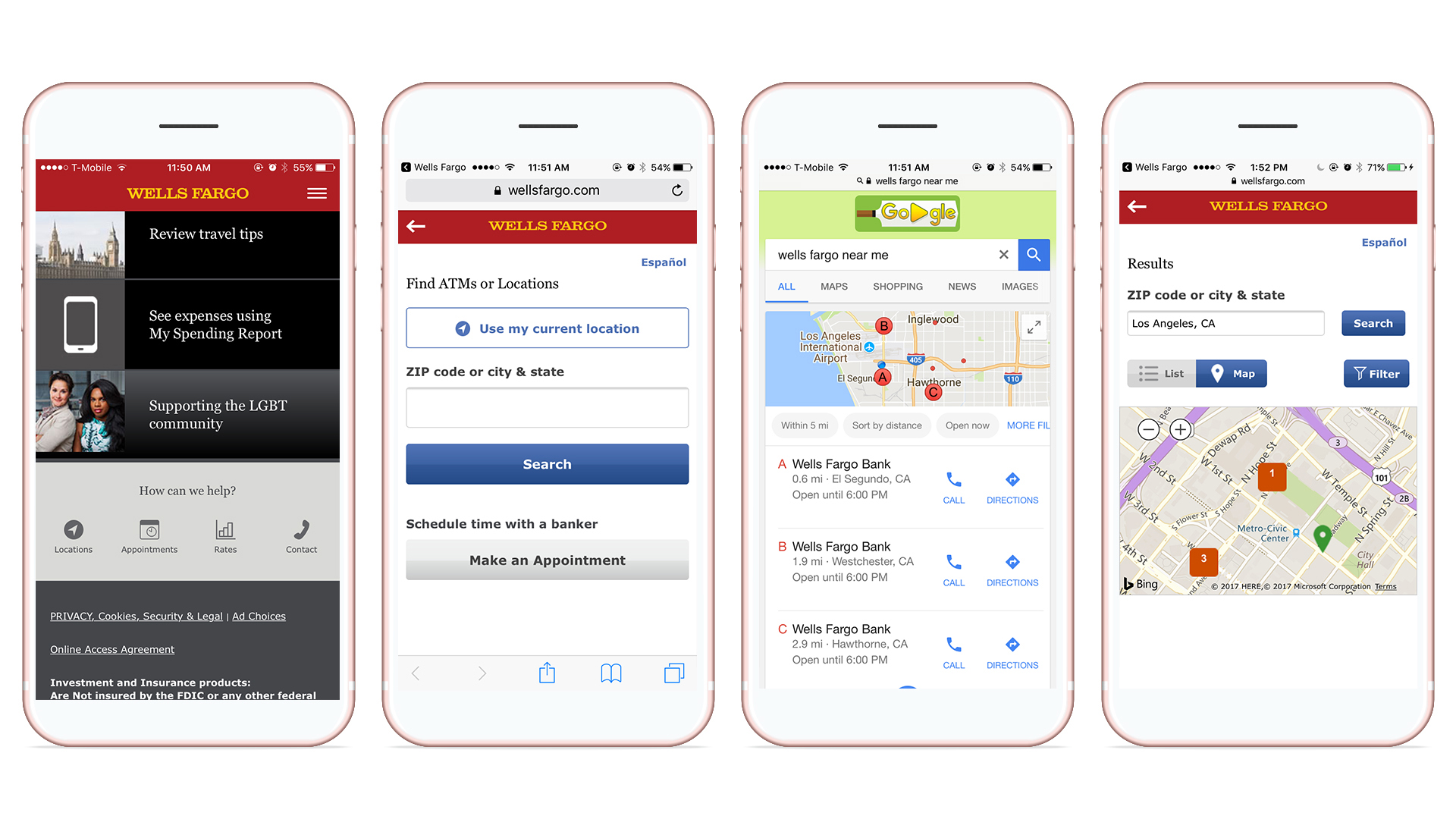 Find Out: ATM Withdrawal Limits at Wells Fargo and 49 Other Banks
Sponsors of
How to Find a Wells Fargo ATM With the App
Finding Wells Fargo locations on the go is easy with their app. You can download it from iTunes for your iPhone or from Google Play for your Android smartphone.
After you download the app, follow these steps to find your nearest Wells Fargo ATM:
Scroll down to the heading "How can we help?" near the bottom of the main app page.
Click on "Locations."
Allow the app to access your location via GPS. Look for "location" or "location services" in your settings menu to adjust the settings if your search results don't match your current location.
If you prefer not to allow access to your location, enter your ZIP code or city and state.
Click on "List" to view the nearest locations, starting with the closest.
Click on "Map" to access the "More Details" and "Directions" options.
Click on the plus sign to expand details such as Wells Fargo ATM and bank services, regular hours and holiday hours.
Click on "Filter" to choose certain locations.
You can also use the Wells Fargo mobile app to withdraw money. Wells Fargo ATMs are now card-free — you use the app to get an eight-digit code, which you enter along with your PIN at the ATM. So, if you forget your ATM card, don't worry — just access your money via the app.
Sponsors of
Read This: Wells Fargo Mobile App Review — Manage Your Money and Rewards Anywhere You Go
Finding a Wells Fargo ATM Is Easy and Convenient
With 13,000 ATM locations, Wells Fargo makes it simple to find one near you. Finding the closest one should be as easy as using the machine itself.
Once you find your nearest Wells Fargo ATM you can use it for a variety of transactions, including withdrawing cash, checking your balance, and depositing checks and cash. If you still have questions about finding a Wells Fargo ATM, call their customer service department at 800-869-3557.
Up Next: Here's Your Wells Fargo Routing Number
More on Wells Fargo
More on Finding Banking Locations 
Sponsors of
Editorial Note: This content is not provided or commissioned by the bank advertiser. Opinions expressed here are author's alone, not those of the bank advertiser, and have not been reviewed, approved or otherwise endorsed by the bank advertiser. This site may be compensated through the bank advertiser Affiliate Program.