Maximize Earnings and Reach Financial Goals Faster with M1 Finance HYSA's Innovative Savings Solution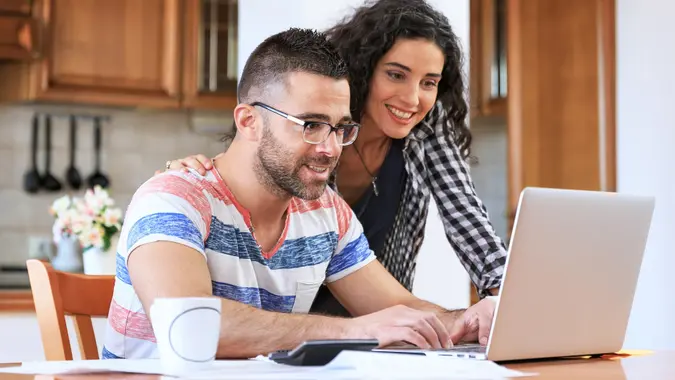 valentinrussanov / iStock.com
In the realm of good problems to have, building up savings of more than $250,000 certainly qualifies. But what's the problem with having more than $250,000 saved up? Simple: At most banks, the standard protection you will get from FDIC insurance is $250,000 per depositor, per insured bank, for each account ownership category. Any amount over that is not protected in the event of a bank failure.
M1 Finance has an innovative solution to the problem. The banking app's high-yield savings account is FDIC-insured up to $5 million — a big step up from the standard FDIC insurance level of $250,000. This means that high-wealth customers can enjoy the same protection as customers with a lot less money to put into savings.
That's not the only perk you get with M1's high-yield savings account, either. The account, which launched in May 2023, offers an annual percentage yield as high as 5.00%, putting it among the best you'll find in the banking industry. The average savings rate in the U.S. was 0.40% as of May 2023, according to the latest FDIC data. However, many banks pay much lower rates for standard savings accounts.
This is an especially good time to take advantage of high APYs because of Federal Reserve interest rate hikes over the past year.
"Most Americans would benefit by switching from their legacy megabank to a modern high-yield savings account due to the high interest rate environment we are in," M1 founder and CEO Brian Barnes said in a press release. "Despite consistent rate hikes from the Fed and continuing high inflation, the nation's big banks haven't meaningfully increased the APY offered through their savings vehicles […] With today's launch, we are doing our part to put the money people deserve straight back into their pockets."
The M1 High-Yield Savings Account also has no minimum deposit requirement and no cap on a user's interest-generating account balance, helping maximize your earnings. In addition, the account lets you set up automatic savings and contribute on a schedule, which makes it easier to push toward your financial goals.
The account was made possible through a partnership between M1 and B2 Bank NA, formerly known as First National Bank of Buhl. Barnes acquired First National Bank of Buhl in July 2021.
M1 describes itself as a "self-directed wealth-building platform" that helps customers maximize their money through automated tools, services and "topflight" interest rates. The company has more than $6 billion in assets under management and helps hundreds of thousands of customers invest for the long run.
Its high-yield savings account is immediately available to all M1 customers, but only those with an active M1 Plus membership will earn the 5.00% APY. Those without a membership will earn a 1.50% APY — still much higher than the average.
More From GOBankingRates