Secure Savings and Grow Your Wealth with M1 Finance HYSA's Impressive 5% APY and $5 Million FDIC Insurance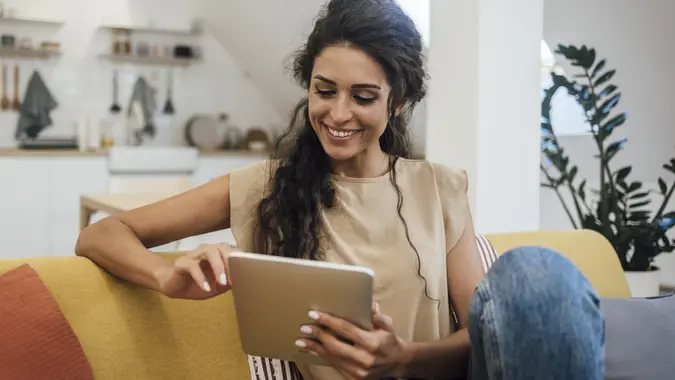 MixMedia / iStock.com
Saving money is the foundation of any successful financial plan, but also one of the hardest to stick to. You have to discipline yourself to set aside savings every month — even when you're hit with unexpected expenses or a sudden drop in income. Ask almost any financial advisor, and they'll tell you that personal savings should be part of your monthly budget, right alongside paying the bills.
The next step is to make sure you get the best return on your savings — and the way to do that is to seek out high-yield savings accounts (HYSAs). One of the best high-yield savings accounts right now is offered by M1 Finance, a finance app that offers automated investing, borrowing and banking products — and topflight savings rates.
HYSAs pay much higher interest rates than what you'll find at most banks. The average savings rate in the U.S. was 0.40% as of May 2023, according to the latest FDIC data. However, many banks pay much lower rates for standard savings accounts.
On May 23, M1 launched its M1 High-Yield Savings Account with an APY as high as 5.00%, putting it among the best you'll find in the banking industry. The account was made possible through a partnership between M1 and B2 Bank NA, formerly known as First National Bank of Buhl. M1 Founder and CEO Brian Barnes acquired First National Bank of Buhl in July 2021.
This is an especially good time to take advantage of high APYs because of Federal Reserve interest rate hikes over the past year.
"Most Americans would benefit by switching from their legacy megabank to a modern high-yield savings account due to the high interest rate environment we are in," Barnes said in the press release. "Despite consistent rate hikes from the Fed and continuing high inflation, the nation's big banks haven't meaningfully increased the APY offered through their savings vehicles […] With today's launch, we are doing our part to put the money people deserve straight back into their pockets."
Keep reading to learn more about M1's products and how they can help you grow your wealth.
High-Yield Savings Account
The M1 High-Yield Savings Account is immediately available to all M1 customers, but only those with an active M1 Plus membership will earn the 5.00% APY. Those without a membership will earn a 1.50% APY — still much higher than the average.
One of the best features of the account is that it's FDIC-insured up to $5 million — a big step up from the standard FDIC insurance level of $250,000. This means that high-wealth customers can enjoy the same protection as customers with a lot less money to put into savings.
This account also has no minimum deposit requirement and no cap on a user's interest-generating account balance.
Checking Account
The M1 Checking account with M1 Plus pays an APY of 3.30%, which the company boasts is 55 times higher than the national average. You can get 1% cash back on eligible purchases made with your M1 Spend Visa debit card.
In addition, the checking account lets you schedule one-time or recurring paper checks from the M1 app. The account also features early direct deposit that lets you get your paycheck up to two days early.
There is no minimum balance requirement with the checking account, no monthly maintenance fee and no ATM transaction fees charged by M1, though the ATM itself might charge you a fee.
Credit Cards
M1's Owner's Reward card lets you earn 2.5%, 5% or 10% cash back on eligible purchases. The tiered rewards program includes grocery stores, travel companies, fuel brands, restaurants, and more. There's no annual fee associated with this card. The annual percentage rate ranges from 19.99% to 29.99% as of June 2, 2023, based on the applicant's creditworthiness.
Other Products
In addition to the standard bank accounts, M1 also offers investment options. These include brokerage accounts, Individual Retirement Accounts (IRAs), trusts and crypto accounts. If you want to borrow money, M1 offers both margin loans and personal loans.
More From GOBankingRates