What Time Does Direct Deposit Hit? Direct Deposit Times at Major Banks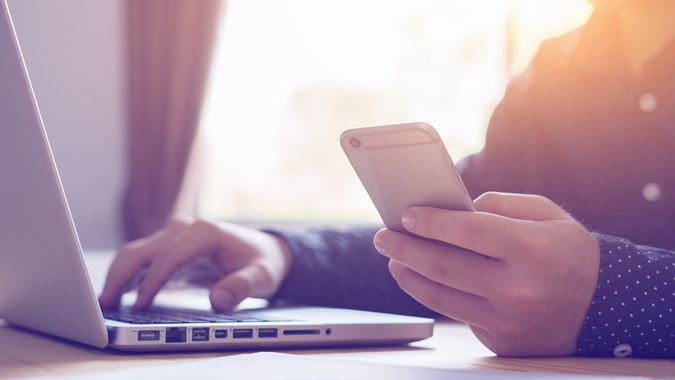 ©Shutterstock.com
Direct deposit was an added perk offered by banks back in the day, but it has become a default option for most users However, the feature's ubiquity doesn't automatically mean that everyone knows about precise direct deposit times.
So it's good to know: what time does direct deposit hit at your bank? Below, we discuss the direct deposit times for major banks in the U.S.
What Is Direct Deposit?
Previously, payees had to go to the bank to cash their paycheck. However, with direct deposit, the payer can now initiate an electronic payment that's readily deposited into the receiver's bank account.
While paper check deposits took anywhere from two to five days for clearance, direct deposit is just as it sounds–direct. The payee does not have to wait for a long time to receive their payment.
To set up direct deposit, you will have to fill out a form given to you by an employer or the government. You'll need to fill in your name, your address, your account number and your bank's name and routing number.
What Time Does Direct Deposit Hit?
Direct deposits are meant to be instantaneous, which means you get paid on the same day as the payer sends the money. However, the time frame for receiving this money depends on who sends the money and from where.
For example, your employer has a system that ensures every employee gets paid as per the payroll schedule. In this case, you can expect the direct deposit to hit at midnight on payday.
With direct deposit, you'll be paid for the month even before walking into work the next day.
Keep In Mind

Meanwhile, direct deposits from the government, such as social security benefits, arrive on the second, third or fourth Wednesday of the month. If Wednesday is a national holiday, the direct deposit will hit the last business day before the holiday.
As for other sources of direct deposit, the amount arrives in your bank account within one business day or the same day. More importantly, direct deposits are not generally held by the bank. Thus, you can use your money as soon as it comes to your account.
Benefits of Direct Deposits
Direct deposits have many benefits, which is why many employers and the government have adopted them. Here are some of the benefits of direct deposit:
Quicker Access: You can get your money much sooner than paper check deposits. Plus, there are no bank holds on the sum, allowing you to use the cash the same day.
Less Travel: Since the transfer is made electronically, you do not have to travel to the bank to get the check cashed. Once the money is transferred to your account, you get the notification.
Heightened Safety: It's easy to lose a paper check, and that can become quite a nuisance, especially if it's your paycheck. On the other hand, direct deposits are safe and insured up to $250,000 by the FDIC.
Automated Savings: Since many banks let you split your direct deposit, you can choose to transfer some amount to a checking account while the rest goes to a savings account. This way, you can increase your savings over time without having to think about it.
Direct Deposit Times for Major Banks
Here's a table showing the direct deposit times for major banks in the U.S.:
| Bank | Direct Deposit Time |
| --- | --- |
| Axos Bank | Up to two days early |
| Bank of America | Same day |
| BB&T | Same day |
| BBVA | Same business day |
| BECU | Same day |
| Capital One | First business day after deposit and also up to two days early with the Early Direct Deposit feature |
| Chase | On the day the deposits are received by the bank |
| Citibank | No later than one business day after the deposit is made |
| Citizens Bank | Same day |
| Fidelity Bank | Same day if made before 5 p.m. Monday to Thursday EST or before 6 p.m. EST on Friday |
| PenFed Credit Union | 6 a.m. EST on the day the deposit is received |
| TD Bank | No later than one business day after the deposit has been received |
| SunTrust Bank | Same day |
| U.S. Bank | Immediately |
| USAA | Up to one day early |
| Wells Fargo | Same business day |
| Woodforest National Bank | Same day if your employer/sender has deposited the money before 8 p.m. CST |
In most cases, you can start using the money on the same day that it's deposited into your account. But sometimes, the fund may only become available after one business day.
Good To Know

If you want to receive your paycheck early, get a checking account in a digital bank since they offer early direct deposits. An example is Axos Bank. The bank lets you access your paycheck up to two days early. Likewise, USAA gives you access to your money up to one day early.
Our in-house research team and on-site financial experts work together to create content that's accurate, impartial, and up to date. We fact-check every single statistic, quote and fact using trusted primary resources to make sure the information we provide is correct. You can learn more about GOBankingRates' processes and standards in our editorial policy.