What Time Does Direct Deposit Hit?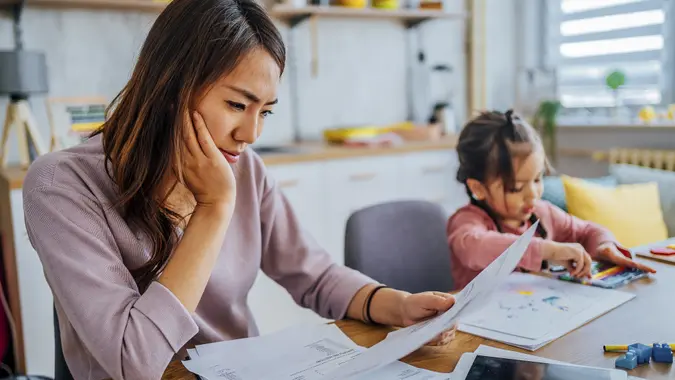 LordHenriVoton / iStock.com
According to a 2022 survey by the American Payroll Association, over 93% of Americans receive their paycheck via direct deposit. Receiving your pay via direct deposit saves you a trip to the bank and provides quick access to funds when needed. However, you may wonder what time your direct deposit will hit your account, especially if you need funds fast.
When Does Direct Deposit Hit?
Direct deposit of a payroll check from your employer will typically arrive right at midnight on payday, but it can sometimes take until around 9 a.m. Although direct deposit takes one to three business days to process, many employers use payroll software to set up a specific date that you'll get paid, which speeds up the pay timeline.
However, the time frame for receiving this money ultimately depends on who sends the money and your bank. And if your deposit hits on a holiday or a weekend, it can delay the funds showing up in your account.
Payroll Direct Deposits
Your employer likely follows a schedule to ensure that direct paycheck deposits will hit your bank account at a set time each payday. However, depending on your bank, it may take a few hours or days for your direct deposit to reflect in your bank account balance. Or you could get your funds earlier than your scheduled payday.
Government Direct Deposits
Direct deposits from the government, such as Social Security benefits, arrive on the second, third, or fourth Wednesday of the month. If Wednesday is a national holiday, the direct deposit will hit the last business day before the holiday.
What Is Direct Deposit?
A direct deposit is simply an electronic funds transfer through the ACH Network. The payer, like your employer, initiates an electronic payment deposited into your bank account rather than issuing a paper check. 
What Is Early Direct Deposit?
Early direct deposit is a feature offered by some banks that offers access to direct deposit funds up to two days before the processing of the transaction. Banks that offer early direct deposit typically have restrictions on the types of direct deposits that qualify.
How Do Direct Deposits Work?
ADP, a payroll company many businesses use to process direct deposits, explains how it works:
Your employer's bank sends a direct deposit request to the ACH Network on a predetermined day.
The ACH Network processes the request and sends it to your financial institution.
Your financial institution credits your account with the amount specified in the direct deposit request.
Your employer's bank debits the amount of your direct deposit from its account.
Benefits of Direct Deposits
Direct deposits have many benefits, which is why many employers and the government have adopted them. Here are some of the benefits of direct deposit:
You get quicker access to your paychecks, which can help you avoid overdrafts.
They're more secure than paper checks that can be stolen or forged.
You can automate saving by directing some or all of your pay to a savings account.
There's no paper check to lose or destroy.
Checks are deposited automatically, saving you a trip to the bank.
They make payment errors easier to identify and correct. Physical checks and cash can be challenging to track.
Risks of Direct Deposits
While direct deposits are faster, safer and more convenient than paper checks, they do have some drawbacks.
Potential data security risks to employees and employers.
They're unavailable to anyone who doesn't have a bank or credit union account, or an account on a payment platform such as Cash App.
Some banks may charge fees to process direct deposits.
How To Set Up Direct Deposits
To set up direct deposit, you must fill out a form provided by an employer or the government. You'll need to fill in your name, address, account number and your bank's name and routing number. Sometimes, you may need to provide a copy of a voided check or a deposit slip and sign a consent form giving your employer permission to switch you to direct deposit. It might take a pay cycle or two before your direct deposit request takes effect.
Can You Direct Deposit Money to Yourself?
Yes. If you own a business, including as a sole proprietor, you can set up a direct deposit to transfer your pay from your business account to your personal account.
Direct Deposit Times for Major Banks
How long it takes for your direct deposit to be accessible depends on factors like the size of the deposit and the bank's transfer and processing times. To give you an idea of how banks may differ in direct deposit times, here's a list of direct deposit times for some major U.S. banks and credit unions.
Axos Bank Direct Deposit Time
Customers who enroll for Axos Bank Direct Deposit Express can access their paychecks up to two days before the regular pay date. If you don't have Axos Direct Deposit Express, you should receive your earnings on payday. 
Bank of America Direct Deposit Time
Bank of America, Member FDIC, offers same-day access to direct deposits. You can set up alerts through their Online Banking Center that send you a text message or email when your money becomes available.
Capital One Direct Deposit Time
Capital One offers an Early Paycheck feature that credits your earnings to your 360 Checking account up to two days before payday. There is no fee for the service, and it's automatically available to people with Capital One checking accounts.
Chase Direct Deposit Time
Chase customers can access their paychecks up to two business days before their payday with a Chase Secure Checking account. 
Chime® Direct Deposit1 Time
People with a Chime* checking account can receive their direct deposits up to two days early. You can set up push and email notifications if you'd like to know once your money is available.
Citizens Bank Direct Deposit Time
Citizens Bank credits direct deposits up to two days early to clients who enroll in direct deposit and have a checking, savings or money market account. 
Pentagon Federal Credit Union Direct Deposit Time
Direct deposits made to a Pentagon Federal Credit Union account are available up to two days before your payday.
TD Bank Direct Deposit Time
TD Bank offers same-day direct deposits, except on Saturdays, Sundays or federal holidays. A direct deposit received on a weekend or holiday is available on the next business day. 
Truist Direct Deposit Time
With a Truist checking account, your direct deposit is available the following business day after evening processing.
USAA Direct Deposit Time
USAA allows you to access your funds up to two business days before your pay date, depending on when your employer sends the payment details.
Wells Fargo Direct Deposit Time
Wells Fargo's Early Pay Day feature gives you access to your paycheck up to two days before payday. Early Pay Day is free to people with direct deposits and doesn't require a separate enrollment.
Final Take
Whether your bank account shows your direct deposit at midnight or a few hours later, it's the quickest way to access your funds. After all, if you decide to get paid using a paper check, you may have to wait several business days for your check to clear before you gain access to the money. If your employer offers direct deposit, now's the time to sign up.
Explore More on Direct Deposit
Virginia Anderson, Andrea Norris and Daria Uhlig contributed to the reporting for this article.
*Chime is a financial technology company, not a bank. Banking services provided by, and debit card issued by, The Bancorp Bank, N.A. or Stride Bank, N.A., Members FDIC
1The retailer that receives your cash will be responsible for transferring the funds for deposit into your Chime Checking Account. Cash deposit fees may apply if using a retailer other than Walgreens.
Data is accurate as of Sept. 11, 2023, and is subject to change.
Our in-house research team and on-site financial experts work together to create content that's accurate, impartial, and up to date. We fact-check every single statistic, quote and fact using trusted primary resources to make sure the information we provide is correct. You can learn more about GOBankingRates' processes and standards in our editorial policy.