Checkbook Risks: Why You Shouldn't Write Checks Anymore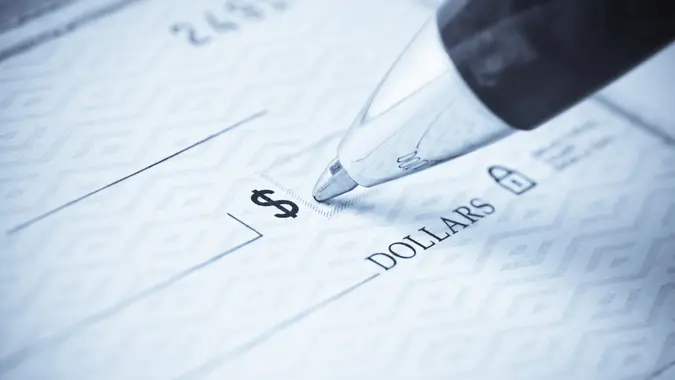 fluxfoto / Getty Images
When was the last time you wrote a check?
In a new survey from GOBankingRates polling 1,000 Americans, 44.5% of respondents revealed they have not written a physical check in the past year. While this percentage may seem quite high, many are still using their checkbooks on an active basis. For instance, 15% said they write a few checks a month and 22% write a check once a month.
In an increasingly digital world where we rely on automatic payments, we may wonder if writing checks will become obsolete. For those who still need them, though, checks are a vital part of their financial lives.
Still, writing checks comes with a number of issues that suggest doing away with the process could be a good thing. Consider some of these risks associated with check-writing — courtesy of Todd Christensen, education manager at Debt Reduction Services.
Checks Can Reveal Too Much Information
For the most part, people who write a physical check and give it to a recipient — like a contractor or their landlord — are trusting this individual with the payment amount and personal information printed on the check. What many often do not consider is how much confidential information is also on there.
"Every check they've ever written has their checking account number and their financial institution's routing number out in the open for anyone to see," said Christensen.
Upgrade Your Checking Account
In the wrong hands, or in situations where the check is not cashed quickly enough, this could lead to identity theft.
Checks Can Get Lost
A mailed check doesn't always arrive at its destination. Christensen said checks can get lost in the mail or even in the merchant's mailroom.
In a world where most individuals rely on receiving their mail or packages in a timely manner, this growing risk could persuade those who write physical checks to transition to a digital form of payment.
Stopping a Check Is Difficult
Previously, if a consumer got cold feet after a transaction they had the ability to stop a check. 
Christensen said the passing of the Check 21 Act in 2004 has since changed this. "Checks used to take three to five business days to clear in a consumer's bank account. The check you write at the cashier can now clear in your account instantaneously."
Do Physical Checks Still Matter?
There are still benefits to using physical checks. Christensen said studies have shown that using plastic — like credit, debit and prepaid cards — increases impulse spending and encourages bad spending habits. Using cash and checks, however, can better help consumers live within their budgets.
"Writing out the amount of a purchase forces the consumer to accept that money is being transferred from the limited amount of funds in their checking account," said Christensen.
Upgrade Your Checking Account
But these budgetary reasons, along with the novelty of choosing personalized checks, may not be enough to avoid the impending end of physical checks. This is especially true of younger generations, like Gen Z and Gen Alpha as the latter starts to grow up.
"With an ever-growing list of options to make and accept payments which are both more convenient and safer than writing a check, I expect the vast majority of current teenagers will never write a check in their lives," said Christensen.
More From GOBankingRates