What Is a Certified Check and How Do You Get One?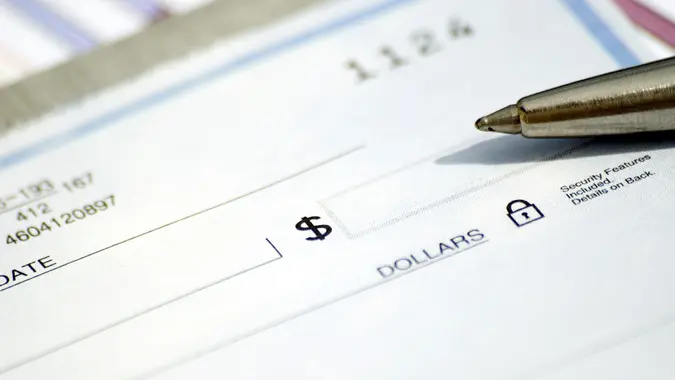 DawKon / Shutterstock.com
A certified check is a type of personal check that is guaranteed by prepaid funds set aside by the issuing bank. By certifying the check, the bank verifies that the account it's written from has enough money to cover the cost of the check and prevents that money from being used for any other purpose.
Before choosing to use certified checks, find out about their features, pros and cons, and how they compare with other forms of payment.
Why Should You Use a Certified Check?
A certified check, also known as an official check, can be used when the person you're paying requires a form of guaranteed payment.
Here are some examples of transactions that might require a certified check:
Mortgage closing fees
Security deposits for rental property
Car purchases
Purchases of items that cost more than $1,000
Purchases from buyers you don't know well
Certified Check vs. Cashier's Check
One alternative to a certified check is a cashier's check. Both types of checks are official checks guaranteed by the bank, but there are a few key differences between them.
Earn Perks With A New Checking Account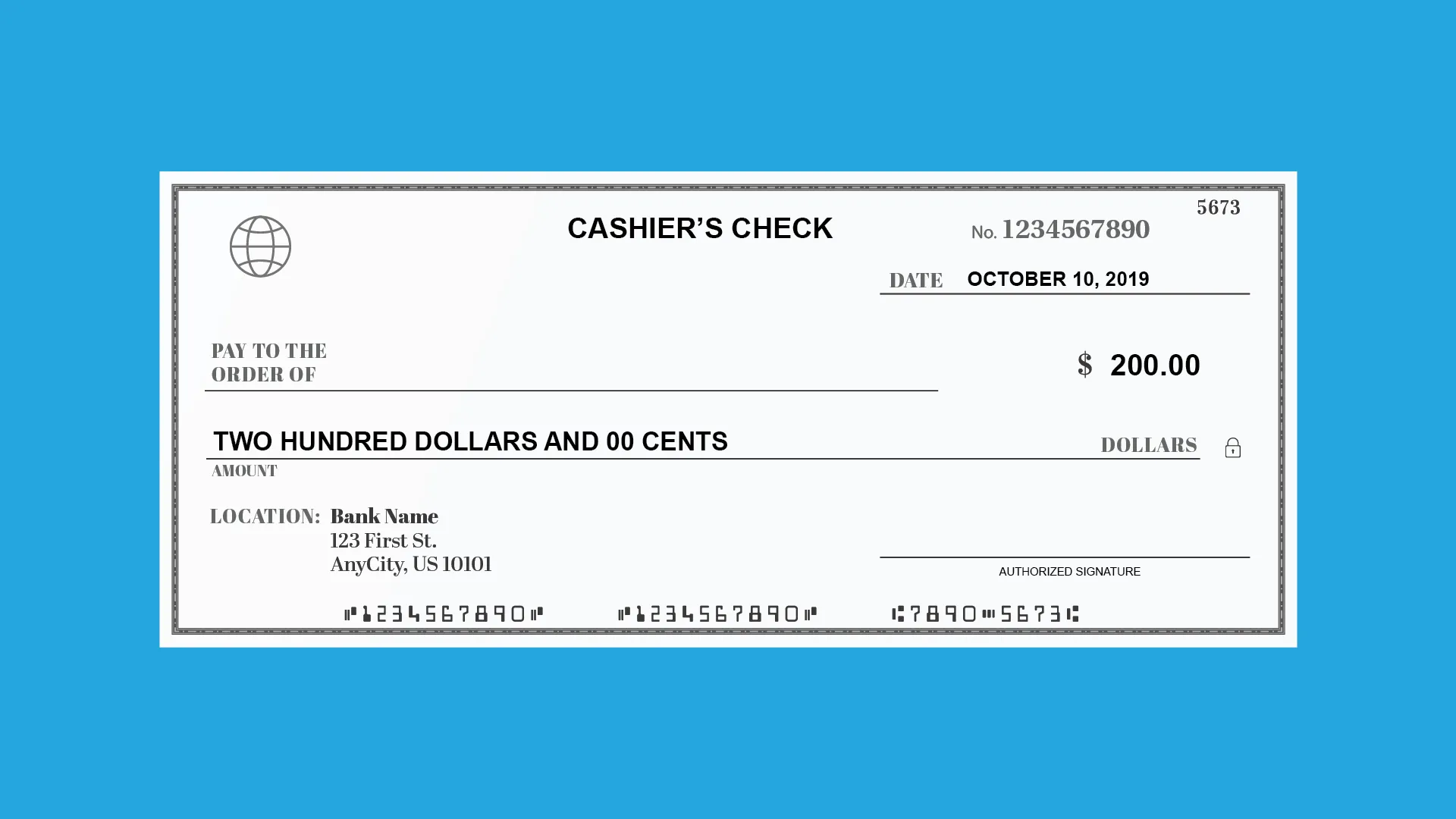 Who Funds the Check
Certified checks are paid directly out of the customer's account, but cashier's checks are paid from the bank's account after it withdraws the cash from the customer's account.
When Funds Are Available
The funds from certified checks and cashier's checks are usually available the next business day after the deposit is made.
How Much They Cost
The fee for a certified check is often lower than that of a cashier's check. Fees for cashier's checks can vary from bank to bank, but be prepared to pay between $10 and $20 for the service.
How To Order
In most cases, you have to visit a bank branch to get a certified check or cashier's check, but some banks let customers order cashier's checks online or over the phone.
For example, USAA customers can order a cashier's check online for amounts of up to $2,500. The check arrives within 10 days of the order.
Another Alternative to Certified Checks
Money orders are another convenient alternative to certified checks. You can purchase them in post offices, as well as grocery stores and check-cashing stores that are open past regular banking hours.
Earn Perks With A New Checking Account
Money orders also cost less than certified checks, but they are usually capped at $1,000.
How Do You Get a Certified Check?
You can purchase a certified check from your bank or credit union. Not all banks offer certified checks, so call ahead to make sure it's an option.
Here's what to do if your bank offers certified checks:
How To Get a Certified Check Step-by-Step

Prepare the cash needed to fund the check. Make sure you have enough money in your checking account to cover it.
Collect the information needed for the check. Your bank can give you specific instructions for getting a certified check. You'll need:

Your account number
The recipient's name
Funds to cover the amount of the check and the fee
A form of ID, such as a driver's license or passport

Write the check. The bank may require you to write a personal check in front of a teller before certifying it.
Present the check to a teller. The teller will then verify the funds and mark the check as certified.
Keep the receipt for your records. Retain it until the check clears your account. If the check is lost or stolen, you have a record of the transaction.
How To Protect Against Certified Check Fraud
Any time you receive a certified check for payment, you should inspect it for signs of fraud and verify it with the issuing bank. Although the presence of one red flag doesn't necessarily mean a check is fraudulent, the more signs you see, the more likely you've received a bad check.
Earn Perks With A New Checking Account
Here are some indications that a certified check is bad:
Signs of a Fraudulent Check

The check is missing security features like watermarks, security threads and color-changing ink.
It's missing the payer's or the bank's address.
The payer's or bank's name is misspelled.
The check is written for more than the required amount of money.
The routing number for the bank is incorrect. You can look up routing numbers for banks online.
If you think you've received a fake check, do not deposit it into your account. Call the issuing bank. Look up the phone number on the bank's official website instead of using the number printed on the check. A scammer will likely print a false number on a fraudulent check. Ask the bank representative to verify the check.
If you're the victim of a certified check scam, take the following actions:
Contact your bank and the bank that supposedly issued the check.
Report the situation to the Federal Trade Commission, the U.S. Postal Inspection Service and your state's attorney general.
You Can Be Held Responsible for a Fraudulent Check
Unfortunately, one of the most common certified check scams involves the scammer giving an unsuspecting seller a fraudulent certified check that's for more than the purchase price of the item the seller is selling. The scammer asks the seller to deposit or cash the check and send him or her the difference by personal check, cash, wire transfer, ACH transfer or a peer-to-peer payment.
If these transactions take place quickly enough, the bank won't likely discover the check is fraudulent in time because it will need to attempt to process and clear the check first. By then, you'll be on the hook for paying the funds back to the bank for the fraudulent check — and the scammer will be long gone with the money.
How Much Does a Certified Check Cost?
Each bank sets its own fees for certified checks. Some banks, such as Citi, include complimentary official checks as a perk for certain accounts. Here are the current fees charged by select banks:
Citi: $10
Discover: $0
SunTrust: $8-$15
TD Bank: $8
Since certified checks are paid out of your own bank account, make sure you have enough to cover the check's amount. If not, make a deposit or transfer over funds before writing the check. You won't have access to this money after the bank certifies the check.
Benefits of Using a Certified Check
Certified checks offer benefits for buyers and sellers. Carrying large sums of cash can be impractical and risky. Accepting personal checks as payment can be problematic because the receiver doesn't know for sure whether the check will clear.
Certified checks are convenient, secure and as good as cash. Before issuing a certified check, the bank verifies that the funds are available and reserves them until the check is cashed. These checks are usually good for 60 to 90 days; however, check expiration dates can vary.
Drawbacks of Using a Certified Check
Certified checks do have a couple of drawbacks. In general, banks are not legally allowed to stop payment on certified checks, which means that if you want to stop the transaction after you've paid someone with a certified check, you likely won't be able to do so. Additionally, you may have to pay a fee for a certified check, and some banks do not issue certified checks, so you will have to use an alternative form of payment.
How Long Does It Take a Certified Check To Clear?
The Federal Reserve's Regulation CC explains when banks must make deposits available to customers. Funds from certified checks generally must be available on the first business day after the deposit is made, excluding federal holidays.
If the deposit is made at a bank-owned ATM, the funds are available by the second business day after the deposit. Recipients may have to wait up to five business days to receive the funds if they make the deposit at a nonproprietary ATM.
Certified Check Takeaways
Even though there is the possibility of fraud, a legitimate certified check is a useful and safe form of payment because the bank the check is drawn upon has verified that the funds are available and earmarks them for that payment only. To safeguard yourself against fraud, always inspect the check first before accepting it. Also, be wary of accepting a check that's made out for more than the amount you're asking for because it's a key sign of fraud.
This article has been updated with additional reporting since its original publication.
Our in-house research team and on-site financial experts work together to create content that's accurate, impartial, and up to date. We fact-check every single statistic, quote and fact using trusted primary resources to make sure the information we provide is correct. You can learn more about GOBankingRates' processes and standards in our editorial policy.
Earn Perks With A New Checking Account