What Is a Checking Account and How Does It Work?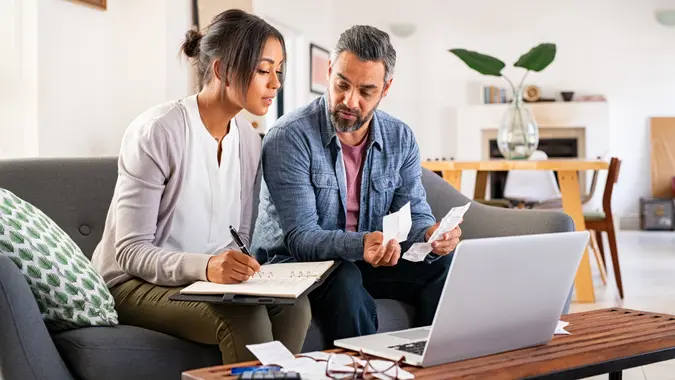 Ridofranz / Getty Images/iStockphoto
A checking account is a way to keep your money safe and accessible for short-term spending needs. A bank maintains the account, allowing you to deposit money and then withdraw it to pay bills, buy groceries or meet some other financial need.
Debit Cards and Withdrawals
When you open a checking account, the bank will issue a debit card linked to the account. You use the debit card much like a credit card, but there's no interest charged on purchases. Debit cards have largely replaced paper checks for retail transactions.
There is no limit on the number of withdrawals you can make from a checking account, but each bank sets a daily dollar limit on ATM withdrawals, typically ranging from $300 to $5,000.
There are several other ways to access the money in a checking account:
Making out a paper check to the person or company you're paying
Transferring online from the checking account to another account
Cashing one of your checks at the bank or elsewhere
Watch for Fees
Banks provide checking accounts free of charge. For big accounts, the bank may even pay interest on the money you deposit. But they also will charge a hefty overdraft fee — usually around $30 — in the event you overdraw your account.
Writing a check for more than you have in the account is risky. In the past, it took several days for banks to process checks. Now, checks can be converted by payees to electronic files and sent to your bank for payment on the same day you write them.
The solution is overdraft protection. The bank will draw funds from another checking account to cover the charge or make a short-term loan. There still may be a courtesy fee charged for this service.
Online Banking
Many checking account functions are now automated or done online. If you receive a regular paycheck, your employer may be able to direct deposit the funds automatically into your checking account. This saves you a trip to the bank (deposits can also be made at some of the bank's ATMs).
You also can set up automatic bill payments for utilities, car payments or anything that's supposed to be paid every month. If a bill needs to be paid soon and you don't trust the mail, you also may be able to phone the payee and have them draw the money out of a checking account.
You'll have to give your account number and a routing number — the bank's unique identifier. Always be cautious and keep these numbers safe. Don't give them to any company you don't completely trust, and don't write these numbers down or keep them on your phone.
How to Open a Checking Account
You can open a checking account by visiting a bank branch and asking for an application. You will need a valid ID and your Social Security number. The bank will run a check on any past issues you may have had with other bank accounts.
It also may be possible to open an account online. The bank can send you personalized paper checks in the mail. Monthly account statements also will arrive this way, but many banks make these available online through your account portal. Your balance, transactions and any fees charged will also show up online.
Advice

Whether it's physical or digital, your new bank may offer promotions to open an account. Browse through some online comparisons that show your local banks' terms, promotions and benefits. This is the easiest way to discover the banking partner that works for you.
Types of Checking Accounts
There are a few different kinds of checking accounts to consider, based on your personal needs.
Joint Checking Account
In addition to individual accounts, banks offer joint accounts, a useful alternative for married couples or partners. Joint accounts also are used by custodians, meaning a parent and minor child both have control of the money.
Anyone helping out disabled or elderly parents with their finances, for example, also can set up a joint account.
Student Checking Account
Some banks offer student checking accounts for those just starting their lifetime financial journeys. The accounts may be offered by institutions that also extend student loans or by credit unions set up on or near campus. Low fees and low account minimums are attractive for anyone on a tight budget.
Online-Only Checking Account
Online accounts are now available from new-style digital banks such as Ally and Synchrony. But, with bank accounts, it's smart to consider the convenience factor. Online means no physical branches for face-to-face service and a possible fee when you use an ATM. On the bright side, digital banks may offer higher interest rates and a no-fee policy.
This article was republished on April 26, 2022. Information is accurate as of March 10, 2022.