What Is the PNC Cashier's Check Fee?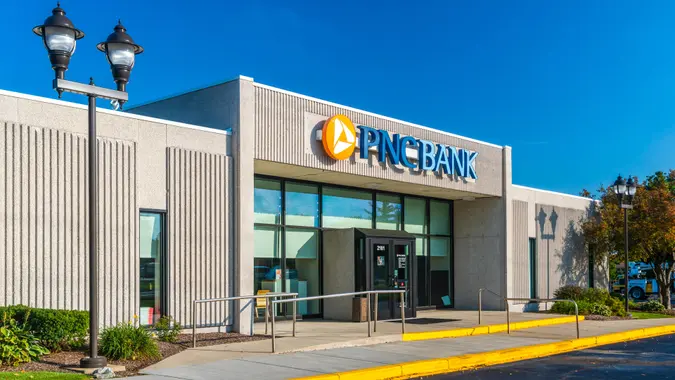 RiverNorthPhotography / Getty Images
PNC's cashier's check fee is $10 per check, but there's more to know about cashier's checks than just the fee. Understanding exactly what a cashier's check is, how to get one and when to use it is just as important.
This guide will dive deeper into these topics and show how PNC cashier's check fees compare to other banks.
What Is a Cashier's Check?
A cashier's check as a secure payment backed by a bank. It's purchased at a financial institution like PNC, where a bank teller makes the check out to a third party. The check is drawn against the bank's own funds, so it's unlikely to bounce.
Banking customers typically use cashier's checks for large or important fees requiring guaranteed payment, such as apartment lease deposits.
How To Get a PNC Cashier's Check
To get a PNC cashier's check, you'll need a checking or savings account from which to pull funds. If necessary, you can open a new account with sufficient funds to cover the check. In either case, you must have the full amount available in your bank account.
How To Get a Cashier's Check explains what else you'll need to get your check:
Personal ID like a driver's license or a passport
Account number or ATM card
The check recipient's information, including their bank account and routing numbers
$10 for PNC's cashier's check fee.
Earn Perks With A New Checking Account
How PNC Cashier's Check Fees Compare With Other Banks' Fees
It's smart to compare PNC cashier's check fees with fees from other financial institutions to see if there's a better deal for you. That said, GOBankingRates has listed cashier's check fees among banking fees you should never pay. The table below shows the comparison and how to get the fee waived. Although PNC's $10 cashier's check fee is one of the highest, PNC offers four different accounts that waive it.
| Financial Institution | Cashier's Check Fee | Options To Waive Fee |
| --- | --- | --- |
| PNC | $10 | No fee for Performance and Select checking, Virtual Wallet Performance® and Performance Select® accounts |
| Bank of America | $15 | No fee Preferred Rewards customers |
| Chase Bank | $10 | No fee for Premier Plus and Sapphire checking accounts |
| Wells Fargo | $10 | No fee for Preferred checking account |
| Capital One | $10 in branch, $20 online | Can't escape it |
| Ally Bank | $0 | N/A |
| U.S. Bank | $10 | No fee for military |
| Navy Federal Credit Union | Two free cashier's checks per day, then $5 each | Avoid going over two cashier's checks per day |
Earn Perks With A New Checking Account
How To Avoid Cashier's Check Scams and Fraud
Complaints of check fraud — including cashier's check fraud — have been increasing.
Here are common examples of fraudulent check scams to watch out for:
Check overpayment fraud: This usually happens with an online purchase, when the customer sends a cashier's check for more money than is requested and asks the seller to perform a specific action with the extra money. For example, you're selling an item for $800 and the customer wants to send you a cashier's check for $1,500, with the extra $700 to go to the movers who are going to pick up that item.
Foreign lottery scam: This is essentially the same scam as check overpayment fraud, only in this case, you receive a check in the mail for alleged foreign lottery winnings plus extra money for taxes and wiring fees. The issuer requests that when you cash this check, you immediately send them the extra tax and wire-fee money.
Secret shopper scam: In this scam, you sign up to be a secret shopper and are asked to evaluate a money transfer service. The company sends you a cashier's check that you cash against your own account before using the service to transfer the funds to the phony secret shopping service.
Although a bank usually makes part of the funds from a cashier's check available right away, it takes time for the bank to verify the funds and clear the check. Scammers take advantage of this lag, so by the time the bank finds out the check is a fraud, the victim is out of the overpayment or any amount they've drawn against the bad check. GOBankingRates' Complete Guide To Cashier's Checks advises that you never pay for a prize, accept a payment for more than the purchase price or wire money to strangers. In the event that you do need to be paid by cashier's check, ask that it be issued by a local bank.
Earn Perks With A New Checking Account
Other Ways To Make Payments
You can use other methods of payment as alternatives to a cashier's check. Some methods have similar benefits, but they differ from cashier's checks in important ways.
Personal Checks: Whereas a cashier's check is written against the bank's funds, a personal check is written against the funds in your checking account. You don't have to go to the bank to get personal checks — you get a starter supply when you open your account and order more when they run out. Unlike cashier's checks, personal checks contain sensitive information like your account number and address. However, you can stop payment on a personal check if you suspect fraud, this is not so with a cashier's check.
Certified Checks: A certified check is like a personal check, but its certification by a bank officer guarantees payment. While a cashier's check is drawn from the bank's funds, a certified check is drawn from your own funds, so it's slightly less certain to clear.
Money Order: Money orders function somewhat like cashier's checks in that payment is guaranteed because you purchase the money order by paying the face value plus any service fee upfront. They're more widely available — you can purchase money orders for very low cost at the post office and grocery stores, gas stations and other retail establishments — but they're typically limited to $500 each, and there might be a limit on how many you may purchase.
Wire Transfers: A wire transfer is the digital transfer of money between banks. The process is highly secure because no checks are needed, but many banks charge high fees for this service.
Final Take
PNC's $10 cashier's check fee seems pretty steep at first glance, but you can avoid it by upgrading your account to one offering free cashier's checks. Either way, cashier's checks have clear advantages over other forms of payment, as long as you're careful to avoid being scammed. They're more secure than personal checks, and there's no ceiling on the amount you can get one for like there is with money orders. And because they're drawn against the bank's account, they're a preferred payment method for important expenses and purchases over $5,000.
Rates and fees are subject to change.
Editorial Note: This content is not provided by any entity covered in this article. Any opinions, analyses, reviews, ratings or recommendations expressed in this article are those of the author alone and have not been reviewed, approved or otherwise endorsed by any entity named in this article.
Information is accurate as of Oct. 13, 2022.
Earn Perks With A New Checking Account