PNC Savings Account Interest Rates for May 2023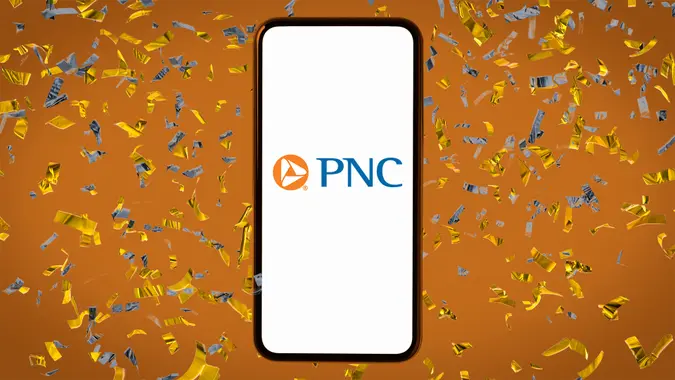 Depending on where you lived, your banking opportunities used to be limited to what you saw in your hometown. Now, not only can you bank locally but you can also explore so much more by opening accounts online. When considering online banks, PNC is one to know. PNC Bank's Virtual Wallet® was named a GOBankingRates Best Savings Account for 2023. Here's a look at the rates they offer.
PNC Savings Account Interest Rates
PNC savings account interest rates will vary depending on which savings account you have. They also vary if you have your savings account linked to a checking account. For example, if you just have the Standard Savings account you earn APY, however, if you link that with a PNC checking account you could earn up to APY.
PNC Savings Account Rates Breakdown
| Account | APY |
| --- | --- |
| Standard Savings | |
| High Yield Savings℠ | |
PNC Relationship Rates
When you link your Standard Savings account to one of PNC's checking account options, you can unlock Relationship Rates. Not only will your linked accounts offer you added convenience but you will also qualify for a higher APY. PNC Relationship Rates go up to if you maintain a balance of $2,500 or more.
Maximize Your Savings Potential
PNC Savings Account Overview
PNC Bank offers two different savings accounts — the Standard Savings account and the High Yield Savings account. Here is a closer look at both. 
Standard Savings: This account earns APY. It has no minimum deposit requirement and the minimum balance requirement to earn interest is just $1.00.
High Yield Savings: This account earns APY and has no minimum balance requirement or monthly service charges.
Is the PNC Savings Account Right for You?
A PNC Standard Savings account is best for those who already do their banking with PNC. Linking your accounts to qualify for Relationship Rates is definitely worth considering as it earns you a higher level of APY.
PNC Bank Savings Rates Pros and Cons
Here are some pros and cons to consider before you open a savings account at PNC Bank.
Pros
No minimum deposits
No monthly service fees if you average at least a $300 monthly minimum balance, are under 18, link your savings account to a PNC checking account or have set up a monthly savings transfer
Cons
Standard Savings has low APY
$5 monthly service fee
PNC Bank: Other Savings Options
If you want to grow your money in alternative ways, PNC offers CD accounts and money market accounts.
Maximize Your Savings Potential
CD Accounts
PNC offers CDs in a variety of term lengths, from one month to 10 years. For all their CD accounts, they offer three APY tiers, depending on your balance. The highest APY offered is on balances of $25,000 or more.
Not only does PNC offer fixed-rate CDs, but they also have several promotional CDs from which to choose. Terms range from four months to 61 months. The APY is applied to any balance over the minimum deposit of $1.00 and will range from to , depending on how much you deposit into the account.
Money Market Account
You can also add the Premiere Money Market account to your Virtual Wallet. If you have a checking account with PNC, you could link them together and after meeting some transactional requirements, you may be able to qualify for Relationship Rates. This would get you a higher interest rate. Your APY tier will also depend on your balance and the type of checking account you have.
Final Take To GO 
PNC Bank wants to be your banking hub for all of your banking needs including checking, savings, CDs and money market accounts. There is even an incentive to link some of these accounts to get better APYs through Relationship Rates.
Maximize Your Savings Potential
FAQ
Here are answers to frequently asked questions about PNC savings account interest rates.
Is PNC a good bank for savings?

Yes, PNC is FDIC-insured and offers two savings accounts -- the Standard Savings account and the High Yield Savings account which has an APY of

4.50%

.

Which bank gives 7% interest on a savings account?

PNC Bank does offer various savings account rates, however, no PNC Bank accounts offer 7% interest. 7% interest is not an option that can be found at any credit union, traditional or online bank in the U.S. To get a 7% interest rate on a bank account you would have to consider moving your bank accounts outside of the United States.

Which bank has the highest interest rate on savings accounts?
Rates are subject to change; unless otherwise noted, rates are updated periodically. All other information on accounts is accurate as of May 5, 2023.
Editorial Note: This content is not provided by any entity covered in this article. Any opinions, analyses, reviews, ratings or recommendations expressed in this article are those of the author alone and have not been reviewed, approved or otherwise endorsed by any entity named in this article.
Maximize Your Savings Potential