What Is the USAA Bank Cashier's Check Fee?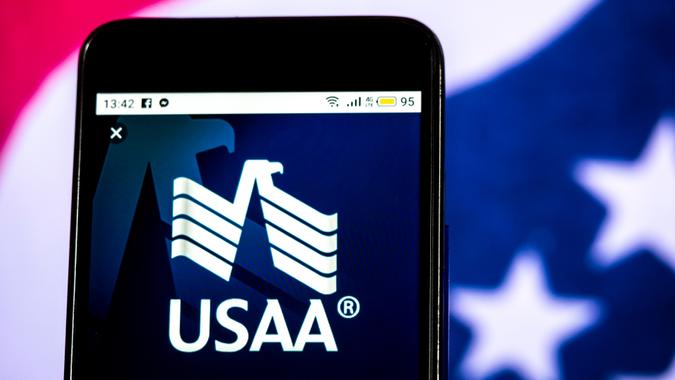 Igor Golovniov / Shutterstock.com
USAA Bank calls its cashier's check product either a teller check or an official check. Don't let the two names throw you off — both products are the same. However, for the purpose of comparing USAA Bank's product with other financial institutions, official checks will be referred to as cashier's checks in this article.
You can purchase a cashier's check at USAA Bank for a fee of $10 per check, but every USAA member is entitled to one free cashier's check per calendar year. However, cashier's check fees are only one important piece of information. Fraud, rate comparisons and the steps to purchasing a cashier's check are all equally important things to consider when obtaining a cashier's check at USAA Bank.
What Is a Cashier's Check?
A cashier's check is a form of payment that is usually purchased at a financial institution (a credit union or bank such as USAA Bank) and written by a bank teller to a third party (such as your landlord). The cashier's check is funded by the bank, which means it is not funded from your personal banking account. Because you must purchase this product for its full amount, these checks guarantee payment and they greatly reduce any risk of scammers obtaining access to your account's sensitive information.
Earn Perks With A New Checking Account
Cashier's checks are mostly used for large purchases like when you need to make a down payment on an apartment.
When cashing a cashier's check, banks and credit unions, check-cashing stores and Walmart are all viable options.
How To Get a USAA Bank Cashier's Check
Any financial institution (credit union or a bank such as USAA Bank) can issue a cashier's check, but it is normally required that you have a bank account (either checking account or savings account) with the institution. USAA Bank's Official/Teller Check Request form has a section that requires an account number to debit, which means you must have an account with USAA Bank to obtain a cashier's check. As with any financial institution, you must have the full amount being paid with the cashier's check available upon purchase, otherwise, it cannot be written.
Here are the four necessary steps to obtaining a cashier's check at a financial institution such as USAA Bank:
Have a Personal ID on hand, such as a driver's license or a passport and account number or debit card.
Ensure your account has sufficient funds. Use savings or money in your checking account. You can also open a new account with sufficient funds.
Have the check's recipient information so the bank teller can write out the check.
Have the funds to pay for the cashier's check fee, which is $10 at USAA Bank.
Earn Perks With A New Checking Account
How Do USAA Bank's Cashier's Check Fees Compare With Other Bank's Fees
If you're considering becoming a USAA Bank customer, you may want to compare its cashier's check costs and fees with other financial institutions to see what is the best option for you.
The table below compares its fees and the ways to waive them.
Financial Institution's Cashier's Check Fees and Options to Waive It
Financial Institution
Cashier's Check Fee
Options To Waive Fee
USAA Bank
$10
One free check per member per calendar year
US Bank
$10
No fee for Military
Bank of America
$15
Preferred Rewards membership
Chase Bank
$8
Premier Plus and Sapphire Checking customers
Wells Fargo
$10

Preferred Checking account

Capital One
$10
No options available
Ally Bank
$0
N/A
Citizen's Bank
$10
Citizens Bank customers who have Circle Gold, Platinum, Platinum Plus, Premier Advisory and Private Wealth Management accounts
Navy Federal Credit Union
2 free per day; $5 per additional
Don't go over 2 cashier's checks per day
While USAA Bank's $10 each cashier's check fee is one of the highest-priced, members are offered one free check per calendar year. One free cashier's check might be enough if you don't foresee making any large purchases within the next calendar year. However, as we have noted before, cashier's check fees are banking fees that you should never have to pay.
Earn Perks With A New Checking Account
Learn: How to Verify a Cashier's Check
How To Avoid Cashier's Check Scams and Fraud
According to a report by the Better Business Bureau, complaints of check fraud (which include cashier's checks) more than doubled between 2014 and 2017. 
The following scams all strike during the gap of time between when you depositing the fraudulent check that was sent to you by a scammer and when it's verified by the bank. Cashier's checks go through a clearinghouse, usually run by the Federal Reserve Board, which can take up to two weeks to verify the money. During that time, the scammer will request that you send them a portion or all the funds back to them from your account, and back up the request with a detailed and sometimes personal reason. Before you or the bank realizes these checks are fake, you have already sent the scammer their requested funds and now owe the bank money to cover the fake check. Plus you're out the money you wired the scammers.
Here are the key cashier's check scams to avoid:
Foreign lottery
Overpayment for an online purchase
Unsolicited check fraud
You should treat this form of payment with the same scrutiny as any other, and take the right steps to help yourself if you're a victim of cashier's check scams.
More From: USAA Military Bank
Other Ways To Make Payments
You can find many other methods of payment that seem to function similarly to a USAA Bank's cashier's check, yet have noticeable differences when looking at the specifics.
Personal checks: Personal checking accounts allow you to write checks against your available funds. Because of this, personal checks allow for "stop payments" to void any payments, and a cashier's check does not. However, personal checks have your account number written on the face, which grants access to sensitive information. Once a scammer has your sensitive information, they can commit fraud under your identity.
Certified checks: This type of check is like a personal check, but has been certified by a bank officer that guarantees funds. There is no way for someone to tell if a personal check is any good until they deposit it at a bank, and the funds are verified. Both certified checks and cashier's checks guarantee available funds. The main difference between the two official checks is that a certified check is funded from a personal bank account, while a cashier's check is funded from the bank.
Money order: Money orders function just like a cashier's check in every way, except money orders are generally written for less amount of money. Because the amount is smaller, money orders can be purchased at places besides a bank and cost less money. Grocery stores, gas stations, the post office, etc. usually sell money orders.
Wire transfers: A wire transfer is the digital transferring of money between bank accounts without ever having to fill out any type of check. Both cashier's checks and wire transfers need to be backed by available funds, but only one can be handled digitally.
Related: Your Complete Guide to Cashier's Checks
Summing Up the US Bank's Cashier's Checks Fee
USAA Bank's Cashier's Checks fee is $10 per cashier's check after using your entitled one free cashier's check per calendar year. The fee may seem annoying but purchasing this payment product guarantees payment for your recipient and is a way to distribute money without giving away account information.
If you avoid the common cashier's check scams, USAA Bank's cashier's checks are easy to request and use.
Keep Reading: Cashier's Check vs. Money Order — Here's the Difference
More on USAA
More On Cashier's Check Fees
Rates and fees are subject to change. This content is not provided by USAA Bank. Any opinions, analyses, reviews or recommendations expressed in this article are those of the author's alone and have not been reviewed, approved, or otherwise endorsed by USAA Bank. Information is accurate as of June 9, 2022.