Where Can I Load My Netspend Card?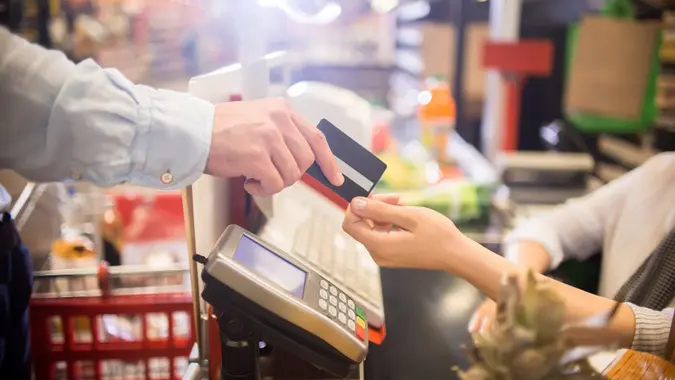 SeventyFour / iStock.com
The Netspend card is a prepaid Visa or Mastercard debit card that allows you to make purchases, transfer money, pay bills and perform other money management tasks. Since it's a prepaid account and not a traditional bank deposit account, you can't just drop by your bank's ATM or local branch to add cash to your card. Read on to learn more about the Netspend card, including where you can load your card with cash, additional ways to add funds to the card and how to avoid some of the fees.
Where Can I Load My Netspend Card?
You can load your Netspend card at over 130,000 locations in the U.S., including grocery stores, convenience stores, gas stations and check cashing outlets. This may include certain banks in your area.
To find a retailer or bank near you that reloads Netspend cards, use the location finder on the Netspend website or app. The location finder also lists each location's reload fee.
To use the Netspend location finder, simply enter your ZIP code or city and state. You can filter the results to display all locations, no-fee reload locations or places where you can buy a Netspend card.
Upgrade Your Checking Account
Here are a few of the retailers that provide reload services at select locations:
7-Eleven
Circle K
CVS
Dollar General
Dollar Tree

Family Dollar

Publix
Walgreens
Walmart
Winn-Dixie
Other Ways To Add Money to a Netspend Card
Besides adding cash to your Netspend card at a reload location, you can also add funds in the following ways:
Initiate a bank transfer from your checking or savings account or bank debit card.
Transfer money from your PayPal account.
Have another Netspend cardholder transfer money to your card.
Set up direct deposit for your payroll check, tax refund or other government-issued check.
Deposit a check using the Mobile Check Load feature via the Netspend app.
What Can I Do With a Netspend Card?
Using a Netspend prepaid card is like using a checking account and its debit card. You can use it to:
Make purchases online and in-store anywhere that accepts Visa debit cards or Mastercard debit cards.
Earn cash-back rewards on select purchases.
Pay bills.
Transfer money to other Netspend cardholders.
Get cash from ATMs.
Make mobile check deposits.
Possibly get your paycheck up to two days early by setting up direct deposit into your Netspend account.
Upgrade Your Checking Account
How Can I Get a Netspend Card?
You can sign up for a card on the Netspend website or pick one up at one of the many participating Netspend retailers, including Family Dollar, 7-Eleven, Walmart and CVS. Keep in mind that if you pick up a card at a retailer, you may pay a purchase fee of up to $9.95. You can sign up for a Netspend account online for free, although it may take up to 10 business days to receive your card in the mail.
Opening a Netspend account doesn't require an initial deposit or a credit check like you may have with a traditional checking account, and the card has no activation fee. When you open your account, you may choose to set up direct deposit for your paycheck and take advantage of the reduced monthly plan with no per-purchase fee. Be prepared to provide your personal information and proof of identity.
How To Withdraw Money From a Netspend Account
You can get cash from your Netspend account at any ATM, over the counter at some financial institutions, or at a Netspend reload location. There is a fee for each of these withdrawal methods per Netspend's fee summary.
Upgrade Your Checking Account
What Is the Monthly Fee for a Netspend Card?
The monthly fee for a Netspend card depends on the plan you choose when you set up your card and whether you use direct deposit.
The monthly plan has a $9.95 monthly fee but allows you to make fee-free purchases with the card. If you set up a qualifying direct deposit to your card for a minimum of $500, your monthly fee drops to $5.
The pay-as-you-go plan doesn't have a monthly fee. Instead, you pay per purchase. Fees may vary based on your card issuer and the type of card you have. Typically, you'll pay $1 or $2 per purchase, depending on whether you choose credit or debit at checkout. 
Both Netspend plans apply ATM, reload and several other fees to your card. You can find a complete list of fees for your specific Netspend prepaid card on the company's website.
Is a Netspend Card a Real Debit Card?
The Netspend card is a real prepaid debit card, even though Netspend is a financial technology company and not a bank. Its bank partners provide Netspend banking services, including issuing Netspend prepaid cards.
What Banks Issue Netspend Cards? 
Pathward, National Association and Republic Bank & Trust Co. issue Netspend prepaid Visa cards and prepaid Mastercards. Both banks are FDIC members, which insures the funds on your card up to $250,000.
Upgrade Your Checking Account
In addition to FDIC insurance, you also get the Visa Zero Liability policy or Mastercard Zero Liability protection, depending on your card, just as you would with a Mastercard or Visa credit card.
Final Take
The Netspend card offers many features for a prepaid account, but it also comes with several fees. To keep this money management option affordable, see if you can find a fee-free cash reload location in your area, or use other no-fee options for transferring funds to your card. You should also periodically evaluate your card use to ensure you're on the cheapest Netspend plan for your needs.
Information is accurate as of Aug. 7, 2023.
Editorial Note: This content is not provided by any entity covered in this article. Any opinions, analyses, reviews, ratings or recommendations expressed in this article are those of the author alone and have not been reviewed, approved or otherwise endorsed by any entity named in this article.