Most People Now Prefer Banking on Mobile Apps — 7 Reasons They Love It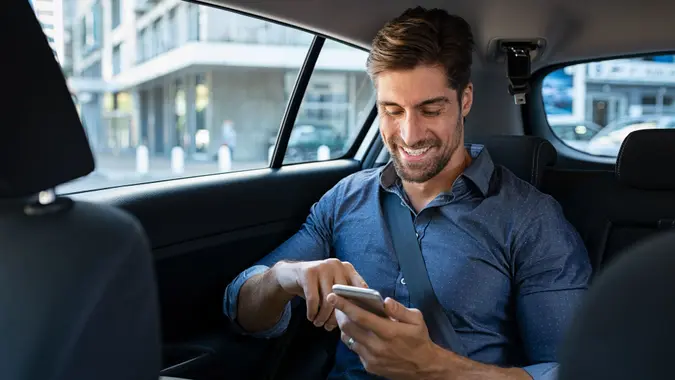 Ridofranz / Getty Images/iStockphoto
The majority of Americans no longer do their banking in person. A new GOBankingRates survey found that 59% of Americans prefer to bank via a mobile app, compared to 22% who prefer to bank online via a browser and 19% who prefer to bank at a branch or ATM.
See the List: GOBankingRates' Best Banks of 2023
Find Out: Here's How Much Americans Have in Their Savings Accounts in 2023
Tips: How To Stay Safe When Using Mobile Banking Apps
This preference is held across gender and across most age groups. The majority of Americans ages 18 to 54 prefer to bank on mobile, while the majority of those ages 55 to 64 prefer to bank in person and the majority of those ages 65 and older prefer to bank online.
So, why do so many people prefer to bank on their phones? Here are some of the reasons Americans love their banking mobile apps.
Easy Access Anytime and Anywhere
When you bank from your phone, you can do it at any time that's convenient for you.
"Bank branches aren't known for their accommodating hours so if you work full-time, you might find it difficult to find a time you can visit a bank while it's open," said Cynthia Kleinbaum, chief customer officer at MoneyLion, a mobile banking and finance app. "With mobile banking, you have all of the banking tools you need right at your fingertips, all in one destination. Customers can transfer funds, apply for a loan, get a cash advance or invest money any time of the day or night."
Personalization
Many banking apps personalize the content you see to meet your preferences and needs.
"Consumers benefit when their financial partner understands their relationship with money and can provide access and advice at the right time and place, and with the appropriate solution," Kleinbaum said. "With a deeper knowledge of a customer's financial situation, mobile-first banks are able to customize both the experience and the product offering."
Easy-To-Use Tools
In addition to providing 24/7 access to your accounts, many mobile banking apps offer additional tools to make managing your money easier.
"Many mobile-first banks offer features such as budgeting tools, financial advice and automatic savings plans that traditional banks do not have," Kleinbaum said.
Take Our Poll: Do You Have a Second Job or Backup Plan in Case You Are Laid Off?
Speed
Banking via your mobile app can be a big time-saver.
"Transactions done via a mobile app are generally faster than those done in person or online, as the process is streamlined and can be done with just a few taps," said Andrew Latham, certified financial planner and managing editor of SuperMoney.com.
Enhanced Security
"Many mobile banking apps use advanced security features such as biometric login, Two Factor Authentication and encryption to protect users' information and transactions," Latham said.
In addition, many apps make it easy to freeze or lock accounts quickly if you feel your account has been compromised, while push notifications allow you to track any potentially suspicious activity.
"Account notifications mean that consumers can keep much better tabs on their accounts, leading to better fraud prevention," said Richard Gardner, financial technology expert and CEO of Modulus. "If you have your account set to notify you every time your debit card is used, it is possible to know in almost real-time if an unauthorized charge was made. This allows consumers the ability to lock their account quickly after the first fraudulent charge, instead of waiting until a monthly statement comes in."
Mobile Check Deposits
"Many mobile banking apps now include the ability to deposit checks remotely using your smartphone," said Levon L. Galstyan, certified public accountant at Oak View Law Group. "This feature, called Remote Deposit Capture (RDC), allows you to take a photo of the front and back of a check and submit it to the bank for deposit. This can be a convenient way to deposit checks without having to visit a bank branch."
Pay With the Click of a Button
You no longer need cash or even a physical credit or debit card to make payments in many circumstances.
"Some mobile banking apps offer the ability to make mobile payments using your smartphone, such as person-to-person payments, mobile wallet payments and mobile purchasing," Galstyan said. "This can be a convenient way to pay for goods and services."
More From GOBankingRates
Methodology: GOBankingRates surveyed 1,000 Americans ages 18 and older from across the country between Dec. 7 and Dec.12, 2022, asking 19 different questions: (1) What category does your current financial institution fall under?; (2) Have you considered changing banks within the past year?; (3) If you have considered changing banks in the past year, were any of the following factors? (Select all that apply); (4) Which feature, perk or other offering is most important to you when opening an account with a new institution?; (5) Are you currently satisfied with all the banking products and services offered by your bank/credit union?; (6) Would you ever have different types of accounts across multiple banks? (i.e. checking at Chase, but savings at TD Bank); (7) What is your most preferred method of banking?; (8) Which of the following is the biggest factor for you staying with your current bank?; (9) Which of the following bank accounts do you currently use/have open? (Select all that apply); (10) How much is the minimum balance you keep in your checking account?; (11) How much do you currently have in your savings account?; (12) What amount of a sign-up bonus would make you consider switching banks?; (13) Have you considered using any app-only banking platforms (aka neobanks) in the past year (e.g. Current, Upgrade, Chime, Dave, etc.); (14) How important is it to you for your bank to be affiliated with a crypto exchange/platform?; (15) In the past year, how often have you written a physical check?; (16) When was the last time you visited your bank in person?; (17) Why would you choose to visit your bank in person? (Select all that apply); (18) When you think about banking, do you think of it as something you need or don't need?; and (19) What services/products do you expect from your bank and/or credit union? (Select all that apply). GOBankingRates used PureSpectrum's survey platform to conduct the poll.