Victim of Zelle Scam? You Might Be Able To Get Money Back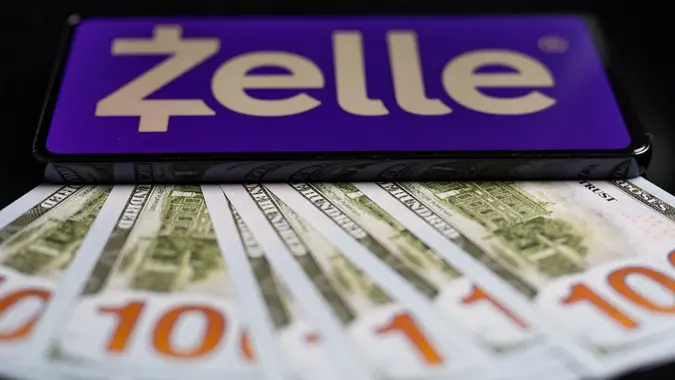 Jonathan Raa / NurPhoto / Shutterstock.com
If you have been one of the millions of unlucky victims to have been swindled out of money by a con artist using Zelle, you may soon be able to receive financial compensation more easily. However, if you want to know more about what types of scams will be covered by the payment app and it's owners, you're out of luck.
Early Warning Services LLC, the network operator of Zelle, has announced that it is taking steps to revise its network regulations and protect users against fraud. But it is saying very little more about the types of scams covered for fear of revealing useful information to scammers. It seems Early Warning Services' security and reimbursement efforts will develop alongside the types of scams they are trying to deter and recompense.
"We are not sharing more details about which scams are covered to avoid tipping off fraudsters, and we will continue to evolve our requirements to address new patterns," according to a statement sent to the Detroit Free Press.
The move to "ensure consistency across the Zelle Network and improve consumer benefits" comes at a time when Zelle and the seven banks that own it — Bank of America, Capital One, Chase, PNC Bank, Truist, U.S. Bank and Wells Fargo — are coming under intense pressure to address the massive issue of consumer fraud. While their efforts are long overdue, many are asking for the Zelle and Early Warning Services to disclose more about its intentions.
"We believe the changes will be a step in the right direction, but how big a step?" pondered Ed Mierzwinski, PIRG Education Fund's senior director of federal consumer programs.
"Will they only apply to transactions involving a customer of one seven big banks that own Early Warning Services together or to customers of all the banks and credit unions that license the Zelle product?" asked Mierzwinski. "Will victims be made whole? We don't know yet."
Take Our Poll: Are You Concerned About the Safety of Your Money in Your Bank Accounts?
Cyber crimes are the most common types of fraud. As the Detroit Free Press reported, bank transfer and payment scams accounted for a loss of $1.59 billion in 2022, followed by crypto fraud ($1.43 billion), wire transfer rip-offs ($310.9 million) and gift card swindles ($228.1 million), according to data from the Federal Trade Commission Consumer Sentinel Network.
Peer-to-peer (P2P) platforms are gaining a loyal following among consumers and fraudsters alike because of their speed and convenience. These money thefts are being perpetrated using apps like Zelle, Venmo and Apple Pay and can take several forms, often bank impersonation requesting urgent action for an account problem or an error involving products or services bought via a P2P platform. Scammers are great at spoofing email addresses and phone numbers on caller ID to make it appear that it's from your bank or a payment app.
Victims of these types of scams mistakenly think that P2P systems have similar protections to a debit or credit card since many are endorsed by banks. However, after sending money through one of these P2P businesses, it is extremely difficult to get money refunded. They take seconds to process and you can't cancel a payment once it's been sent if the recipient (or fraudster) is already enrolled with Zelle.
As the Zelle website states, "Unlike a credit card, Zelle does not offer a protection program for any authorized payments made with Zelle — for example, if you do not receive the item or the item is not as described or as you expected."
Beware: 19 Dangerous Scam Phone Numbers and Area Codes To Avoid
Cash App vs. Venmo: Which Is Better?
As the use of Zelle and subsequent cases of fraud on it platform continue to rise, it's only right that Zelle be beholden to similar refund standards and protection as individual banks that own and use it. Hopefully, details on what scams the platform, its network and its owners are going to crack down on and how they are going to make amends to fraud victims and calm their customers will soon be made public.
More From GOBankingRates