Wells Fargo Mobile App Review: Manage Your Money and Rewards Anywhere You Go
From paying bills to making deposits, Wells Fargo Mobile lets you do your banking anywhere you are.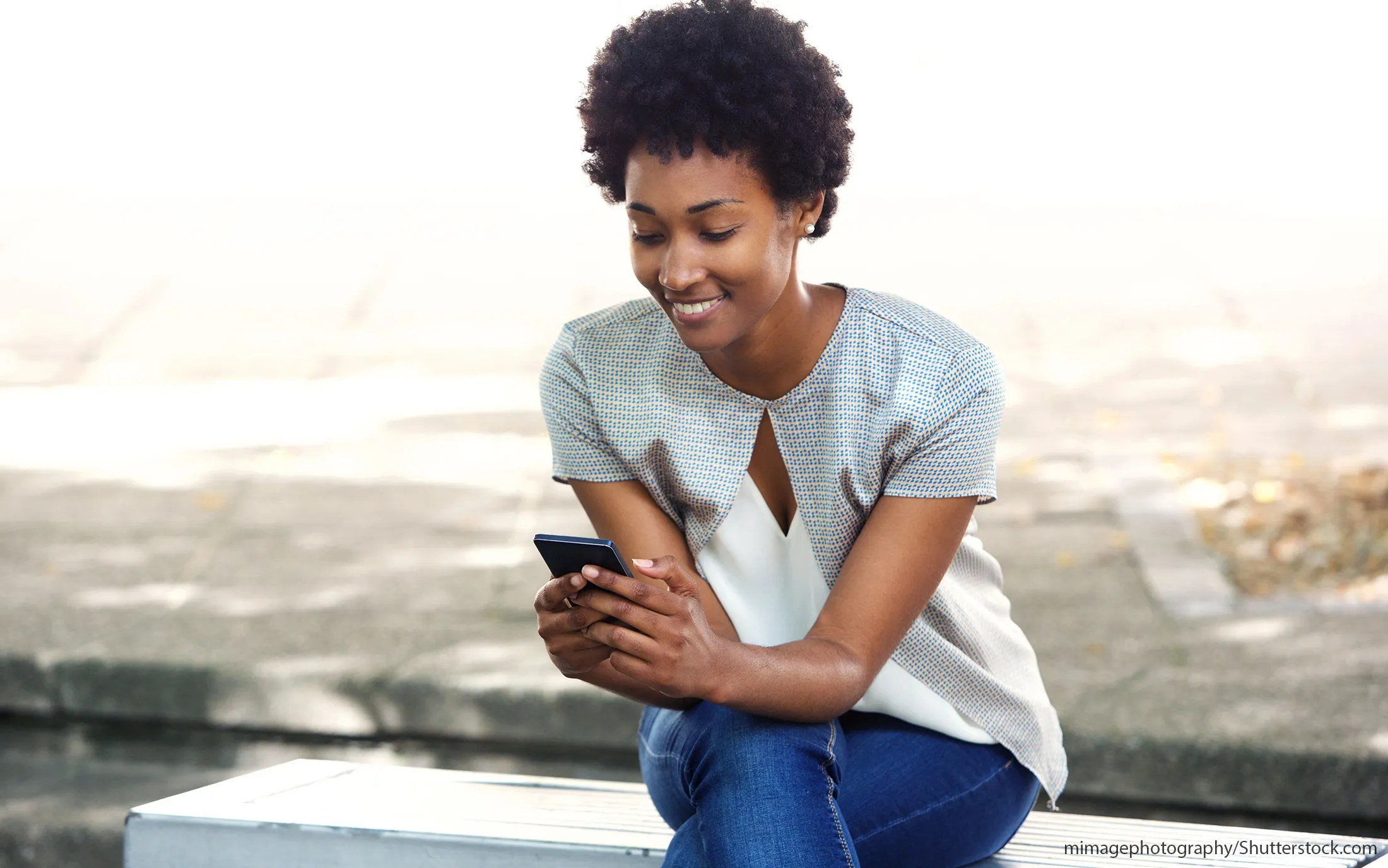 If mobile banking is a priority for you, Wells Fargo Mobile could be the answer to all your on-the-go banking needs. Wells Fargo Mobile is the bank's official app that lets you easily keep track of your Wells Fargo finances and manage your money without having to step into a brick-and-mortar bank.
Wells Fargo first offered the app in 2011 and has continually improved the product to better serve the bank's more than 70 million customers. The Wells Fargo mobile app boasts a generally positive rating, with Amazon and Google Play customers giving it the highest ratings compared to customer ratings in other app stores. Wells Fargo Mobile is available for free on Amazon, in the iTunes App Store, Windows Store and on Google Play, where it's been downloaded 10 to 50 million times.
To help you decide if Wells Fargo Mobile could be right for you, check out some of its basic stats:
Wells Fargo Mobile App at a Glance
Cost to Download
Free
Where Available
Downloads (Google Play)
10,000,000 to 50,000,000
Amazon Rating
4 out of 5 stars
iTunes App Store Rating
3 out of 5 stars
Google Play Rating
4.3 out of 5 stars
Windows Store Rating
3.6 out of 5 stars
In this mobile app review, learn more details about the features, advantages and disadvantages of the Wells Fargo Mobile app.
How to Sign Up for Wells Fargo Mobile
Getting the Wells Fargo Mobile app is easy. Simply follow these steps:
Download the app from the app store of your choice.
Verify your device meets the app's system requirements.
Accept the request for permission to download.
Once your app has downloaded, open it and Wells Fargo Mobile is ready to use.
In order to use Wells Fargo Mobile, you must have an account — such as checking or savings — with Wells Fargo. You'll also need to create an online profile, as a username and password are required to log into the app.  

Follow these instructions to create an online profile:
Visit the online enrollment page on the Wells Fargo site and answer a few enrollment questions.
Create a username and password.
Once you've created your online profile, go to your downloaded Wells Fargo app and enter your username and password to begin using the app.
Read: How to Know If Your Bank Is Giving You a Good Deal
How to Use Wells Fargo Mobile
The Wells Fargo mobile app offers customers the convenience of being able to bank from anywhere. "I don't have to visit the bank to deposit a check," one Google Play user wrote. Mobile-deposit capability is just one of the helpful features customers can use in the app. Take a look at mobile check deposit and the app's other main features to see how Wells Fargo Mobile might fulfill your mobile banking needs.
Make Mobile Deposits
You can make a deposit directly into your Wells Fargo checking or savings account by using Wells Fargo Mobile. To make your deposit, select the Wells Fargo Mobile Deposit option within the app. Then, take photos of the front and back of your endorsed check to submit the deposit to your account.
The Wells Fargo Mobile deposit limit varies; you will see an "amount" field that displays your account's mobile deposit limit.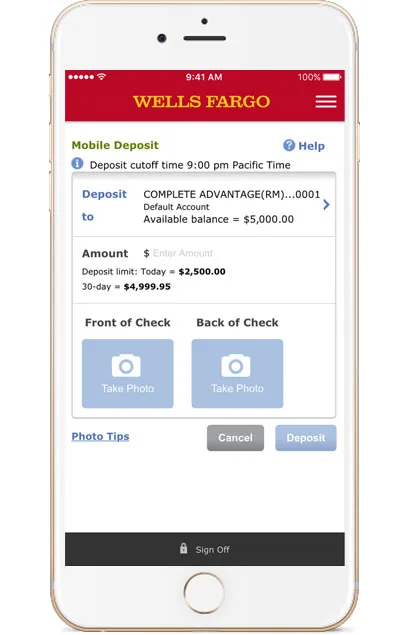 Pay Bills
Wells Fargo Mobile allows you to easily set up bill payments from your device to any of your payees. You'll need to be enrolled in Bill Pay to take advantage of this mobile feature. Once you've set up your payees online, you can use the mobile app to access and schedule payments.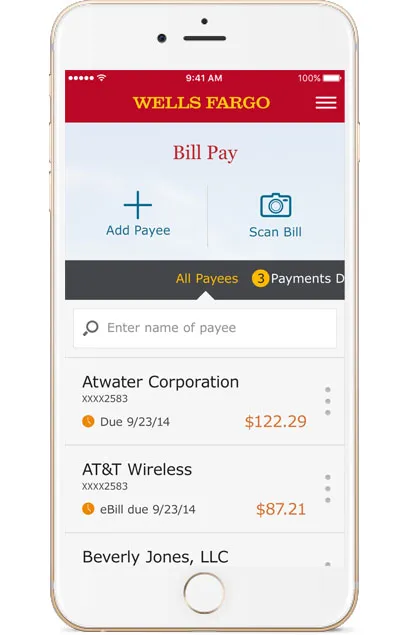 Transfer Funds
App users can transfer funds between accounts as well as to other Wells Fargo customers. To do this, you will first need to add recipients to your transfer list by logging into the Wells Fargo site. According to a Wells Fargo customer service representative, the transfer limits are $2,000 per day and $4,000 per month.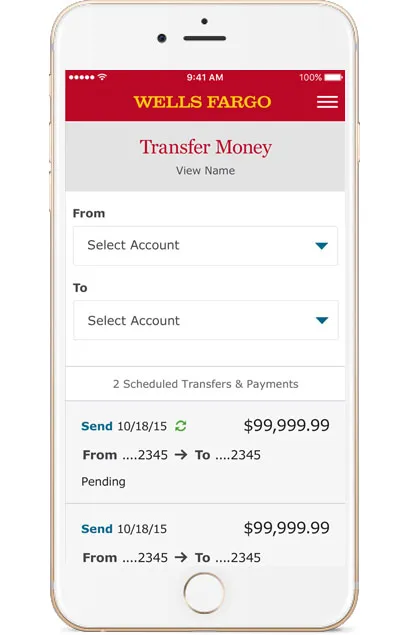 Send and Receive Money by Email Address or Mobile Number
You can send and receive money using Wells Fargo SurePay within the app. SurePay allows you to send money to anyone with a U.S. bank account — not just Wells Fargo customers. Sharing account numbers is unnecessary; you can simply use an email address or phone number to send your person-to-person payment. The daily limit for this feature is $2,000; the monthly limit is $4,000.
Money Management Tools
Wells Fargo Mobile offers My Spending Report, a tool that provides a breakdown of your expenses so you can better manage your finances. Wells Fargo credit card holders also have the option to view their credit card transactions and program rewards, making it easy to track spending and card benefits.
Other Features
In addition to its main features, Wells Fargo Mobile also offers other helpful options, including:
Ability to view account activity and balance information
GPS to get one-touch access, location information and directions to ATMs
Touch ID for customers with iOS 9 or higher
Money management tools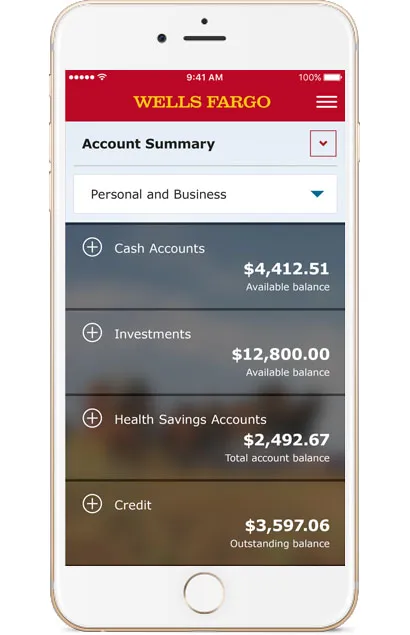 Security Measures for the Wells Fargo Mobile App
Wells Fargo offers an Online Security Guarantee, which gives customers added protection against unauthorized account access. To ensure the security of Wells Fargo Mobile users, the bank has taken further safety measures:
Mobile transmissions are safeguarded by 128-bit secure sockets layer to prevent unauthorized access.
Account numbers are never shared and are referred to by nicknames.
Account information and other sensitive information is never stored on your phone.
The Pros and Cons of the Wells Fargo Mobile App
Wells Fargo Mobile might be worth considering if you're a Wells Fargo customer looking for banking convenience from the palm of your hand. If you're on the fence about downloading the app, take a look at its advantages and disadvantages to help you decide.
The Pros: Reward Tracking, Money Management and More
Wells Fargo Mobile users have access to money management tools like My Spending Report, and Wells Fargo credit card holders can track their credit card transactions and program rewards through the app, too. A number of features make Wells Fargo Mobile popular with users:
Ease of use: Simply log on with your Wells Fargo online username and password to view account balances and pending deposits.
Added security: Customers benefit from added protection under the Wells Fargo Online Security Guarantee.
Language options: Select English or Spanish as your preferred language within the app.
Mobile deposit: Use your camera to photograph and submit an endorsed check.
Account alerts: Avoid fees and receive notice of suspicious activity with text or email alerts.
ATM and branch locator: The app offers GPS technology to help you find Wells Fargo ATMs and branches.
SurePay: Send money to anyone using the recipient's mobile number or email address.
Bill pay: Make bill payments immediately or set up future payments.
Investment tracking: Get real-time quotes and market data and find investment resources. View all your accounts and portfolio highlights in one place.
FICO score: FICO score is available to users who have a Wells Fargo credit card, student loan, auto loan, personal loan, mortgage or home equity line of credit.
Wells Fargo Wallet: Carry your credit card or debit card information digitally with Wells Fargo Wallet so you don't have to carry the actual cards to use them. This feature works in combination with Apple Pay and Android Pay.
The Cons: Slow Speeds and Log-Out Alerts
App users point out fewer disadvantages than advantages, but these reported issues might make you want to avoid Wells Fargo Mobile:
It's slow. A number of user reviews from the different app stores say the app takes too long to load.
Balances aren't updated in real time. Users have experienced inaccuracy with balances because the app seems to lag when updating the information.
Pop-up notifications appear outside of app use. Some Wells Fargo Mobile users have reported log-out alerts that pop up on their screens — even when they're not using the app.
If you find that these negative features cancel out the positive aspects of Wells Fargo Mobile, you might want to consider similar apps as alternatives.
Read: Your Guide to Wells Fargo SWIFT Codes
Apps Similar to Wells Fargo Mobile App
Although Wells Fargo Mobile is the only app designed specifically for the bank's customers, other mobile banking and payment apps are available. Check out a couple of apps that could be useful alternatives to Wells Fargo Mobile.
Bank of America Mobile Banking
You might consider the Bank of America Mobile Banking app as another banking option. The Bank of America app offers many of the same features as Wells Fargo Mobile, including the ability to deposit checks and make payments to anyone with a mobile number or email address.
The app has a three-star rating in the iTunes App store and a 4.2-star rating in the Google Play store, with 10,000,000 to 50,000,000 installs.
The Bank of America Mobile Banking app also offers bill pay, electronic money transfer and mobile check deposit. App users can also set travel notices for eligible cards, and activate and renew cards.
Venmo
If you like the Wells Fargo SurePay feature but find the app's other banking features unnecessary, then Venmo might be a better option for you. The app allows you to send money for free and to transfer funds to any bank account overnight.
The Venmo app has earned a 4.5-star rating in the iTunes App Store and a 4.6-star rating in Google Play, where it's been downloaded 1,000,000 to 5,000,000 times.
Venmo charges a 3 percent fee on credit cards and some debit cards, and recipients must also have a Venmo account to receive funds. You can transfer up to $19,999.99 per week, with a cap of $3,000 per transfer.
Wells Fargo Mobile Delivers Money Management Tools and More
The Wells Fargo app's three- to four-star ratings suggest that users are generally satisfied with its performance. The app's greatest attribute seems to be the convenience it offers Wells Fargo customers who might not live near a bank branch or simply want to perform a number of banking tasks on the go. Features like My Spending Report and credit card rewards tracking are also major advantages of using this app.
Still, according to some Amazon, Google Play, and iTunes App Store reviewers, Wells Fargo Mobile has some kinks to work out. If slow load times and problems with pop-up messages are deal breakers for you, you might want to consider an alternative banking app.