Can You Earn 7% Interest on Savings Accounts?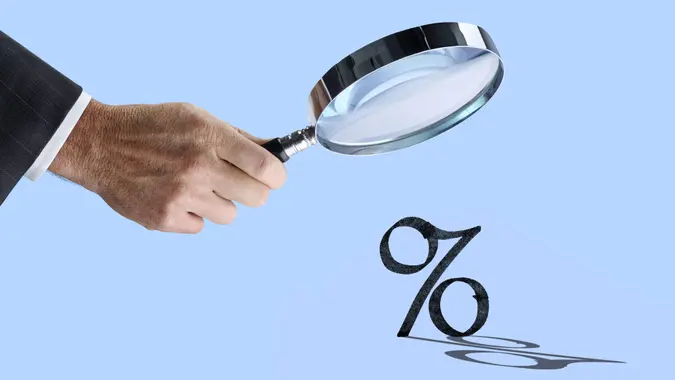 DNY59 / iStock.com
There may be no better feeling than passively padding your bank account while letting your money sit there and earn interest. With the daily dips of your debit card or credit card constantly pinging, it is nice to know not every transaction is a deficit. It may seem obvious to shoot for the highest amount on an account you can earn, but be sure to familiarize yourself with all the details before opening a savings account earning 7%.
The Highest Interest-Earning Account for 2023
You want to maximize your money, so you need to find out which bank is giving 7% interest on a savings account. This sky-high interest rate certainly isn't the standard, and it's actually only offered on a checking account: the Premium Checking account at Landmark Credit Union. Though it's not a savings account, you can currently earn APY if you meet the requirements and stipulations.
However, you'll only earn this rate on balances up to $500. To be eligible for this rate, you'll also need to enroll in e-statements and direct deposit.
Always Read the Fine Print: What You Need To Know
If you found a 7% interest savings account that seems to meet your needs, you're probably pretty excited. However, your work isn't done yet. Here's a look at five key points you'll want to cover before making the final decision to open an account.
Minimum balance requirements 
Maximum balance for APY
Fees
FDIC or NCUA Coverage
Access to funds
1. Minimum Balance Requirements
It's easy to get excited about a 7% interest savings account, but it's not uncommon for financial institutions to require a hefty initial deposit or opening balance. For example, MySavingsDirect offers a APY on its High Interest Savings account, but you need a minimum of $1,000 to open an account.
2. Maximum Balance for APY
Financial institutions don't have to pay the highest APY on your entire account balance — and many don't. For example, Mango offers a APY on its Mango Savings account, but only on balances up to $2,500. After that, the rate drops considerably.
This can have a major impact on your ability to earn interest, so it's important to know this in advance. You might find securing a lower interest rate that covers your entire balance will actually allow you to earn more in the long term.
3. Fees
Some savings accounts come with monthly maintenance fees or certain incidental charges that can add up fast. It's important to be aware of these fees before opening an account, because they can potentially impact your balance.
For example, the BMO Online High-Yield Savings Account has a $50 account closing fee — if the account is closed within 90 days of opening. Reading the account disclosures is a must, as not doing so can be costly.
4. FDIC or NCUA Coverage
You work hard for your money, so it's important to make sure your bank or credit union is federally insured. The Federal Deposit Insurance Corporation provides coverage for banks, while the National Credit Union Administration insures credit unions.
Both offer $250,000 worth of coverage per share owner, per financial institution, in each account ownership category. If the bank or credit union fails, this serves as a guarantee you won't lose your money.
5. Access To Funds
Unlike CDs, savings accounts — and money market accounts — typically allow you to withdraw as much money as you want, when you want. However, there are some caveats. You might face a fee or penalty if your balance falls below a certain level, and many banks charge a fee for making more than six withdrawals within a statement period.
Before opening an account, find out what you'll need to do — and what fees you'll face — to withdraw money from your account. For example, if you'll receive an ATM card, find out if there are any locations in your local area or if the financial institution offers complimentary access to an ATM network.
The last thing you want is to need your money quickly, but have to jump through hoops to get your hands on it.
10 Top High-Interest Savings Accounts 
Right now, there are a few financial institutions that offer notably high APYs. Make sure to look for and be aware of the fine print that comes with earning these high-interest rates. 
While not a 7% interest savings account, here's a look at 10 other options with impressively high APY offerings.
| Financial Institution | Account Name | Maximum APY |
| --- | --- | --- |
| Digital Federal Credit Union | Primary Savings | |
| Mango | Mango Savings | |
| Blue Federal Credit Union | Accelerated Savings | |
| MySavingsDirect | High Interest Savings | |
| UFB Direct | Premier Savings | |
| Popular Direct | Direct Savings | |
| Bask Bank | Interest Savings | |
| CIT Bank | Savings Connect | |
| BMO Harris Bank | Online Savings | |
| LendingClub | High-Yield Savings | |
8 Alternative Options Offering Competitive Interest Rates
If a high-yield savings account doesn't seem like the right fit, worry not, you have other options. You'll be pleased to know banks offer plenty of money market accounts and certificates of deposit where you can score an above-average APY.
Take a look at these options to find out if any meet your needs.
| Financial Institution | Account Name | Maximum APY |
| --- | --- | --- |
| Unify Financial Credit Union | 9-Month Share Certificate | |
| CFG Bank | 12-Month CD | |
| Marcus by Goldman Sachs, Member FDIC | 18-Month High-Yield CD | |
| Discover Bank | 18-Month CD | |
| Capital One | 1-Year Online 360 CD | |
| Vio Bank | Cornerstone Money Market Account | |
| Sallie Mae | Money Market Account | |
| Ally Bank | Money Market Account | |
Final Take To GO
As of 2023, the national average deposit rate for savings accounts is 0.42%, according to data from the FDIC. That doesn't mean you have to settle for average, in fact, you can probably earn more interest than you currently are no matter if you prefer in-person or online banking. It just helps if you know where to look.
FAQ
Here are the answers to some of the most frequently asked questions regarding interest rates.
Which bank is giving 7% interest on savings accounts?

Though no American banks offer 7% interest on a savings account, the Premium Checking account at Landmark Credit Union has an APY of

7.50%

. Though it's not a savings account, if you meet the requirements and stipulations, that is a great money earner.

Where can I get 6% interest?

Digital Federal Credit Union and Mango are financial institutions offering APYs in the 6% range for their savings accounts. Be sure to read all the fine print before opening an account to make sure you meet the requirements.

How can I get 5% interest on my money?

If you are looking to earn a high APY but want options other than a savings account, consider the following financial institutions for money market or CD accounts:

Unify Financial Credit Union
CFG Bank
Marcus by Goldman Sachs
Discover Bank
Capital One
Vio Bank
Sallie Mae
Ally Bank

What savings account has the highest interest rate?

Here are a few financial institutions that have saving accounts with incredibly high APYs:

Digital Federal Credit Union
Mango
Blue Federal Credit Union
MySavingsDirect
UFB Direct
Popular Direct
Bask Bank
CIT Bank
BMO Harris Bank
LendingClub
Caitlyn Moorhead contributed to the reporting for this article.
Explore More on Interest Rates
Rates are subject to change; unless otherwise noted, rates are updated periodically. All other information on accounts is accurate as of June 21, 2023.
The CD rate for Marcus by Goldman Sachs is accurate as of June 21, 2023, and requires a minimum deposit of $500 to open.
GOBankingRates is a personal finance and consumer interest rate website and an online marketing company serving top-tier banks, credit unions and other financial services organizations. Some companies mentioned in this article might be clients of GOBankingRates, which serves more than 100 national, local and online financial institutions. Rankings and roundups are completely objective, and no institution, client or otherwise, paid for inclusion or specific placement. Any opinions, analyses, reviews or recommendations expressed in this article are those of the author alone and have not been reviewed, approved or otherwise endorsed by the companies included in the article. All fees and rates are subject to change at the issuers' discretion. Some interest rates might be short-term or promotional offers only, and it is possible additional terms and conditions must be met to obtain the interest rates listed. Rates and availability might vary by region. Verify terms and conditions before opening an account.
GOBankingRates bases its assessment of "best" and "top" products on the above-stated parameters to create a baseline for comparison. This assessment is an approximation of "best" and "top" designed to help consumers find products that might be appropriate for them. There could be other options available as well. Consumers should consider various options appropriate for their circumstances.
Lending Club: Rates from 5.99% to 35.96%* APR. Best APR is available to borrowers with excellent credit.
Our in-house research team and on-site financial experts work together to create content that's accurate, impartial, and up to date. We fact-check every single statistic, quote and fact using trusted primary resources to make sure the information we provide is correct. You can learn more about GOBankingRates' processes and standards in our editorial policy.