Best Online Banks for Your Money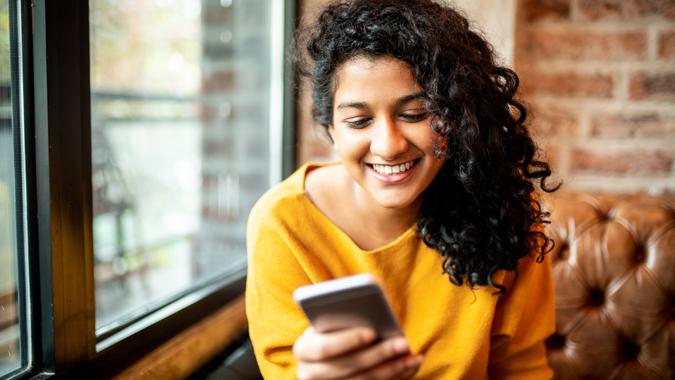 MStudioImages / Getty Images
It may be hard to remember, especially in the midst of a pandemic when everything from work to grocery services are occurring on the internet, but there was a time when consumers looked down on online banks for not having any physical locations. The best online banks took this disadvantage and turned it into a positive, channeling their cost savings into enhanced interest rates, products and services for banking customers. The best online banks now offer a full range of personal financial products and banking services, including checking and savings accounts, money market accounts and CDs, with most having ATM access and a high APY.
See: The Best Online Banks of 2021 – Enhanced Services & Low Fees
Exclusive: 90% of Americans Say They're Happy with Their Bank – But Most Could Be Getting Better Rates and Lower Fees
However, this doesn't mean that all online banks are created equal. Rather, there is a large gulf between average online banks and the very best ones. To help you choose from among all the available options, GOBankingRates conducted a study to identify the 20 best online banks in America. We evaluated thousands of data points among banks using a methodology centered on the following criteria:
Checking account fee
Savings account annual percentage yield
1-year CD APY
BauerFinancial Star Rating for overall financial strength
Further consideration was given as to whether banks offered the following services:
24/7 customer service by phone
Live chat service with a real person via a website
Mobile app
Remote check deposit
All of the top online banks that made our list offer competitive accounts that come with the best online banking services, such as a mobile app and mobile deposit. Any of these banks might be the best bank for you, especially if your current bank lacks the generous rates and services offered by these online banks. To get you started on your search, however, we've listed the top five banks below.
See: These Are the Best Banks of 2021 – Did Yours Make the Cut?
Find: The Top 100 Banks of Leading the US in 2021
5. Citizens Access: Top Online Bank
Why we like it: Online savings accounts with high rates and low fees.
Benefits
Savings, money market and CD accounts
No account maintenance fees
Drawbacks
Citizens Access is an impressive finalist – explore its customer service options, fees and how it compares to competitors in our full review.
4. Synchrony Bank: Top Online Bank
Why we like it: Synchrony Bank offers high-yield savings and CD accounts.
Benefits
ATM refunds up to $5 per cycle
Rewards program "Synchrony Bank Perks" provides various discounts
Winner of numerous awards for products, rates, safety and technology
Drawbacks
$2,000 minimum deposit on CDs
No online checking account
Synchrony Bank rises to the top of our rankings frequently. Find out why in our full review.
See: The Best Regional Banks of 2021 – Localized Focus With Broad Product Lines
Find: The Best Credit Unions of 2021 – Offering Advantages Unique From Larger Banks
3. Discover Bank: Top Online Bank
Why we like it: Discover Bank offers a good range of products, from checking and savings accounts to money market accounts, CDs and IRA.Top that with competitive rates and generally nonexistent fees.
Benefits
High rates and low fees on a deep product roster
Cashback Checking pays 1% back on monthly debit card purchases of up to $3,000, with no fees or balance requirements
Fee-free access to over 60,000 ATMs
Drawbacks
$2,500 minimum to open CD accounts
Another top bank, Discover Bank's perks and minimal fees made it tough to beat. See more in our full review.
2. Marcus by Goldman Sachs: Top Online Bank
Why we like it: Marcus by Goldman Sachs offers online savings accounts with a high APY, personal loans up to $40,000, and insights to help manage your accounts.
Benefits
No minimum deposit
Offers 24/7 account access via the Marcus app for mobile banking
Drawbacks
Does not provide ATM access
No online checking account
This savvy digital outpost of a venerable institution impressed us across multiple rankings this year. See why in our full review.
1. Ally Bank: Best Online Bank
Why we like it: Ally Bank offers a high savings APY and a wide variety of no-fee products, along with 24/7 customer service.
Benefits
No minimum deposit to open
No fees for official or cashier's checks
Diverse product lines available
24/7 live customer service
Drawbacks
Ally Bank is one of the most respected online banks out there – it's an impressive choice for a number of reasons, which you can discover in our full review. But remember – if you're looking for something special in an app, a certain service or other features, every one of our finalists is a great choice and might give you exactly what you're looking for. Be sure to check out the list of top contenders.
More From GOBankingRates:
Methodology: To discover the Best Online Banks, GOBankingRates looked at the top online-only institutions in terms of total assets size that had available published data. To determine rankings GOBankingRates looked at the following factors: (1) total assets as sourced from the FDIC; (2) checking account annual fee; (3) savings account APY rate; (4) 12-month CD APY rate; (5) customer service products offered (24/7 customer service and live chat with a human); (6) Bauer rating (out of 5 stars); (7) products/services offered (auto loans, mortgage loans, credit cards, investment services, and insurance); and (8) the average mobile app rating between the android and apple stores. All factors were then scored and combined, with the lowest score being best. Factor (1) was weighted 1.5 times, factor (2) was weighted 0.5 times, and factors (3), (4), and (7) were weighted 2 times. For all Savings and Checking Account data only the basic accounts/products offered at each institution was analyzed. All data is up to date as of November 4, 2020, rates and fees subject to change.
John Csiszar contributed to the reporting for this article.