Exclusive: 90% of Americans Say They're Happy with Their Bank – But Most Could Be Getting Better Rates and Lower Fees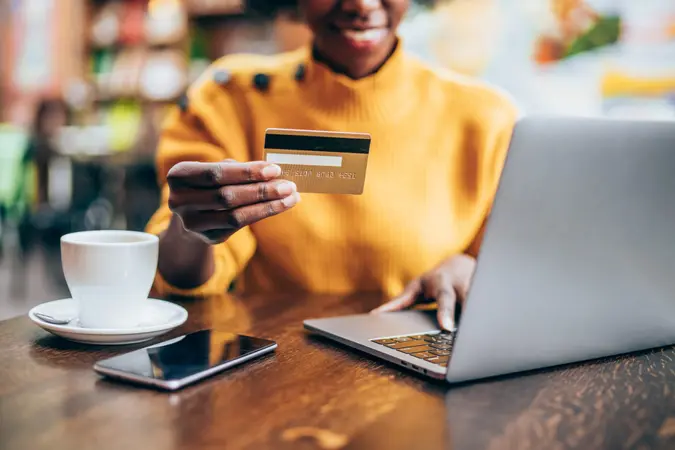 VioletaStoimenova / Getty Images/iStockphoto
In the midst of a pandemic, with job losses piling up, a fear of touching cash on the rise, and more of us stuck at home than ever and therefore not visiting our local brick-and-mortar branches, a majority of Americans say they're happy with their banks. Most also say they could be getting better rates and lower fees.
In addition to a comprehensive analysis of more than 4,300 data points across 120 American banks, a new GoBankingRates survey finds that an overwhelming 90% of Americans are currently satisfied with their banking products. In addition, the survey notes that 89% of Americans have not even considered changing banks in the past year, a finding that is similar across all age groups.
See: These Are the Best Banks of 2021 – Did Yours Make the Cut?
Find: The Best National Banks – Low Fees, High APYs & Accessibility
Researchers at GoBankingRates say there are three reasons to explain this finding. First, the lack of information about how much banks differ from each other. including in terms of APY rates and minimum deposits.
"There is a stigma around banking that it is overly complicated and that it would just be too much of a hassle to change," says Andrew Murray, content data researcher at GOBankingRates. "So even if [customers] are dissatisfied with their banking choices, they'd rather just stay put than go through a process they believe to be long and difficult." Finally, Murray says that much like with Congress, "people do not like banking as an institution, but as you can see from this survey, they 'seem' to be satisfied with their own bank. "
A majority of people surveyed – 37.36% – use national banks, such as Chase, Bank of America, Wells Fargo and US Bank. This is followed by people whose financial institutions are local banks (banks located in four states or less) with 24.18%, credit unions with 20.28% of respondents, online banks with 9.79%; and regional banks, with 8.39% of respondents.
See: The Best Regional Banks – Localized Focus With Broad Product Lines
Find: The Best Credit Unions – Offering Advantages Unique From Larger Banks
Breaking down further by age groups, it's not surprising that younger generations favor online banks, according to the survey. In the 18-24 age range, 10.47% use one; 15.18% for the 25 to 34 age group; 11.18% for the 35 to 44 age group; 11.2% for 45 to 54 age group. The figure dwindles to 6.34% for the 55-64 age group and to 4.19% to the 65 and over age group.
Following the same trend, it's also not surprising to see that younger generations favor mobile banking (via an app) with 42.93% favoring this method for the 18-24 age group; 43.46% for the 25-34 age group; 33.54% for the 35-44 age group. The figure falls to 29.6% for the 45 to 54 age group; 16.9% for the 55-64 age group and 8.38% for the 65 and over.
"The split in old vs. young when it comes to banking with an app or banking in person at a branch just comes down to who was raised in which era and with what technology," GOBankingRates associate researcher Julia O'Brien says. "Those who are younger especially (18-24) grew up almost their entire cognizant lives with smartphones and most businesses having an app," she adds. "So it only makes natural sense that they feel comfortable banking on an app, because most everything they have encountered in life indicates to them that app/mobile banking is just how things are done in a society."
See: The Best Online Banks – Enhanced Services & Low Fees
Find: The Best Checking Accounts – High APYs & Low Fees
Contrarily, older generations grew up in an era where in-person banking reigned supreme. "If you were born before 1970, ATMs were once considered the new technology, so people had to go in person to a bank for everything, check deposits, any and all withdrawals," Murray says. "There is also a technology literacy gap between the old and the young and some older respondents may just not know how to navigate or even download their bank's app on their phone."
In terms of the key feature people would change in their banks, most people say that lower fees are on the top of their list when opening a bank account. This feature is the top priority, with 25.67% of respondents across all age groups. Other important features when opening a new bank account include accessibility (locations, comprehensive mobile banking) with 21.18%; good rates, 20.98%; 24/7 customer service, with 12.49%; low minimum deposit requirement with 10.49%; and the variety of accounts, services or products offered with 8.79%.
The GoBankingRates survey highlights another important finding, with the fact that a majority of respondents (61%) said they would not have different types of accounts across multiple banks, for example having a banking account with one financial institution and a savings account with another one. However, age groups have very different opinions on the matter. There's a resounding no answer for the 25 to 34 age range at 70.68%, while the 35 to 44 and 45 to 54 age groups are much closer to 50-50. Find out how age groups plan to approach retirement differently, as well.
More from GOBankingRates: