Best Brokers for Mutual Funds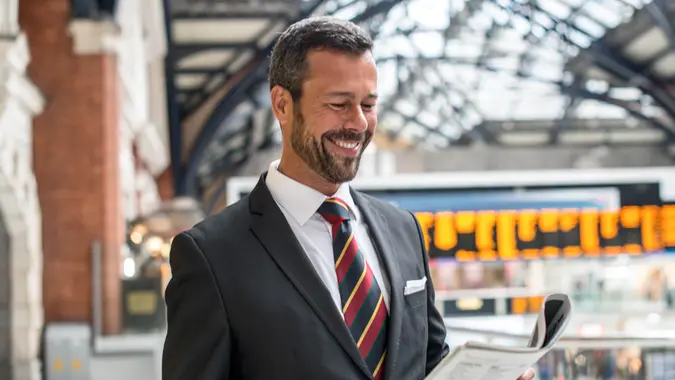 Drazen_ / iStock.com
For many — if not most — investors, one type of investment vehicle will make up most of their retirement account: mutual funds. As of mid-2017, some 100 million individual Americans across 56 million households own mutual funds, totaling $18.7 trillion in assets with $230 billion in new investments flowing in every year.
So, here's a closer look at the best brokerage accounts for trading mutual funds so you can find the right broker for you. For someone looking for diversification but still wanting active management, mutual funds are the most popular choice. And if you're one of those people, finding the best online brokerage will mean identifying the one that offers the mutual funds you're interested in and charges low or no commission to trade them.
What Is a Mutual Fund?
A mutual fund is a basket of stocks or other securities collected together into a single product by a mutual fund company for ease of use by the individual investor. Fund managers pick hundreds — even thousands — of stocks and then sell shares of the fund to investors, giving them a small slice of all those different investments in a single, easy-to-trade vehicle.
Mutual funds are classified as "load," "no-load" and "no-transaction-fee (NTF)." Load mutual funds have commissions included in their purchase price while no-load funds do not. NTF funds, similarly, are those available without an associated trading fee.
So, no-load funds are more straight-forward in their pricing, but brokerages are more likely to charge fees to trade them as a result.
See: Best Mutual Funds For 2019
Best Brokerage Accounts for Mutual Funds
The best online brokerage will typically have tools to help you research and learn about your investments, the lowest commissions and fees you can find, and access to all the investment products you're interested in.
For mutual funds, that would ideally mean commission-free trading on mutual funds and a broker that allows trading a wide variety of funds — not just those they manage themselves.
Best Brokers for Mutual Funds
Broker
Highlights
Commission/Fees
Promotions

E-Trade

9,000+ mutual funds available; 4,400+ no-load, no-transaction-fee mutual funds

$19.99

Up to 500 free trades with deposit of $10,000 or more

TD Ameritrade

13,000+ mutual funds, a range of no-transaction-fee (NTF) funds

$49.99

60 days of commission-free online equity, ETF and options trades when you deposit $3,000 or more

Ally Invest

12,000+ funds available

$9.95 for no-load mutual funds

Reimbursement of up to $150 in transfer fees if you make a one-time transfer of $2,500 or more

Merrill Edge

Access to thousands of funds

$19.95 per trade for no-load, transaction fee funds

Up to $600 in bonus cash when you enroll, open and fund a new Merrill Edge investment account or IRA

Charles Schwab

4,000+ funds in their OneSource program

None if funds are part of OneSource program; $76 when buying funds outside of OneSource program

None

Vanguard

Access to Vanguard mutual funds and a wide variety of non-Vanguard funds as well

No commission on Vanguard ETFs and Mutual Funds or NTF mutual funds; fees on all others

None

Information accurate as of July 9, 2018.
E-Trade
9,000+ funds available with 4,400+ that don't have transaction fees

$19.99 transaction fee for trading
E-Trade certainly doesn't lack variety, offering up more than 9,000 different mutual funds to trade on its platform — nearly half of which are no-load mutual funds that don't have transaction fees of commissions. And E-Trade offers up tools that will help you understand your options and identify which funds have the best returns to choose the right funds for you.
E-Trade Is Also Good Here: Best Brokers for Futures Trading and Commodities
TD Ameritrade
$49.99 fee for trades of no-load mutual funds

Load and no-transaction-fee funds trade for free
TD Ameritrade offers up access to more than 13,000 mutual funds from a number of different mutual fund companies, and as long as you avoid the no-load funds, you can trade them without paying commission. Those no-load funds, though, are only available with a hefty $49.99 fee, so be sure you choose your funds wisely.
Read: The Best Online Stock Brokers for Beginners
Ally Invest
$9.95 transaction fee on no-load mutual funds

Reimbursement of $150 in transfer fees when you move your account from another broker
With Ally Invest, you have access to more than 12,000 different mutual funds, giving you a variety of investment strategies to contrast and compare before settling on the ones that best fit your needs. Many funds do not come with transaction fees and those that do have a low fee of just $9.95 a trade.
Merrill Edge
Access to a list of Merrill Edge Select Funds that are evaluated by Merrill Lynch investment pros

Free trades on NTF funds
As a full-service investment bank, Merrill Lynch has a powerful, well-funded research department, and signing up for a brokerage account gives you access to much of that research in deciding what mutual funds are right for you. The platform includes screening tools to narrow your search, but you can also take advantage of access to the Merrill Edge Select Funds list of funds selected by Merrill Lynch's in-house experts.
Avoid This Mistake: I Didn't Understand Investment Fees and It Almost Cost Me $250k
Charles Schwab
$100 minimums for no-load mutual funds

Thousands of mutual funds available to customers
Schwab touts itself as one of the largest mutual fund companies in the country and offers more than 4,000 mutual fund options through its OneSource program. These funds come without commission or transaction fees, but you might incur a fee if investing outside the program.
Find Out: The Best Robo-Advisors
Vanguard
Trade Vanguard funds for free

$20 annual service fee for certain accounts
Vanguard has built its reputation on reducing fees, and the company boasts expense ratios for its investment products that are 84 percent lower than the industry average. And if you sign up for their brokerage service, you'll have fee-free trading for their products in addition to a variety of non-Vanguard funds, including NTF funds that you can also trade for free.
What to Look for in Your Mutual Fund Brokerage
Investing in mutual funds has been a staple of retirement planning for decades, but getting it right isn't always easy. The right brokerage will provide you with the sort of tools you need to determine which funds are consistently beating their benchmark index — and more importantly — which are beating their benchmark after you factor in fees and commissions.
And in addition to those tools, you should look for a brokerage that will allow you to trade the funds you want at the lowest cost. That can mean a wide variety of fee-free funds, but even a very limited offering can be right if it includes the funds you're most interested in.
Click to find the best investment brokers for your money.
Methodology: To determine the Best Brokers for mutual funds, GOBankingRates evaluated brokerage firms on the following factors: number of mutual funds offers, costs to trade, promotional offers and other perks.
More on Investing