Robinhood vs. Acorns: Which Is Best for Your Investment Style?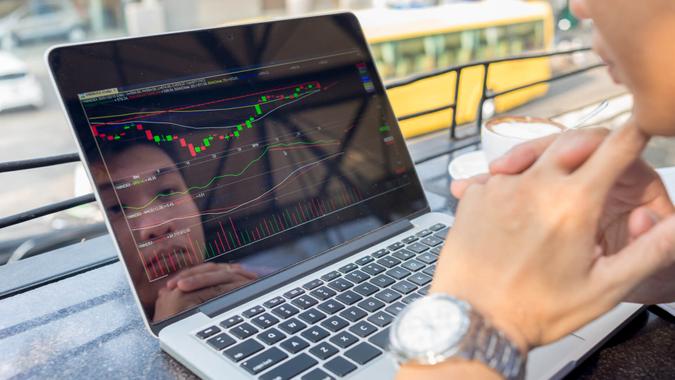 SamuelBrownNG / Getty Images/iStockphoto
In the past decade, investing has gotten easier and more accessible. As recently as a couple of decades ago, you'd have found yourself filling out a dozen or so pages of paperwork in the office of an investment advisor if you wanted to buy a share of company stock. Today, that same opportunity is a few clicks away on your phone, thanks in part to apps like Robinhood and Acorns.
Overview of Robinhood and Acorns
Both Robinhood and Acorns aim to make investing easier for the everyday consumer. They do it very differently, however, so it's important to understand the differences between them.
About Robinhood
Robinhood got its start in 2015. It's headquartered in Menlo Park, California and is best known for its introduction of commission-free trading of stocks and exchange-traded funds. Robinhood, which filed its initial public offering this summer, has 18 million funded accounts and approximately $80 billion worth of assets under its management.
The founding concept behind Robinhood is that the financial system should benefit everyone. Its customers have access to news and information, stocks, options, exchange-traded funds, cryptocurrencies and cash management services.
About Acorns
Acorns was founded in 2012 in Irvine, California. It is focused on micro-investing and robo-investing. Its motto is "Grow your oak" and its mission is to help users save and invest. Acorns offers a round-up service, taking a customer's spare change and investing it in a professionally managed portfolio.
The company also offers a debit card with the round-up feature, an individual retirement account and an investment account for children. In 2020, Acorns had more than eight million customers and approximately $3 billion in assets under management.
Features and Services
Both Robinhood and Acorns offer cash management services, investment accounts and educational content. Robinhood tends to focus on the more sophisticated investor, however, while Acorns aims to reach the average consumer who wants to save and invest more but isn't quite sure how.
Robinhood Offerings
Individual equity buys: Stocks and exchange-traded funds
Options: Calls, puts and more
Gold level: Research reports, bigger instant deposits, low-interest loans and more
Cash management: Pay bills, send checks and more
Cryptocurrency: 24/7 access to Bitcoin, Ethereum, Dogecoin and more with an entry point as low as $1
Data: News and Information about investing
Acorns Offerings
Acorns Invest: Professionally managed smart portfolio with round-up functionality
Acorns Later: Individual Retirement Account with round-up functionality
Acorns Early: Investment account for children
Sustainability: Portfolios based on exchange-traded funds in the environmental/social/governance space, also known as ESG
Checking: FDIC-insured checking account with smart deposit and round-ups
Fee Comparison
Robinhood Instant: This is the company's default account. It allows access to instant deposits of $1,000 or less, plus extended-hours trading. It is a margin account and select fees apply.
Robinhood Gold: All the functionality of an Instant account, but with the added ability to do margin investing. The gold level also includes access to more sophisticated data and market research. It runs $5 per month.
Robinhood Cash: This is a basic account that offers access to instant deposits up to $1,000 but no access above that point and no ability to trade with unsettled funds. It is free of charge.
Acorns Personal: Access to investment, retirement and checking accounts, plus a debit card, bonus investments from affiliated retailers and financial news and advice, all for just $3 per month.
Acorns Family: Investment accounts for adults and children, retirement and checking accounts, plus a debit card, exclusive offers and content for just $5 per month.
Mobile App Experience
The Acorns app comes out the winner on both iPhone and Android devices, but both apps are well-regarded overall and offer extensive reporting and functionality.
| App | App Store/iPhone | Google Play/Android |
| --- | --- | --- |
| Robinhood | 4.1 | 3.8 |
| Acorns | 4.7 | 4.3 |
Who Should Use Robinhood?
Since Robinhood offers the ability to make individually selected equity purchases, it's best for those who want more hands-on control over their investments. A Robinhood user has access to typical investments, like stocks and mutual funds, as well as more unconventional choices like cryptocurrency.
Who Should Use Acorns?
Although Acorns offers a handful of products, all of them are professionally managed — meaning that they're intended for people who want strong portfolios without hands-on involvement. Acorns doesn't offer the ability to make hand-selected investments and doesn't offer access to less traditional investments like cryptocurrency. With Acorns, an investor can answer a few key questions about their investment goals and then be led to an asset allocation that matches those goals.
Good To Know

Although Robinhood and Acorns have been surging in popularity, they are also both going through the ups and downs that are often associated with rapid growth.

Robinhood's revenue grew from $277.5 million in 2019 to $958.8 million in 2020 — an annual growth rate of 245%. The company filed its initial public offering this summer and became a publicly traded company. However, Robinhood has not been without its scandals — from a user who was misled with fatal consequences to its role in the GameStop trading scandal. It has also been under scrutiny for using industry kickbacks, a process that is under evaluation by U.S. regulators.
Acorns, for its part, has grown to more than eight million users, helped in part by an increased interest in investing amidst the COVID-19 pandemic. In the same period, industry observers have noted that the company has appeared to slim down. Acorns reportedly laid off several dozen people and closed one of its four offices in 2020.
Like Robinhood, Acorns reportedly has plans to become a publicly traded company later this year and, ahead of that shift, it has been recruiting experienced leaders — most recently, former Amazon executive David Hijirida, who will serve as the company's President. Acorns also plans to begin offering cryptocurrency as an asset available in its diversified portfolios soon.
Two Different Apps for Two Different Audiences
Comparing Robinhood vs. Acorns is similar to comparing apples and oranges. Both are in the same family — investing, largely — but Robinhood offers a greater level of autonomy while Acorns can help investors move forward in a more comfortable, guided way. Each service has a lot to offer and the choice between them simply depends on your goals.
If you're interested in a more hands-on approach, Robinhood may be right for you. If you'd prefer to make more secure, longer-term investments without having to do too much leg work on your own, Acorns is the better option.
Our in-house research team and on-site financial experts work together to create content that's accurate, impartial, and up to date. We fact-check every single statistic, quote and fact using trusted primary resources to make sure the information we provide is correct. You can learn more about GOBankingRates' processes and standards in our editorial policy.