What Are Ethereum Gas Fees and How Do They Work?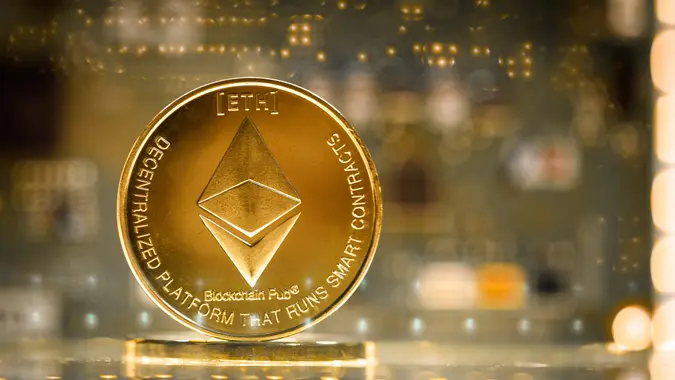 Capuski / Getty Images
Ethereum is one of the highest-valued cryptocurrencies in the world with a market cap of more than $151 billion as of Nov. 15, 2022. More than 1 million transactions occur on the Ethereum blockchain daily.
However, nothing is free on the Ethereum blockchain, not even processing transactions. The blockchain charges a gas fee every time a transaction occurs. It's like using an out-of-network ATM. ATM operators charge transaction fees to use their network capabilities.   
What Are Ethereum Gas Fees?
Ethereum gas fees are fees the Ethereum blockchain charges customers when they use the blockchain for transactions. These transactions may involve exchanging cryptocurrency from one wallet to another or even exchanging an NFT. Nonetheless, if something changes hands on the Ethereum blockchain, Ethereum charges gas fees on the transaction. 
Blockchain users must pay Ethereum gas fees in the blockchain's cryptocurrency, ETH. These fees typically range between $15 and $40 worth of ETH per transaction but have been far higher and far lower. Gas fees hit a record high of over $700 in June 2020, and the record low was around $10 in 2022. 
How Ethereum Gas Fees Work
Ethereum charges a varying Ethereum gas fee every time it uses the Ethereum blockchain to process transactions. However, that gas fee changes based on the following:
Base Fee. When the blockchain experience higher levels of demand, the gas fee increases. When demand is low, the gas fee follows. Ethereum uses blockchain demand to set the base fee. 
Gas Units. These are also known as limits. You set gas units based on the amount you're willing to pay per transaction. Some transactions will be worth more gas units than others. 
Tips. You can add tips to the gas fee in an attempt to get your transactions to run faster. 
Ethereum gas fees run based on an auction system. When demand is high, transactions cost more. Moreover, the highest bidders in terms of tips and gas units enjoy the fastest processing of their transactions. 
What Causes High Ethereum Gas Fees?
There are a few factors that cause high Ethereum gas fees:
High Ethereum blockchain demand 
Ether price — consumers pay gas fees in Ether
How Ethereum calculates gas fees 
Final Take
Ethereum gas fees can be expensive. However, you can avoid high gas fees by making transactions when blockchain demand is typically the lowest, usually late at night and early in the morning.
Ethereum Gas Fees FAQs
Find the answers to some of the most common questions about Ethereum gas fees below.
How much are ETH gas fees right now?

As of Nov. 14, 2022, Ethereum gas fees were $24.19 worth of ETH per transaction. However, gas fees change by the second, so chances are the fee is different as you read this.

Why is the Ethereum gas fee so high?

There are multiple reasons the Ethereum gas fee is so high. The most pressing reasons include high blockchain demand, the fact that you must pay fees in Ether and the way Ethereum calculates gas fees.
Information is accurate as of Nov. 15, 2022. 
Our in-house research team and on-site financial experts work together to create content that's accurate, impartial, and up to date. We fact-check every single statistic, quote and fact using trusted primary resources to make sure the information we provide is correct. You can learn more about GOBankingRates' processes and standards in our editorial policy.