5 Best Up-and-Coming Cryptocurrencies for 2022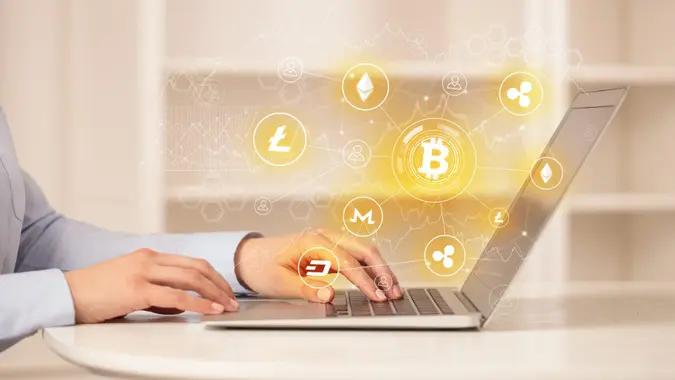 ra2studio / Getty Images/iStockphoto
The stock market had an impressive year in 2021, with the S&P 500 up nearly 27%. But that was child's play compared to the three- and four-digit gains that some of the biggest cryptocurrencies brought home to their investors last year.
If you had invested in binance coin at the start of 2021, you would have earned 1,300% for the year. Avalanche investors cleaned up with gains of more than 3,000%.
So, which cryptocurrencies will go on to be the digital rock stars of 2022? That is yet to be determined. If anything was learned from 2021, it's that a lot can happen in a year. While no one can predict the future, the following coins have cultivated high expectations from investors and industry watchers alike.
5 Top Up-and-Coming Cryptocurrencies
Looking to get in on the ground floor of the next big cryptocurrency? These tokens are a good place to start.
1. LuckyBlock (LBLOCK)
Of all the new tokens introduced in 2022, luckyblock could be among the most promising. It just began trading in January, and it quickly became the fastest cryptocurrency to reach a $1 billion "crypto unicorn" valuation, according to a press release. Several publications have hyped LBLOCK as the single best cryptocurrency to buy this year.
Unique among all other coins on the market, the LBLOCK token is the currency of the LuckyBlock lottery and the platform's non-fungible-token competitions. Promising to be more transparent and easier to win than traditional lotteries, LuckyBlock will be a worldwide drawing that's governed by its users through blockchain protocols.
Many industry watchers say it's poised to change the nature of lotteries specifically and online gambling in general. Operating on the Binance Smart Chain (V1) and on Ethereum (V2), LBLOCK funds the purse in the lottery, but that's not all. Its founders think token holders will find LBLOCK to be a good investment for the future.
That has yet to be seen, but one thing is certain: There is no shortage of white-hot buzz surrounding LBLOCK.
2. Gari Network (GARI)
India is the world's largest cryptocurrency market, according to InvestorPlace, and gari is the native token behind Chingari, the Indian version of TikTok. Following launches in Latin America and Africa expected in 2022, Chingari plans to come to the U.S. and Europe in 2023.
The GARI token incentivizes Chingari content creators, who earn 30% of the revenue generated by original content they produce on the platform. Barring an Indian ban on cryptocurrency — unlikely considering the government will impose a 30% tax on cryptocurrency gains — GARI appears to have a lot of potential as an up-and-coming currency.
In fact, Tech4Billion Media, Chingari's operator, is looking to capitalize on the success of the token by raising $200 million in a Series B round of funding at a $1 billion valuation, Mint reported.
As of Oct. 10, GARI is priced at just under 5 cents and has a market cap of $9.7 million, which ranks it at No. 770 by that measure, according to CoinMarketCap.
3. Aave (AAVE)
Aave's liquidity protocol serves as a cryptocurrency lending platform where users can earn interest by adding their assets to liquidity pools currently valued at nearly $8.5 billion. Borrowers can use their own crypto as collateral and borrow against it across a number of assets and platforms. Developers can build smart contracts to take out "Flash Loans" to borrow assets without collateral, as long as they repay the loan with interest and fees within the same transaction.
Aave's Flash Loans have been hailed as DeFi's first uncollateralized loan option. The protocol is also unique in that it allows borrowers to switch between fixed and variable interest rates, so they can select the option that's most advantageous in any given market environment.
Aave is the governance token for the Aave platform. It gives holders a vote in decisions that affect the protocol.
4. Fetch.AI (FET)
Launched on Binance in 2019, Fetch.AI is an artificial intelligence lab looking to democratize AI within a permissionless network anyone can use to execute tasks.
FET, the blockchain's token, enables users to create and deploy digital twins, which are software agents, on the network, according to Coinbase. Developers can use their FET tokens to train those digital twins and share the intelligence gleaned from them on the network. FET tokens also secure the network by verifying transactions.
The network aims to be a digital data marketplace with a machine-based economy. The digital twins could, conceivably, perform any task from checking the availability of airline tickets to optimizing supply chains, according to Cryptonews.
5. DePo (DEPO)
Like every other token on this list, DePo stands out because it's attached to an innovative technology or use case. DePo holds bragging rights to the title of the world's first decentralized multi-market aggregator. Users can manage, store and trade all of their digital assets in one place with DePo, where the entire cryptocurrency market lives under one unified dashboard.
It's not just tokens. The platform gives users access to countless DeFi products and non-fungible tokens, as well. Best of all, DePo promises to maximize gains by getting investors the best deal possible from the global crypto market with each trade its users place.
At the heart of it all is the DEPO token, which can be staked for passive income — a tiered referral system and 50% revenue share are coming soon. There's a fixed cap of 1 billion tokens, but DePo is aware that investors will naturally be skeptical of a coin so new and so unproven. To demonstrate the DePo team's long-term view of their token, the company has locked 30% of the total supply in Unicrypt for 12 months.
Daria Uhlig contributed to the reporting for this article.
Information is accurate as of Oct. 10, 2022, and is subject to change.
Our in-house research team and on-site financial experts work together to create content that's accurate, impartial, and up to date. We fact-check every single statistic, quote and fact using trusted primary resources to make sure the information we provide is correct. You can learn more about GOBankingRates' processes and standards in our editorial policy.