9 Cheapest Stocks To Invest In on Robinhood for November 2022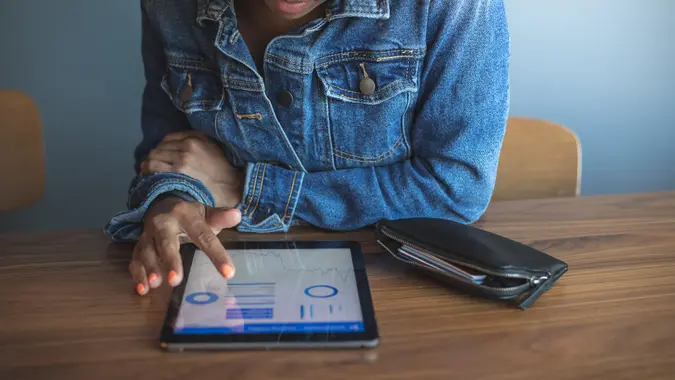 LPETTET / Getty Images
Robinhood and other trading apps have brought stock trading to the masses, offering easy access and no commissions. Since those who trade on Robinhood and similar apps may not have a huge portfolio, inexpensive stocks are often appealing.
That said, low-priced stocks often have higher volatility than their higher-priced counterparts. They may be in riskier sectors, like early-stage technology or pharmaceuticals. Many of them are young companies and may not yet be generating profits or even revenue. So, keep an eye on your cheap stocks to make sure they're performing as you expect.
Investing in Cheap Stocks
Many of the same best practices apply to investing in cheap stocks as apply to investing in pricier, better-known companies. Two of the most important truisms are to "do your due diligence" and "buy what you know."
Be sure that you understand the business that the company is in. You should know who their competitors are and how they are different from the target company. You should know who their customer is and why they choose the target company over other options. And compare their history to that of their competitors — even though it's true that past performance is no guarantee of future results.
What Are Some of the Cheapest Stocks on Robinhood?
Here are some of the cheapest stocks to invest in on Robinhood.
1. Broadway Financial Corporation
Broadway Financial Corporation (Nasdaq:BYFC) is the holding company of City First Bank.  Originally known as Broadway Federal Savings and Loan, it was founded in 1947 by three African American entrepreneurs to improve access to capital for homeownership for African Americans returning from World War II.
In 1998, City First Bank opened in Washington, D.C. to address the ongoing issue of lack of access to financial services for minority communities. In 2021, Broadway Federal Bank and City First Bank merged to form the largest Black-led Minority Depository Institution in the U.S.
The stock has been trading at around $1.00 per share for the past several months, closing at $1.13 on Oct. 31, 2022. This is near the low end of its 52-week range of $0.88 to $3.50, and down considerably year to date.
2. Senti Biosciences Inc.
Senti Biosciences Inc. (Nasdaq:SNTI) is exploring the potential of gene circuits to develop smarter medicines that will address challenges people face when living with cancer and other complex diseases. As with any early-stage company that is pioneering new technology, the potential is great, but the future may be uncertain.
The stock of Senti Biosciences closed at $2.32 on Oct. 31, 2022. Its 52-week range is $1.20 to $10.35 per share, and its average 12-month price target by analysts is $8.83.
3. SOBR Safe, Inc.
SOBR Safe, Inc. (Nasdaq:SOBR) manufactures and markets an alcohol detection platform for employers, designed to detect alcohol use and prevent industrial accidents. The touch-based system prevents an intoxicated worker from entering a factory floor or a company vehicle. The company notes that almost half of all industrial accidents that include injuries are related to alcohol use, and that one in ten commercial drivers in the U.S. test positive for alcohol.
SOBR Safe stock has traded in the range of $0.80 to $15.00 over the past 52 weeks and closed at $3.02 on Oct. 31, 2022.
4. Tilray Inc.
Tilray Inc. (Nasdaq:TLRY) cultivates, processes and distributes cannabis products. The company is the first to supply medical marijuana in the form of cannabis flower and extract products to hospitals, pharmacies and researchers worldwide.
Tilray's stock closed at $4.07 on Oct. 31, 2022, and has traded in a range of $2.65 to $13.95 over the past 52 weeks.
5. Verb Technology Company, Inc.
What is the cheapest stock on Robinhood? Verb Technology Company, Inc. (Nasdaq:VERB) might be it. VERB creates interactive products to drive sales. Its mobile tools are for corporations with direct sales forces and individuals who market their own products. Market.live is an app that lets content creators market products live — think QVC on your phone.
If you're looking for a really cheap stock to buy on Robinhood, this may be it. VERB closed at $0.24 on Oct. 31, 2022. Its 52-week range is $0.17 to $2.14.
6. Seseonics Holdings, Inc.
Seseonics Holdings, Inc. (NYSE:SENS) is the creator of Eversense, the only long-term implantable continuous glucose monitor on the market. The monitor can be implanted under the skin for up to 180 days and takes a blood glucose reading every five minutes. Up to five people can be notified of the results of these readings.
Senseonics Holdings' stock closed at $1.18 on Oct. 31, 2022. Over the past 52 weeks, it has traded in a range from $0.77 to $4.28.
7. MFA Financial Inc.
MFA Financial Inc. (NYSE:MFA) is a real estate investment trust, or REIT, which invests in residential mortgages and mortgage-backed securities. The company also owns real estate, but it is primarily acquired through foreclosure.
The company's stock has traded between $7.15 and $19.04 over the past 52 weeks. As of Oct. 31, 2022, it closed at $9.96.
8. Aurora Cannabis Inc.
Aurora Cannabis Inc. (NYSE:ACB) is a Canadian company engaged in the research, development, production and marketing of medical and recreational cannabis products. It recently announced it reached an agreement to acquire Thrive Cannabis, including its premium Greybeard brand. The acquisition is expected to close in the fourth quarter of 2022 and is expected to result in Aurora's profitability in terms of adjusted EBITDA in the first half of 2023.
Over the past 52 weeks, Aurora Cannabis stock has traded within a range of $0.98 to $8.69 per share. Its closing price on Oct. 31, 2022, was $1.43 per share.
9. Gran Tierra Energy
Gran Tierra Energy (NYSE:GTE) is a Canadian oil and gas exploration and production company with onshore production in Colombia and Ecuador, primarily in the Middle Magdalena Valley and Putumayo Basin. In August, the company was approved to bid to repurchase up to 10% of its common stock, an action typically taken when a company's management and board of directors feel the stock is undervalued.
Gran Tierra Energy stock closed at $1.35 on Oct. 31, 2022, which is close to the midpoint of its relatively narrow 52-week range of $0.63 to $2.15.
Are There Any Penny Stocks on Robinhood?
You can buy penny stocks on Robinhood as long as they are listed on one of the major exchanges — NYSE or Nasdaq. Penny stocks used to be strictly that — those you can buy for less than $1.00. Today, the definition of a penny stock has been broadened to include stocks that sell for under $5.00 per share.
The trick here is that most stocks are de-listed by the major exchanges when their share price falls below $1.00 per share for 30 consecutive trading days, so most true penny stocks aren't available. Stocks that sell for less than $1.00 per share for an extended period of time are usually listed on the OTC exchange or "pink sheets," and Robinhood does not allow access to these stocks.
It's important to keep in mind that the cheapest stocks on Robinhood may not necessarily be the best value. You can still lose money on a low-priced stock — in fact, there are those who say that it's more common to lose money on cheaper stocks than on more expensive ones. So rather than looking for the cheapest stocks on Robinhood, look for those inexpensive securities that are most likely to appreciate in price.
Information is accurate as of Nov. 1, 2022, and is subject to change.
Editorial Note: This content is not provided by any entity covered in this article. Any opinions, analyses, reviews, ratings or recommendations expressed in this article are those of the author alone and have not been reviewed, approved or otherwise endorsed by any entity named in this article.
Our in-house research team and on-site financial experts work together to create content that's accurate, impartial, and up to date. We fact-check every single statistic, quote and fact using trusted primary resources to make sure the information we provide is correct. You can learn more about GOBankingRates' processes and standards in our editorial policy.