How Is The Consumer Price Index Impacting the Stock Market and What Does It Mean for Your Investments?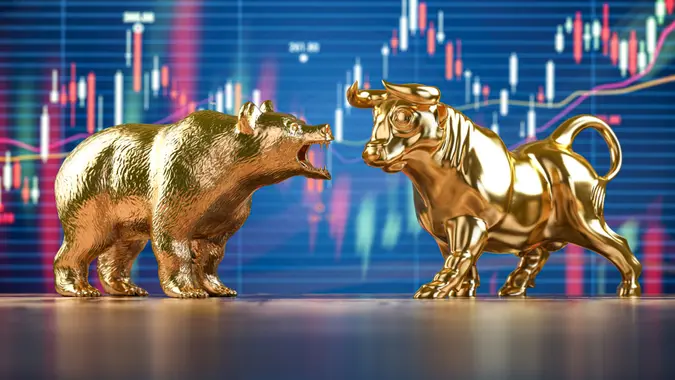 Bet_Noire / Getty Images/iStockphoto
If you are looking to "buy low" and diversify your investment portfolio while stocks are down, time may be running out. The Dow Jones Industrial Average rose Jan. 11, with Wall Street investors showing optimism for the upcoming consumer price index (CPI) report from the Federal Reserve.
See: Investing 2023: Put $12,000 to the Best Possible Use
Read: How To Invest In Precious Metals To Protect Your Retirement
Find: States Whose Economies Are Failing vs. States Whose Economies Are Thriving
The latest CPI, released Jan. 12, showed signs of cooling inflation. Increases came in at 6.5% year-over-year between December 2021 and December 2022, and prices decreased 0.1% between November 2022 and December 2022.
However, the core CPI, which excludes food and energy, rose 5.7% year-over-year and 0.3% during the last two months of 2022. Both the CPI and the core CPI were in line with Fed expectations, according to Bloomberg analysts.
The Dow jumped further on the morning of Jan. 12 in line with the news. As of late morning, the Dow showed gains of .41%, with the S&P 500 up 0.1%.
Further probing of the data by financial analysts could cause a reversal or a pull back. Huw Roberts, head of analytics at Quant Insight, told CNBC, "This push and pull is going to be maintained for a few weeks. There's no single catalyst in today's data that's going to give either the risky-asset guys the vindication they need or the Fed the vindication they need."
Some economists say the bear market reached its end in mid-October 2022. Noting that the S&P 500 has jumped roughly 11% since then, Edward Yardeni of Yardeni Research told Bloomberg Television, "That was the end of the bear market and we're back in a bull market. The outlook for the world economy is actually improving."
Cooling Inflation Could Actual Spur Further Inflation
However, the cooling inflation could spark market optimism — leading back to increased inflation again.
Right now, the Fed is considering a quarter-point hike in the prime interest rate at the Feb. 1 Federal Open Market Committee meeting, Bloomberg reported. This could change, however, depending on how the economy and stock market continues to respond to this month's CPI report.
"Adjusting slowly gives more time to assess the incoming data before we make each decision, as we get close to where we're going to hold. Smaller changes give us more flexibility," Federal Reserve Bank of Boston President Susan Collins told The New York Times.
Take Our Poll: How Do You Think the Economy Will Perform in 2023?
More: 10 Stocks Set To Soar in 2023
For investors, it remains a good time to continue dollar-cost-averaging your stock purchases since the market seems far from its peak. As always, it's wise to assess a company's stock based on the business fundamentals and not the whims of the market.
More From GOBankingRates