How Much Will Pfizer and Moderna Be Worth by the End of 2022?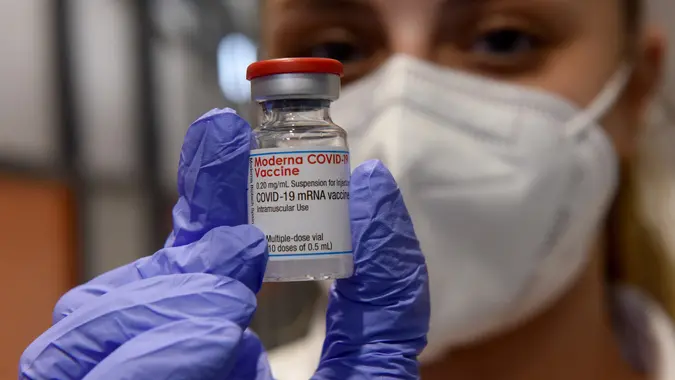 Debbie Hill/UPI/Shutterstock / Shutterstock.com
Pfizer and Moderna have been all over the news for the past two years due to their collective position as the leading providers of coronavirus vaccines. Yet, the two companies come from very different backgrounds.
Find: How Many At-Home COVID-19 Tests Will Your Insurance Company Cover?
Read: Child and Dependent Care Credit Can Add Up to $8,000
Pfizer is a venerable pharmaceutical company with a wide variety of existing products and a solid drug pipeline, whereas Moderna is more of a one-trick pony, having no revenues to speak of before it developed its mRNA vaccine. Both companies have had volatile share prices over the past two years, and analysts expect more of the same going forward, as the coronavirus continues to persist.
While no one can predict individual stock price movements with certainty, here's a look at the valuations that analysts predict for both Pfizer and Moderna over the coming year.
Analyst Price Targets: Pfizer
There are currently 15 analysts covering Pfizer, and they have a consensus "strong buy" on the stock. Twelve-month price targets range from a low of $50 per share to a high of $75, with an average of $59.80. Based on Pfizer's current price, these predicted gains range from 2.25% to 25.2%.
How To Invest In Stocks: A Beginner's Guide
Analyst Price Targets: Moderna
Moderna also has 15 analysts following it, and their consensus estimate is a "buy." Price targets on Moderna over the next 12 months are all over the map, ranging from a low of $85 to a high of $506. This brings the average price target on Moderna to $272.55, although the wide variety of estimates suggests that the stock is unpredictable and likely to be volatile.
Pfizer Current Valuation and Performance
As of the close of business on Feb. 17, 2022, Pfizer's stock price stood at $48.90. Over the past 52 weeks, the stock has traded between $33.36 and $61.71. This puts the stock at 20.75% beneath its 52-week high, as it has been caught in the downdraft that has affected the entire stock market since late 2021. Even with its late-2021 selloff, however, Pfizer had a great 2021, up 60.42% on the back of coronavirus vaccine sales and general stock market strength.
Learn: How Has COVID-19 Changed the Way People View Retirement?
Moderna Current Valuation and Performance
Moderna stock sits at $146.36 per share as of Feb. 17, 2022. Depending on which analyst you believe, you should expect either a loss of 42% or gains of up to 246%, with a consensus expectation of an 86% gain. Year-to-date, the stock is already down over 42%, but investors who bought in before the pandemic are still sitting pretty. The stock posted remarkable back-to-back gains of 453.04% and 143.11% in 2020 and 2021 respectively, amounting to a total three-year change of a whopping 636.82%, even after its latest selloff.
Pfizer Outlook
Pfizer and Moderna have both gotten huge revenue boosts from their respective coronavirus vaccines, but they are very different companies. Moderna's vaccine is its sole commercial product, but Pfizer has been in business since 1849 and has countless pharmaceutical products. In its Q3 2021 earnings report, Pfizer recorded revenues of $24.1 billion, vs. just $5 billion for Moderna.
More: Ways Investing Will Change in the Next 25 Years
In other words, while the extension of the coronavirus pandemic will no doubt help Pfizer's revenues, it's just a minor piece in a much larger overall puzzle. Pfizer's stock is expected to be much more stable over 2022 than Moderna's, with a relatively tight price range predicted by analysts. As an investor, you'll likely be drawn to Pfizer if you seek a financially strong company that pays a solid 3.22% dividend and isn't likely to have major surprises. Those with a more speculative inclination may prefer shares of Moderna.
Moderna Outlook
Part of the reason that analysts have such a wide range of price targets on Moderna is due to the higher level of uncertainty surrounding the stock. Whereas Pfizer has a large stable of drugs to lean on, along with a well-developed future pipeline, Moderna in some sense came out of nowhere and is much more reliant on its coronavirus vaccine. If future coronavirus variants are not as virulent — or even nonexistent — the company's prime driver of revenue will dry up, which could crater the stock.
On the other hand, if Moderna adds another successful mRNA vaccine to its pipeline, the stock could skyrocket. With a limited product line, developing another successful drug could result in outsized profits for the company, driving further stock gains. However, since Moderna's future is so unpredictable, the stock could have a wide variety of outcomes.
More From GOBankingRates