Best Silver Stocks To Buy Now in 2022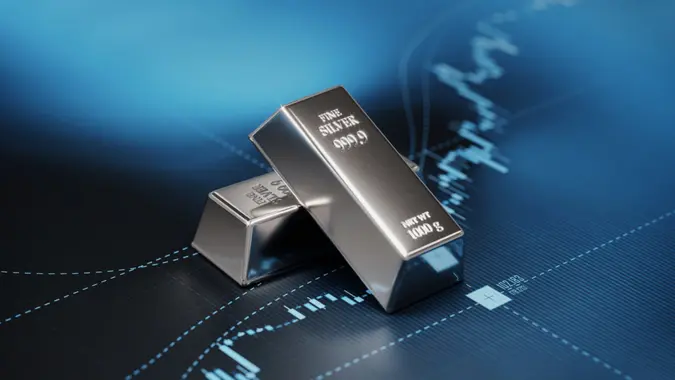 MicroStockHub / Getty Images/iStockphoto
Investors looking to minimize risk during a recession may often turn to precious metals to diversify their portfolios. Both silver itself and silver stocks, the shares of companies involved in silver extraction and manufacturing, have gone up in past recessions. Will there be an increase in the silver stock price in 2022? And, if so, what are the best silver stocks to buy?
Read: 5 Things You Must Do When Your Savings Reach $50,000
Can You Buy Silver Like a Stock?
While many who invest in silver do prefer to physically own and store it, this approach does come with disadvantages. Because silver is one of the cheaper precious metals, a significant investment in silver can be hard to store. Unlike gold, valued in the five figures per pound, prices for a pound of silver range in the lower triple digits. This means that an investment in silver would take up roughly 100 times more space than a comparable investment in gold.
Another disadvantage of physically holding silver is how long it can take an investor to liquidate assets. Selling something held physically can be much slower than clicking sell on an online stock trading platform.
Luckily, there are alternatives. Some exchange traded funds invest in physical silver and allow other investors to buy shares in them. This way, the investor does not need to bother with shipping or storage. 
Another way to enter the silver market is by investing not in the physical metal itself, but also in silver stocks. Companies that extract and process silver, called "miners," and companies that re-sell it, called "streamers," can be a good way for investors to get into the silver market.
What Is the Best Silver Stock?
Here are some of the best silver stocks to keep an eye on.
First Majestic Silver Corp. (AG)
First Majestic Silver Corp. is one of the largest silver producers in the world and the largest primary silver producer in Mexico. In Q2 the company reported a total production figure of 7.7 million silver equivalent ounces and had a revenue of $159.4 million — a three percent increase compared to 2021.
Pan American Silver Corp. (PAAS)
Pan American Silver Corp. is the fourth largest silver producer in the world and has operations in Peru, Bolivia, Mexico and Argentina. In Q2, the company produced 4.5 million ounces of silver and had a revenue of $340.5 million.
Hecla Mining (HL)
Hecla Mining is responsible for 40% of all silver produced in the U.S. and is the New York Stock Exchange's oldest precious metals mining company. Hecla Mining operates in multiple states, including Alaska, Idaho and Nevada, and has mines in Mexico and Canada as well. According to its investor presentation, Hecla Mining believes it will reach a production of 17 million to 20 million ounces annually.
Wheaton Precious Metals Corp (WPM)
Wheaton is the world's largest silver streaming or re-selling company. The company buys the rights to purchase silver at a low fixed cost from miners, allowing it to make a profit on distribution. Revenue in Q2 was $303 million, beating estimates by $6.4 million. The company predicts a 30% increase in production on a 10-year annual average.
What Is the Best Way To Buy Silver Stocks? 
Once a potential investor has researched the best silver stocks to buy, they can invest by buying shares of those companies on the appropriate exchange, such as the NYSE or Nasdaq.
Silver, Silver Stocks and Recessions
Historically, silver has been a good investment during recessions. As assets such as stocks and cash become riskier due to market movements and inflation, investors often turn to precious metals for a safer store of value. If silver is perceived as a lower risk during a recession, more and more investors may move their capital into it, increasing its price. When the value of silver goes up, the values of companies involved in the silver industry also tend to go up.
However, unlike some other precious metals, a part of silver's value also comes from its use in the industry. Silver is used in the manufacturing of many products, including many electronics and alternative energy components, such as RFID chips, semiconductors and solar panels. If a recession slows the demand for silver in manufacturing, it may counteract the added value from investors seeking diversification.
Because of this, silver's relationship with the economy is much less cut and dry than that of other precious metals. Investors looking to diversify into silver and silver stocks may need to do more research on current trends, both in manufacturing and the economy at large.
Are Silver Stocks a Good Investment? 
Will silver stocks be a good investment in 2022? Some seem to think so. Keith Neumeyer, CEO of First Majestic Silver Corp., has stated that he believes silver will reach $100 per ounce in the near future, and could even reach $1,000 per ounce further on. If this is correct, then both silver and silver stocks would be good long-term investments.
The potential in silver stocks, according to some, comes from silver's importance in the industry. Apart from its current multitude of uses in electronics, silver is also one of the main components of photovoltaic cells, turning solar energy into electricity. As the world continues to invest in alternative energy, the demand for silver could rise, causing prices to skyrocket. The hope for investors is that silver eventually uncouples itself from other precious metals and begins to move independently, based on manufacturing supply and demand.
In one interview, Keith Neumeyer stated, "We're consuming, as a human race, over 1 billion ounces of silver annually, and miners are only producing about 800 million ounces a year, and that's been dropping for three consecutive years."
If this demand continues to rise, both silver and silver stocks could turn out to be very profitable for investors. 
Information is accurate as of Oct. 19, 2022.
Editorial Note: This content is not provided by any entity covered in this article. Any opinions, analyses, reviews, ratings or recommendations expressed in this article are those of the author alone and have not been reviewed, approved or otherwise endorsed by any entity named in this article.
Our in-house research team and on-site financial experts work together to create content that's accurate, impartial, and up to date. We fact-check every single statistic, quote and fact using trusted primary resources to make sure the information we provide is correct. You can learn more about GOBankingRates' processes and standards in our editorial policy.