In Spite of Stalled Stimulus, Plenty of Reasons for Optimism on Wall Street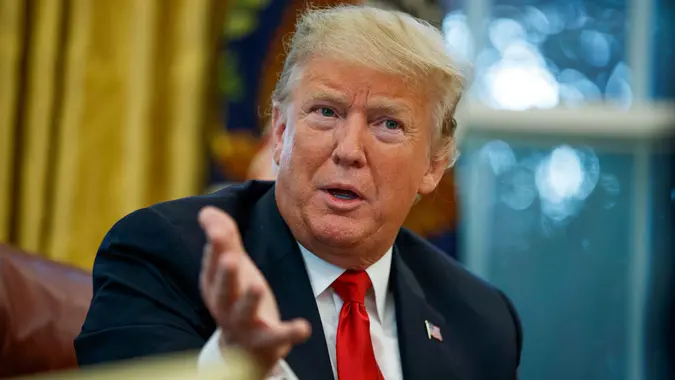 Evan Vucci/AP/REX / Shutterstock.com
Dow futures closed up more than 114 points for the day on Wednesday, in spite of President Donald Trump's refusal to sign the stimulus bill Congress presented late Tuesday night. Analysts are attributing the jump to Trump's call for $2,000 stimulus checks (with "$4,000 for couples"), and better-than-expected weekly jobless data, according to Investor's Business Daily.
The S&P stayed relatively flat, gaining just 2.75 points for the day, while Nasdaq closed down 36.80 points. What else is happening as the stock market gets set to wind down for Christmas on Friday?
1. Weekly jobless rate "not as bad as expected."
Economists expected initial unemployment benefit claims to rise to 888,000 last week, according to a CNBC report. Instead, claims dropped to 803,000, down from 892,000 the prior week. Last week's numbers were the highest since early September.
The jobless report may have bolstered the Dow in spite of many reasons for a lack of consumer confidence or economic optimism right now.
See: Good News — Jobless Claims Aren't as High as Predicted
Find: Stimulus Deal Lets Some Workers Keep Extra Unemployment Money They Were Overpaid
2. Tesla gains ground — again.
Tesla (NASDAQ: TSLA) bounced back after its dip following inclusion into the S&P 500, possibly contributing to the S&P's stability yesterday that resulted in less than a 3 point gain. Apple (NASDAQ: AAPL) stock was flat yesterday after it rose following an announcement of a forthcoming electric vehicle for the technology innovator. Apple, Microsoft (NASDAQ: MSFT), Amazon (NASDAQ: AMZN), Facebook (NASDAQ: FB) and Tesla make up the top five largest companies in the S&P 500, comprising more than 20% of the index.
3. Here comes Santa Claus?
We've seen a bullish market in the latter half of 2020, in spite of multiple hits to the economy as a result of the pandemic. Will a "Santa Claus rally," a phenomenon that drives stock prices up in the last week of December into the first few days of January, occur in 2020? A lot may ride on the stimulus bill, as a rally could be dulled by low consumer confidence and fewer holiday bonuses. But if the bill passes with a $2,000 payment for individuals earning $75,000 or less annually and $4,000 for couples filing jointly and earning $150,000 or less, Santa Claus may, indeed, be coming to Wall Street.
More From GOBankingRates: