3 Dow Stocks To Buy in June 2023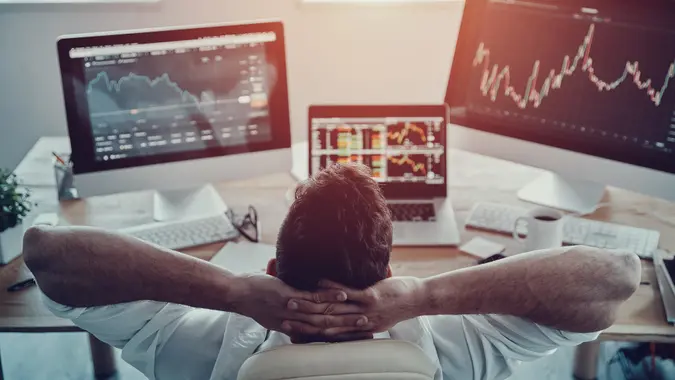 g-stockstudio / Getty Images/iStockphoto
The Dow Jones Industrial Average is in the doldrums compared to the other big stock market indices. The Nasdaq is up more than 26% on the year. The S&P 500 has gained over 10% since Jan. 1. The Dow, on the other hand, is still in the red for 2023.
See: 3 Things You Must Do When Your Savings Reach $50,000
But the index — which tracks 30 of the biggest and most profitable bellwether stocks — is off by only less than 1%, and it finished May with a solid run. If the index can maintain and extend its recent gains, the following three stocks could be excellent picks to consider in June. 
Keep reading to learn about a trio of stocks you should consider on the Dow Jones today.
3 Dow Stocks To Buy in June 2023
The following three stocks are in a good position to have a strong June — but keep in mind that stock picking can be risky. You should consult a trusted financial professional before making investment decisions. 
1. Salesforce (CRM)
Salesforce shares fell 4% after its May 31 earnings report, which means the stock is on sale. Investors fled over concerns about falling demand for the software giant's consulting services.
But that news overshadowed a very bright silver lining. The company's Q1 results beat analyst expectations and raised its guidance for an improved full-year earnings projection. In fact, the company predicted record earnings for the second quarter and the year as a whole. 
More importantly, Salesforce is embracing new technologies that could position it to dominate the customer relationship software industry for years to come. Most notably, the company is working to incorporate secure generative AI throughout its entire portfolio of products and services.
Despite the recent drop, CRM is having a banner 2023 — the stock is up nearly 60% year to date.
2. Apple (AAPL)
Apple is up 20% over the last year and has gained nearly 45% so far in 2023 — but is the darling of Warren Buffett's portfolio still a buy in June?
Many analysts think so.
Few companies have delivered more consistent growth than Apple since its 1980 IPO. Relentless innovation and nearly unmatched brand loyalty have driven that growth — it's up 960% in the last decade — but that doesn't mean it's too late to join the party.
According to Bloomberg, Apple is preparing to innovate yet again with its entrance into the VR/AI market and the debut of its first new product category since 2014. On June 5, CEO Tim Cook will unveil the company's new mixed-reality headset, which will run on the xrOS operating system and retail for about $3,000. 
So far, there's limited enthusiasm for the device beyond the gaming community. But doubters have second-guessed Apple before, and between its computers, music players, tablets, earbuds, smartwatches and, of course, smartphones, when it comes to pioneering new consumer devices, Apple is batting 1,000.
3. Johnson & Johnson (JNJ)
Arguably Wall Street's greatest dividend stock, Johnson & Johnson is not just a Dividend Aristocrat with 25-plus consecutive years of dividend increases, but a Dividend King, which requires at least 50 straight years of shareholder raises. With 60 consecutive years of dividend growth, JNJ is among the top 12 stocks in the world based on its dividend streak — but that doesn't mean it doesn't still have room to grow. 
According to The Motley Fool, JNJ has 14 products that are on pace to top $1 billion in sales in 2023. Among them are an immunology therapy called Stelara and its COVID-19 vaccine. In the first quarter of this year alone, the company has pumped $3.6 billion into research and development to fund more than 100 clinical trials. Those are all excellent indicators that JNJ is on course to expand — and keep those dividend increases rolling.
Will the Dow Go to 15,000?
As of June 1, the Dow is at 33,061.57. It would have to lose more than half its value to fall to 15,000. That kind of crash isn't unprecedented, but it would take a cataclysm. 
The Dow lost roughly half its value in less than a month between October and November 1929 in the runup to the Great Depression. By the summer of 1932, it had shed a ghastly 89% from its peak.
During the Great Recession, the Dow bottomed out 54% off its peak on March 6, 2009. It took four years to recover fully. Then, on May 3, 2013 — almost exactly a decade ago — the index reached 15,000 for the first time in history.
What Will Be the Biggest Stock in 2030?
Predicting the performance of a single stock over seven years is even more challenging than projecting a benchmark index's likely trajectory over two years. But writing for The Motley Fool, Keith Speights gave it his best shot. 
The investment writer thinks the field won't look much different than it does today, with either Apple, Alphabet or Microsoft reigning as king of the stock market hill in 2030.
Wrapping Up
Most professionals advise against picking individual stocks and attempting to time their upward or downward trajectories. If stock picking feels too risky for you, consider an ETF that tracks the Dow. The oldest and most popular is the SPDR Dow Jones Industrial Average ETF Trust, which has tracked all 30 of the Dow's so-called blue-chip stocks since 1998.
Data is accurate as of June 2, 2023, and is subject to change.
Our in-house research team and on-site financial experts work together to create content that's accurate, impartial, and up to date. We fact-check every single statistic, quote and fact using trusted primary resources to make sure the information we provide is correct. You can learn more about GOBankingRates' processes and standards in our editorial policy.