When To Buy Stocks: What You Need To Know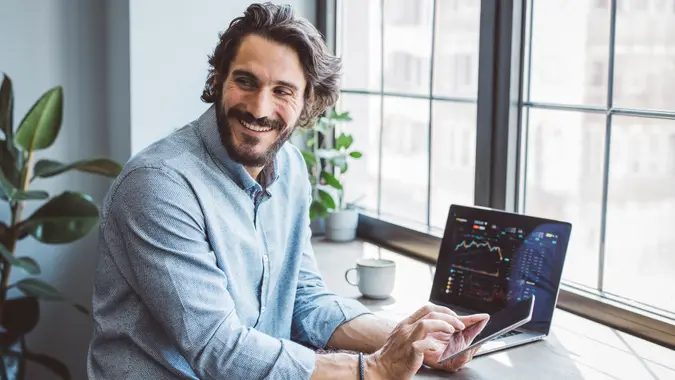 svetikd / iStock.com
With the stock market still trapped in bear territory, the question of when to buy stocks is trickier than ever. With billions of trades executed during a single trading session, how can any investor know when to pull the trigger? There's no one right answer, but there are many strategies and tips that can help you decide when to buy stocks, when to wait and when to get out. 
Here's what you need to know. 
When Is the Best Time To Buy Stocks?
The best time to buy is the same for every stock — when shares are trading at their lowest point after a downward price drop just before a rebound sends it climbing back up. 
This ideal buying point is easy to identify — as long as you have the benefit of hindsight after it's already happened. Spotting the dip as it's playing out in real time, however, is a bit more challenging. 
There's no magic formula. If there were, everyone would be rich — but that doesn't mean there aren't indicators you can use to try to get your timing as close as possible. Keep reading to learn a few tips and strategies on when to buy stocks. 
Is There a Best Time of Day To Buy Stocks?
The stock market is open on weekdays, excluding market holidays, from the ringing of the opening bell at 9:30 a.m. Eastern to the time the closing bell rings at 4 p.m. 
So when, exactly, is the right time to buy during those 32 hours and 30 minutes of weekly trading activity? 
Before you try to answer that question, it's important to know when the biggest price swings typically take place if you're looking to capitalize on market volatility. 
Post- and Pre-Bell Activity Makes for Volatile Mornings
Although the market closes to the general public at 4 p.m., both retail and institutional investors participate in after-hours trading after the closing bell, but post-bell trading takes place in much lower volume. Corporate news that breaks after the closing bell often drives a lot of after-hours trading — but those trades aren't settled until the opening bell signals the start of the next day's trading session.
Also, investors typically react to premarket news that breaks before the start of trading right when the next trading session begins. 
Because of those two factors, trading is heaviest and price movements are most dramatic in the first hour or two after the opening bell. As noted by Forbes Advisor, that makes 9:30 to 10:30 or 11:30 a.m. potentially the best time to trade if you're eager to take advantage of market volatility.
Midday Trading Is Much More Subdued
Although every trading session is unique, the morning rush is typically followed by a lull from around 11:30 a.m. to roughly 2 p.m. This is when trading is less frequent and prices are more stable, according to Forbes Advisor. Of course, dramatic news can cause intense market reactions any time of day, but generally, midday trading hours are not the best time to buy for traders looking to capitalize on volatility. 
The Run-Up to Market Close Offers Renewed Opportunities
The last hour of the trading day tends to come with another flurry of activity, as noted by Forbes Advisor. These are the moments that day traders close out their positions and investors flock to their last chance to take advantage of news that broke throughout the day or to get in on late-day rallies. 
Therefore, the final minutes of the trading day offer another chance to benefit from major price movements like the kind that can be expected shortly after the opening bell in the morning.
There's another opportunity here, as well. 
According to Forbes Advisor, the pre-closing flurry is typically fueled by inexperienced traders who are trading on news and emotion instead of strategy. This gives veteran investors the chance to take advantage of bad choices and bad timing that novices are known to exhibit at this time.
What Is the Best Day To Buy Stocks?
Now that you know where the best opportunities lie during the trading day, it's time to consider which days of the week offer the best chance at taking advantage of price swings. Dan Casey, an investment advisor who founded a Michigan firm called Bridgeriver Advisors, told Forbes Advisor that Mondays tend to be best.
That's because the market closes over the weekend, which leaves a long period of time between Friday's closing bell and the start of trading on Monday morning. A lot can happen over a weekend and a lot of news can break, which leaves investors chomping at the bit to make moves. All that pent-up demand to trade tends to fill Mondays with high volume and high volatility. 
It's Not Just Volatility — Events Can Make Some Days Better Than Others
Not all investors make their moves based on trading volume and heavy price movements. Some base their strategies, and therefore their trades, on events like preplanned company news.
For example, some investors might buy a stock in advance of an earnings report that they expect to deliver good news. A strong report can give a company's shares a bump so they can profit by selling high. Other investors might play the same kind of news the other way, waiting until a company they like delivers a bad earnings report that causes the price to dip so they can buy low.
Should I Buy Stocks When They Are Low?
It's not just bad earnings reports that can make investors nervous enough to sell en masse. Global events can cause panic that sinks entire markets, just as the pandemic did in March 2020. In other cases, sell-offs aren't caused by panic at all. For example, the Federal Reserve's raising of interest rates to fight inflation made bond yields attractive enough for large numbers of stock investors to sell shares in pursuit of safer bonds.
No matter the reason, sell-offs present opportunities. For example, investors who swam against the current and bought during the crash of March 2020 invested when stocks were at rock bottom and dirt cheap. They then enjoyed an incredible ride as the market quickly recovered and stocks soared to new highs. 
It's called buying the dip, or buying the bear, and while it's notoriously difficult to time the exact bottom, investors can look at market downturns as sales. If a stock is down, and you believe the company is fundamentally strong, gobbling up shares while they're trading at a discount in anticipation of its eventual recovery can be a sound long-term strategy.
A Few Words on Market Timing
The investors who exited their positions during the March 2020 panic sold at a loss and then had to reenter the market once prices had risen again. In other words, they sold low and bought high, which is the exact opposite of the universal goal of investing. 
That, of course, is a dramatic example, but most experts caution against trying to time the market. Stock picking has a terrible record because over the long term, jumping in and out of positions increases the odds of missing the market's winningest days. 
While you can try to take advantage of volatility, there's less risk in trying to mitigate it. Dollar-cost averaging — contributing regular amounts of money to your investments at regular intervals — evens out price fluctuations over time and ends with you buying more shares when prices are low and fewer when prices are high.
Our in-house research team and on-site financial experts work together to create content that's accurate, impartial, and up to date. We fact-check every single statistic, quote and fact using trusted primary resources to make sure the information we provide is correct. You can learn more about GOBankingRates' processes and standards in our editorial policy.