The Rise of Healthcare Stocks in 2021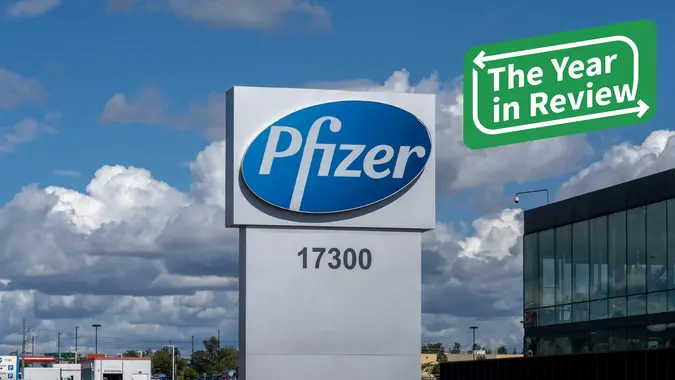 JHVEPhoto / iStock.com
Healthcare stocks come in a variety of types, from speculative biotechnology companies to defensive pharmaceutical companies. In any given year, a number of factors can contribute to whether specific healthcare stocks will move. The markets, in general, roared higher in 2021, but certain healthcare stocks greatly outperformed the S&P 500. The three companies making coronavirus vaccines dominated the headlines, but there were a few other noteworthy movers in the healthcare field in 2021. 
See: 10 Cheap Cryptocurrencies To Buy
Keep Reading: Cryptocurrency Predictions for 2022
Moderna (MRNA)
Moderna began moving upwards in 2020, as word of vaccine development spread, but it truly exploded in early 2021. As the coronavirus pandemic lasted longer than originally anticipated, due in part to the rise of variants, Moderna's vaccine sales skyrocketed. Moderna didn't have any product revenue before the pandemic, but thanks to an estimated 800 million to 1 billion in doses in 2021 alone, Moderna's anticipated revenue was $15 billion to $18 billion. Even after the stock took a nosedive in November 2021, as forecasted revenues and earnings were below expectations, Moderna's still up 164% YTD as of Dec. 7.
Learn: 20 Investments That Are Recession-Proof
Pfizer (PFE)
Like Moderna, Pfizer benefited greatly from its coronavirus vaccine development. In November 2021, Pfizer said it expected $36 billion in vaccine revenue in 2021, followed by an additional $29 billion in 2022. As Pfizer is a giant pharmaceutical company with many other profitable products, the additional vaccine revenue wasn't as big of a mover for the company as it was for Moderna. However, Pfizer shares are still up about 39% YTD as of Dec. 7, easily outpacing the S&P 500's YTD return of about 25%.
Discover: Why It's Never a Bad Idea To Invest In Apple and These Other Companies
UnitedHealth Group (UNH)
UnitedHealth Group is the largest healthcare company by market capitalization, and it's had a great 2021 thus far, up 32.51% YTD. Of course, that just marks another great year for UnitedHealth Group investors, as the stock returned 36% in 2017, 33.35% in 2018, 20.83% in 2019 and 21.12% in 2020. The company expects to post revenue exceeding $300 billion in 2022, meaning more gains could lie ahead for the company's stock. 
More: Most Successful Penny Stocks Ever
OptimizeRX (OPRX)
OptimizeRX is a lesser-known name, but investors who have held on can't help but sing the stock's praises. OptimizeRX is a small-cap company that's one of the fastest-growing companies in North America, according to the Deloitte Technology Fast 500. The stock is up over 93% YTD, even after selling off 39% from its 2021 high. OptimizeRX provides platforms and strategies to help patients reduce their medical costs and stick to their treatment plans while helping pharmaceutical and healthcare companies communicate better with their patients. Analysts still have a consensus buy rating on the stock, with an average 12-month price target of $101.
Discover: 25 Investments That Make You Feel Good While You Make Money
Teladoc Health (TDOC)
Teladoc Health had a tumultuous 2021, making fortunes for investors and then taking it away. The stock had a stellar 2020, rising 141%, as the pandemic spread and it became more difficult for patients to visit doctors in person. As the coronavirus lingered, all kinds of rosy predictions were heaped upon Teladoc, as optimistic commentators viewed the company as permanently transforming medicine. Teladoc's stock rally continued into early 2021, with shares rising from $227 to $308 — another 36% gain — until reality hit. As vaccine distribution spread and patients returned to see their doctors, the stock swooned, falling all the way from $308 to its closing price of $97.68 on Dec. 7. That marks a whopping 68% decline. Some analysts view that drop as a huge buying opportunity, while others say that Teladoc got ahead of itself and that the decline is entirely justified.
Read: The Most Fascinating Things You Never Knew You Could Invest In
Johnson & Johnson (JNJ)
Johnson & Johnson is the third company to provide vaccines to the U.S. market, but unlike its peers Moderna and Pfizer, the stock has not benefited in the same way, as J&J is up a scant 3.90% YTD in 2021. The stock is down about 9% from its 2021 high of $179.92 set in August, as J&J has had to deal with a number of problems that aren't plaguing its competitors. For starters, the company's full-year vaccine revenue projections are just $2.5 billion, far below those of Moderna and Pfizer. Also, J&J just recently settled a number of lawsuits, to the tune of about $5 billion. Lastly, competitors Moderna and Pfizer have announced encouraging results with their antiviral COVID-19 pills.  
More From GOBankingRates