How To Become a Virtual Assistant: Your Guide To Start Earning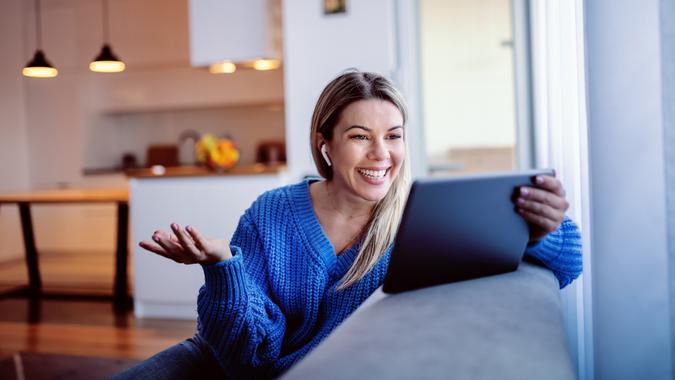 dusanpetkovic / Getty Images/iStockphoto
In 2020, the COVID-19 pandemic turned the world on its head and resulted in many companies converting in-office positions to permanently remote positions. Some positions went away completely. Today, millions of Americans are working from home. The way we used to work in many ways is no longer the norm.
Job losses and unemployment also rose during the pandemic, making it difficult for 2020 college graduates and those who already had jobs to find work. On the bright side, this shift in the workforce pushed many people to change careers altogether. Enter the rise of the virtual assistant.
As a virtual assistant, you can work from home, from your favorite coffee shop, on the beach or anywhere you choose. Keep reading to learn how you can become a virtual assistant and start earning money as an online entrepreneur.
What Is a Virtual Assistant?
A virtual assistant is an independent contractor who provides online administrative services to clients. Virtual assistants typically have access to their clients' calendars and document repositories for easy management of their daily tasks.
Make Your Money Work Better for You
Entrepreneurs and businesses hire virtual assistants to perform day-to-day tasks from a remote location, freeing business owners and managers to focus on more pressing business matters that must be done physically in the office.
What Experience and Skills Do You Need as a Virtual Assistant?
Most virtual assistants have administrative assistant or office manager experience, but it is not entirely necessary. The demand for virtual assistants with experience in social media marketing, email marketing, blog post writing and graphic design has increased in recent years.
These specialized virtual assistant skills can be developed over time, but some basic skills are essential, including:
Oral communication and writing skills. The ability to communicate effectively with clients both verbally and in writing is essential. You may be required to write reports, send emails and make presentations.
Typing or word processing skills. It may seem obvious, but a virtual assistant must be able to type accurately. This skill goes hand-in-hand with oral communication and writing skills.
Quick thinking and decision-making skills. Sometimes clients drop tasks on virtual assistants with few details and need the tasks completed in a hurry. Virtual assistants must be able to use available resources and intuition to solve problems quickly.
Self-discipline and self-motivation skills. Virtual assistants should not be lazy. The ability to concentrate on tasks and block out distractions such as television and surfing the internet is required for success.
Computer skills. It's safe to say that a virtual assistant will be using a computer nearly 100% of the time. You should be familiar with commonly used software applications such as Microsoft Word and Excel for performing documentation tasks.
Make Your Money Work Better for You
Although you generally don't need a degree to become a virtual assistant, you might need one for specialized tasks. For instance, a client might require you to have a marketing degree to perform certain work for their brand.
What Does a Virtual Assistant Do Every Day?
What exactly does a virtual assistant do every day? Virtual assistants perform duties that most of us perform every day. Here's a look at some of the things that virtual assistants do for clients in an average day's work.
Emails and Phone Calls
Busy entrepreneur clients don't have time to read and respond to every email that comes through their inboxes or answer every phone call. Virtual assistants sort through all of the email messages and calls and categorize them as important–usually by flagging them; junk or messages that can be dealt with later.
Post on Social Media
Often a sign that business is good is the number of likes, followers and comments on your clients' social media pages. As their virtual assistant, you can help them build their business and their brand by reaching hundreds or even thousands of customers and followers every day.
Make Your Money Work Better for You
Manage Calendars and Meetings
For busy entrepreneurs, calendar management is a must. Skilled virtual assistants understand the importance of time management. Effective calendar management can improve productivity, leaving more time to focus on a business's core functions and offering flexibility in case of last-minute important meetings.
Conduct Market Research
Most successful business plans, ideas and projects begin with research. A good virtual assistant searches the internet and sifts through vast amounts of information to narrow down the most important, specific and applicable results.
How Much Money Can You Make as a Virtual Assistant?
According to a 2020 report on SmallRevolution.com, virtual assistants across the U.S. can earn from $13 to $35 per hour, which equates to $28,000 to $73,000 annually. Take a look at this chart to see the range of U.S. virtual assistant salaries:
| Income Range | Hourly Pay | Annual Salary |
| --- | --- | --- |
| Low-end | $13 | $28,000 |
| Average | $28 | $57,023 |
| High-end | $35 | $73,000 |
Alternatively, here's the weekly and monthly pay breakdown:
| Income | Weekly Pay | Monthly Pay |
| --- | --- | --- |
| Low-end | $538 | $2,333 |
| Average | $1,100 | $4,767 |
| High-end | $1,404 | $6,083 |
As you can see, becoming a virtual assistant can provide you with a decent amount of money while working from home. The more skilled you become, the more money you can make.
3 Steps To Becoming a Virtual Assistant
Now that you've seen how profitable being a virtual assistant can be, it's time to take the next steps to make it happen for you.
Step 1: Decide Your Specialty
When you first start as a virtual assistant, you have to make a lot of decisions, such as what type of clients you will work with and what your strongest skills. Instead of focusing on how much money you want to make, begin by concentrating on the type of work you enjoy doing the most.
Once you determine your passion, or niche, you will find the right clients who need those services the most.
Step 2: Set Your Rates
Chances are that when you start out as a virtual assistant, you might not know how much you should charge for your services. What prices should you set to be a successful virtual assistant? First, think about your initial expenses such as website development, web hosting and advertising expenses.
As an independent contractor or freelancer, you will need to factor in the self-employment taxes you will have to pay on your earnings. The self-employment tax rate is currently 15.3%, according to the Internal Revenue Service. It may take you some time to set the right hourly rate based on your budget and tax obligation.
Rate Formula

A simple formula that freelancers often use is:

Gross Income Needed / Billable Hours Per Month = Your Hourly Rate
Step 3: Establish and Build Your Online Presence
Do the following to make sure that potential clients can find you online outside of freelance websites:
Create a business website.
Set up accounts on social media sites.
Create relevant content on your website and in your social media posts.
Promote your services using online ads.
Where To Find Work as a Virtual Assistant
Virtual assistants can help busy entrepreneurs out a great deal. You've figured out your niche and set goals for how much money you want to make. Now it's time to look for clients. Here are some freelance sites where you can get hired as a virtual assistant. See how they work and any fees that are charged virtual assistants to find jobs on these sites.
1. Upwork
Fees: Freelancers are charged on a sliding fee scale based on lifetime earnings with each client.
$0-$500: 20%
$500.01-$10,000: 10%
$10,000.01 or more: 5%
How It Works
Create a free account.
Create a profile highlighting your skills and experience.
Showcase your portfolio.
Indicate your desired hourly rate.
Set up how you want to receive your earnings.
2. fiverr
Fees: Free to join and list your services; no subscription is required. You keep 80% of each transaction.
How It Works
Sign up for free, set up your virtual assistant profile and offer your services.
Get notified and accept work orders. Discuss work details with clients.
Get paid for your work transferred to your payment account.
3. The Mom Project
Fees: The Mom Project is free to join for all talent.
How It Works
Sign up for an account.
Join the talent community.
Bid on virtual assistant work opportunities.
Get matched with job opportunities.
Get support throughout your virtual assistant career journey.
4. FlexJobs
Fees: Virtual assistants pay a subscription fee to find jobs.
1 week: $6.96
1 month: $14.95
3 months: $29.95
1 year: $49.95
How It Works
Sign up for an account.
Choose your subscription level.
Set up your profile.
Access skills testing and job resources.
Upload your resume and portfolio.
Get email alerts when virtual assistant jobs are posted.
Pros and Cons of Becoming a Virtual Assistant
There are many benefits of becoming a virtual assistant, but the career choice is not right for everyone. Here are some advantages and disadvantages to consider before jumping into the virtual assistant career field.
Pros
You can work from home or "virtually" from anywhere you want.
You don't have to commute to work, saving on transportation costs.
You decide who you work with.
You have flexible work hours.
Cons
You may have to deal with distractions when working from home.
You don't get paid time off or company benefits.
You work as a solopreneur and have to do everything yourself.
Final Take
There are many ways that you can work as a virtual assistant. You can be your own boss and work as an independent contractor, you can work for an agency that provides virtual assistant services to other businesses, or you can work directly for an employer. In any of these cases, you have the freedom to work virtually.
Unique Side Gigs
Our in-house research team and on-site financial experts work together to create content that's accurate, impartial, and up to date. We fact-check every single statistic, quote and fact using trusted primary resources to make sure the information we provide is correct. You can learn more about GOBankingRates' processes and standards in our editorial policy.