How To Make Money Online as a Teen: 10 Proven Ways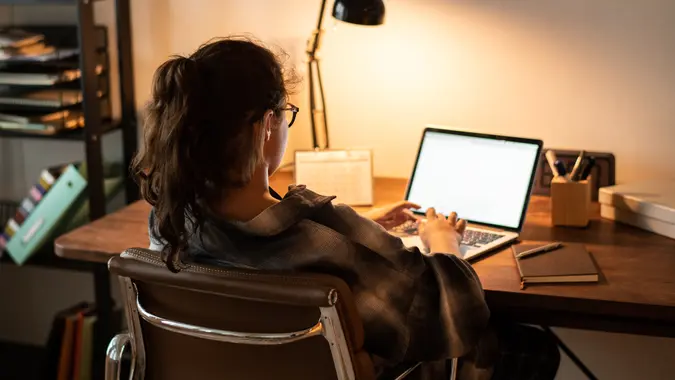 Rawpixel / Getty Images/iStockphoto
Everyone remembers their first job. Even if you are in high school, traditional employment isn't the only route to earn extra cash. You can also get creative and seek out paying opportunities through online jobs for teens to help build your bank account.
What Are Jobs Teens Can Do Online?
Here's a wide array of opportunities to make money as a teen. Some are traditional jobs, while others require you to strike out on your own to find work. You can find full-time gigs, part-time jobs or online options in these creative ways. 
Become a virtual assistant
Tutor online
Stream video games
Get involved in direct sales
Flip items
Create websites
Start a YouTube channel
Start an e-commerce business
Become a freelancer
Resell vintage clothing and accessories
1. Become a Virtual Assistant
While you have to be at least 18 to sign up with services or mobile apps like TaskRabbit, you can still look for opportunities on your own to be someone's personal virtual assistant. Tasks you may be able to handle include office assistance, distributing flyers, organizing files, running errands, data entry and making travel reservations.
2. Tutor Online
Although many professional online tutoring services will only hire you if you're at least 18, you can still look for your own clients. Put up a flyer or spread the word in your neighborhood. You can offer your services as long as you know more than the person you're tutoring.
Students most often need tutoring in English, math and science, so if you're a whiz in any of those subjects, you can likely get paid for your knowledge, especially if you're tutoring younger students in subjects you just went through.
Make Your Money Work Better for You
3. Stream Video Games
Maybe your parents won't lecture you about how many video games you're consuming when you show them your paycheck for it. Popular platforms like YouTube or Twitch will allow you to stream your video gaming session to a live audience.
If you build a solid following of subscribers, you can earn money for it and also become more known in the gaming community, which could create other opportunities.
4. Get Involved in Direct Sales
Direct sales involves signing up with a company that sells products, such as jewelry, cookware or cosmetics, and often purchasing a starter kit with products you can sell for a profit or commission. While many direct sales opportunities are for people 18 or older, there are a few you can check into, such as GelMoment, which allows you to register as a distributor at age 16 — as long as you have a parent or guardian as a co-applicant.
This used to be a door-to-door venture, but nowadays it's entirely possible to sell items online through social media.
Use caution when pursuing this income avenue, though. Keep alert for scams and only purchase the starter kit if you are completely sure you'll be able to make the money back. You'll need strong people and sales skills for this one.
5. Flip Items
Flipping items can be an easy way to make a profit and can make a good side hustle. Start by asking friends and family if they have anything that they don't mind donating to you that they no longer want. It's okay if the items need a little TLC before they're ready to sell.
Make Your Money Work Better for You
You can also go to local garage sales, thrift stores and even check out the "free" section on online marketplaces to find stuff you can flip, like electronics you can easily repair, lawn furniture you can clean up or furniture that could be made like-new with a fresh coat of paint.
6. Create Websites
If you're good at creating websites, you can sell your services for around $20 per hour or a flat rate that will adequately compensate you for the time you spend.
To get started, make a sample website and approach local businesses to show them what you can do. You can also pitch your service to friends and family members who have small businesses without a website.
7. Start a YouTube Channel
Not only could you sell your skills to manage social media accounts for others, but you could start your own vlog or YouTube channel displaying your skillset. Not only is this fun, but if you gain a following, you can get paid advertising or even work with affiliate marketing.
Though it takes time to grow your business and brand, being an influencer in any capacity can equal big bucks — or even just enough extra cash to make it worth it.
8. Start an E-commerce Business
While you might not realize it right now, you likely have at least a few items lying around gathering dust that you could sell for cash. You can start your own small repurposing business through social media accounts or sites such as Etsy. Or you can look into listing your items on mobile selling platforms, like LetGo, which will allow you to use its services as long as you're at least 14 and you have the permission of your parent or guardian.
Make Your Money Work Better for You
9. Become a Freelancer
If you have started a blog or honed skills like writing, digital animation, graphics design, photography, calligraphy or drawing, you can likely use it to earn money as a freelancer. Fiverr is an online freelance marketplace where you can sign up and create a profile to sell your services to people from all over the world who need them.
The best part: As long as you are at least 13 years old, you can use Fiverr to promote your freelance services.
10. Resell Vintage Clothing and Accessories
To make this gig work, you'll need to spend some time visiting thrift stores and places like Goodwill or the Salvation Army to find vintage clothing and accessories you can resell for a profit.  Consider asking elderly relatives if they would be willing to part with some of their vintage items to help you get started. Good places to sell vintage clothing and accessories are D-Pop, Facebook Marketplace or Etsy.
Final Take
If you opt for the traditional route to make money, put your best foot forward when filling out job applications and attending interviews to make a shining first impression. And once you have a job, do your very best so that your supervisor will be willing to promote you or give you a good reference when you move on to another job.
If you decide to start your own business, side gig or freelance service, what you earn per hour may be much higher than you could make working for an employer, because you can set your own rates, which are often higher than the required minimum wage. Just remember that you'll need experience and expertise before you can charge top dollar.
Make Your Money Work Better for You
FAQ
Now that you have some ideas for making money as a teen, here are answers to some of the more frequently asked questions on this topic.
What are the best summer jobs for teenagers?

Overall, the best summer jobs for teenagers are ones that match the teen's skill level, are safe and pay adequately for the work being performed. Examples are tutoring, errand running, pet care and assisting in an office or daycare.

How can a 14-year-old make money?

Younger teens can make money in a variety of ways, from babysitting to yardwork to flipping items and selling old belongings online.
While you generally have to be at least 14 to be employed, that doesn't mean finding a job will be easy. Older teens, especially those with experience, will likely have an advantage when it comes to getting teen-accessible jobs.

What jobs can a 12-year-old do?

While 12-year-olds are not of legal age to be employed in a traditional job, there are plenty of non-employment tasks a 12-year old could do. These include tasks for neighbors, like yard care, pet care, babysitting, sweeping and cleaning.

How can I make money at 15?

If you're younger than 18, your best bet is to start by doing paid tasks for friends, family members and people in your neighborhood and ask them to refer you to others. If you prove yourself as a reliable and trustworthy worker, there's a good chance you'll soon have more offers for work than you can handle.
If you're an older teen, you'll have the advantage of additional opportunities, especially if you have a special skill or previous work experience.

How do you pay a teen without a bank account?

The best ways to pay a teens who don't have a bank account include:

–

Cash

–

Payment apps, such as Venmo or PayPal

–

Gift cards
Cynthia Measom contributed to the reporting for this article.
Our in-house research team and on-site financial experts work together to create content that's accurate, impartial, and up to date. We fact-check every single statistic, quote and fact using trusted primary resources to make sure the information we provide is correct. You can learn more about GOBankingRates' processes and standards in our editorial policy.