How Much Can You Make With DoorDash in 2023?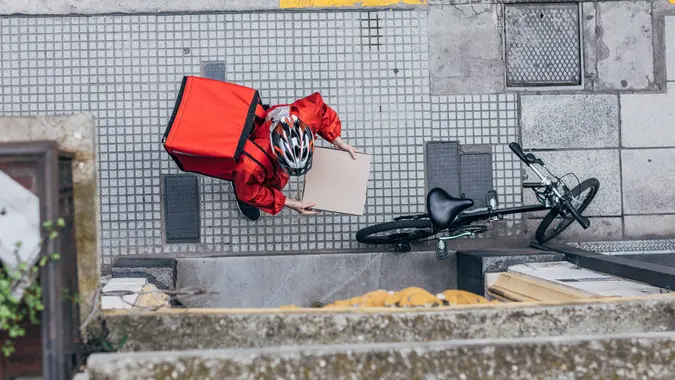 South_agency / Getty Images
DoorDash drivers make on-demand deliveries from restaurants, supermarkets, convenience stores and other businesses. As independent contractors, they set their own hours and use their own vehicles to make deliveries. 
That flexibility makes Dashing a great side gig to earn extra money. Depending on the market, it could even replace a regular part-time or full-time job. This quick guide will break down how much you can earn as a DoorDash driver, the factors that determine your pay and how to maximize your earnings. 
Key Takeaway

You can expect to make around $15 to $25 per hour with DoorDash. According to Indeed, the average salary for a DoorDash delivery driver in the U.S. is $16 per hour, but you can maximize your earnings by driving during busy hours, sticking to high-traffic areas and taking advantage of promotions. 
How Much Does DoorDash Pay?
There is no flat hourly rate for a DoorDash driver, or Dasher. However, based on average pay rates from Indeed, Glassdoor and ZipRecruiter, the average pay for a DoorDash driver in 2023 is around $15 to $25 per hour. 
Make Your Money Work Better for You
Depending on how many hours per day, week and month a driver works, that works out to approximately: 
$3,000 – $4,500 per month
$36,000 – $50,000 annually
Those salaries assume a full-time work schedule — if you're driving with DoorDash as a part-time job or side gig, your monthly or annual pay will be lower. That said, it's possible to earn $100 to $200 on a busy day, even if you choose to only deliver one or two days a week.
What Goes Into DoorDash Pay
According to DoorDash, there are three main factors that determine how much you'll earn as a delivery driver: 
Base pay
Tips
Promotions
Base Pay
For each delivery you make, you'll receive a base payment ranging from $2 to over $10. Base pay for each delivery depends on how long it's expected to take, how far you have to go and the value of the delivery. 
Tips
On top of the base pay, you'll receive 100% of the customer's tip.
Promotions
You can also earn extra money by taking advantage of promotions, such as:
Peak pay: An additional amount per delivery during busy times
Challenges: Incentives for meeting delivery goals
Guaranteed earnings: Guarantee select Dashers will earn at least the guaranteed amount within a specific period.
Make Your Money Work Better for You
Location
Your location can also play a role in how much you earn with DoorDash. For example, Indeed estimates the average hourly rate for a DoorDash driver in California is $17.41, while the national average is $16. Local food costs, salaries, gas prices and other factors can affect how much you make with DoorDash. In general, drivers in the most expensive cities will earn more per delivery than in other areas.
According to one Dasher's report on Glassdoor, the benefits of DoorDash include "Lots of flexibility to set your own hours, but depending on where you live, you may have trouble getting shifts or orders — with or without working inconvenient hours."
How To Maximize Your Earnings with DoorDash
You can maximize your earnings by implementing strategies to make your time behind the wheel more lucrative and efficient. Here are a few tips to help you make the most of your DoorDash hours. 
Drive in High-Demand Areas
Busy areas are more likely to offer back-to-back deliveries within close proximity of each other. The faster you can knock out deliveries, the more you'll earn.
Drive During Busy Hours
Peak pay boosts your earnings per delivery in addition to maximizing the number of deliveries you get. Busy times, like mealtimes, are more likely to offer peak pay.
Make Your Money Work Better for You
Focus on Restaurant Orders
Restaurant orders usually pay more than you'll earn for a quick stop at a fast-food place or convenience store. Not only are the orders pricier, but the tips might be, too.
Be Wary of Stacked Orders
DoorDash might offer you multiple orders at the same time. These "stacked" orders can increase your earnings, but they might not be worth taking unless they're near one another. Long distances between deliveries can result in disproportionately low pay.
Get a Second Driving Gig
Working two driving apps simultaneously can significantly increase your earnings. If you're enjoying DoorDash but want to maximize your earnings per day, you might want to consider a rideshare gig like Uber or Lyft. The second gig can fill any downtime you have between DoorDash deliveries. It can also help cut down your unpaid miles, or "dead mileage" on your route home or between jobs.
Clark Bowman, an Uber and Lyft driver, told Business Insider, "Sure, a 60-mile trip one way might pay great, but what about the 60 miles back? You could just drive the 60 miles back home, unpaid, which is what some drivers refer to as 'dead mileage.' Or use 'Destination Mode' on Uber or 'Filtered Rides' on Lyft."
Make Your Money Work Better for You
In other words, with a second driving app, you can find a way to earn with every mile you drive.
How Does DoorDash Work?
As a Dasher, you can drive in your home city or in any of the more than 7,000 cities where DoorDash is available.
When someone places an order through the app, DoorDash offers the delivery job to drivers in the area. When you accept a delivery, you pick up the item at the business, deliver it to the customer and get paid.
Signing Up To Drive for DoorDash
The sign-up process is quick and straightforward, but you'll need to meet some basic criteria:
A mode of transportation such as a car, scooter or, in select locations, a bicycle
A valid driver's license number
A Social Security number
You'll have to agree to a background check and add bank information so DoorDash can pay you by direct deposit. If you don't have a bank account, you can select the DasherDirect Business Prepaid Visa card as an alternative.
Make Your Money Work Better for You
Getting Started as a Dasher
Once your account has been activated, you can start driving. To schedule shifts ahead of time, fill in the information under the Schedule tab in the app. You can also tap the "Dash Now" button to let DoorDash know you're available, then wait for your first delivery.
After your first delivery, the app will prompt you to enter your mailing address so that DoorDash can send you a welcome kit. The kit includes items you'll need for deliveries:
A Red Card you'll use to pay for some deliveries — only when instructed
A hot bag to keep food fresh
You can keep driving while you wait for your kit to arrive. For the time being, DoorDash will only offer you deliveries that don't require a Red Card.
Is DoorDash Driving Worth It?
Signing up with DoorDash is easy and free. Although your earnings depend on demand, location and other factors, the average pay plus tips make it a more lucrative opportunity than many part-time jobs. It's well worth it for anyone who wants to bring in some extra money while maintaining full control over their schedule.
Make Your Money Work Better for You
Other Ways to Make Money
FAQ
Can you make $100 a day with DoorDash?

Yes, you can make $100 a day with DoorDash, as long as you live in an area that offers enough deliveries. On average, Dashers make around $15 to $25 an hour. At that rate, you could earn $100 in about 4-7 hours.

Can you make good money with DoorDash?

You can make a decent living with DoorDash if you live in the right area and work at the right times. It's possible to make $50,000 a year in a high-paying area.
However, you could also make much less, so don't plan on DoorDash as your main income until you know it will work for you.

How much can you realistically make with DoorDash?

Dashers make around $15 to $25 an hour nationwide, but that varies widely by the area you live in and whether you take the necessary steps to maximize your earnings. If DoorDash is your full time job and you live in a busy area, you could make $50,000 a year, but if it's just a side gig or the area you live in doesn't offer as much opportunity, you could make much less.

Can I make $1,000 a week with DoorDash?

It's possible to make $1,000 a week with DoorDash, but it might be difficult.
If Dashing is your full time job, you optimize your delivery strategy – which would mean working lunchtimes, nights and weekends, among other things – and you live in a high-paying area, you could make $1,000 a week.
Monica White contributed to the reporting for this article.
Information is accurate as of May 9, 2023.
Editorial Note: This content is not provided by any entity covered in this article. Any opinions, analyses, reviews, ratings or recommendations expressed in this article are those of the author alone and have not been reviewed, approved or otherwise endorsed by any entity named in this article.
Our in-house research team and on-site financial experts work together to create content that's accurate, impartial, and up to date. We fact-check every single statistic, quote and fact using trusted primary resources to make sure the information we provide is correct. You can learn more about GOBankingRates' processes and standards in our editorial policy.
Make Your Money Work Better for You