10 Best Side Hustles for Women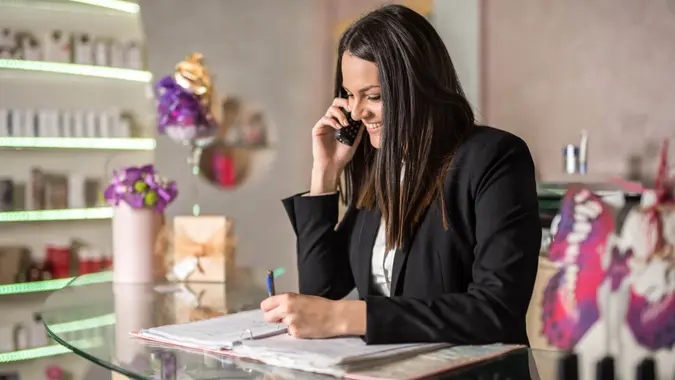 StockPlanets / iStock.com
If you'd like to earn some extra cash or make money online, but you're not interested in a traditional part-time job, you may be looking for a great side hustle. If you are a woman looking to supplement your income from your full-time income or to earn a little money on the side, there is no shortage of options. The gig economy has made it possible to find jobs where you can be your own boss, set your own schedule and even monetize a hobby.
What Is the Best Side Hustle for Women?
If you're considering starting a side gig, you're probably wondering "What are some of the most profitable side hustles for women?" Here's a look at 10 lucrative side hustle ideas that could meet your needs.
Open an Etsy shop
Grocery shopper
Party planner
Resume writer
Pet sitter
Virtual assistant
Mobile notary
Secret shopper
Sell an online course
Tailor
1. Open an Etsy Shop
Put your artistic talents to work by becoming an Etsy seller. This is a great way to get your items in front of a massive audience, where the earning potential is nearly limitless.
Whether you're a talented painter, photographer, graphic designer, knitter or any other type of artisan, this is a way to get paid for doing work you're truly passionate about. Selling does come with a price tag — a $0.20 listing fee, a 6.5% transaction fee and a 3% plus $0.25 payment processing fee — but it allows you to reach buyers from the comfort of your home.
It's always good to dream big, but it's probably best to start small with your offerings — the more you create, the more time and money you'll need to invest. There's no guarantee your products will sell, so it can be smart to ease your way in slowly to gauge your audience, and when it grows, you can even expand through social media and affiliate marketing.
Make Your Money Work Better for You
If Etsy isn't your preferred platform, you can also look into selling on a different site, like Redbubble.
2. Grocery Shopper
There's a good chance you know the aisles of your local supermarkets in and out, so get paid for this knowledge. Becoming a personal grocery shopper is an easy way to earn money on a chore you probably do at least once a week anyways.
Several different grocery shopping services exist, including Instacart, Amazon Fresh, Shipt, Whole Foods and services run by individual grocery chains. Each platform has its own policies for shoppers, but ultimately, you'll be doing the same thing.
For example, Instacart gives you the option to both shop for and deliver groceries or just serve as a shopper. The former requires a car and allows you to work whenever you want, while no car is needed for the latter, but you're required to schedule shifts.
3. Party Planner
If you know how to throw a great party, offer your skills up to others by becoming a freelance party planner, since not everyone has this talent. You'll work with clients to create an unforgettable event that fits their budget. This will likely involve finding vendors, coordinating payments, being onsite to ensure things run smoothly on the big day and assisting with cleanup.
Do note, this job could require a lot of your time on nights and weekends. If you're trying to coordinate childcare with your spouse, this could work, but it might also reduce your family time.
Party planners earn an average of $21 per hour, according to ZipRecruiter. If you think of all the hours you put into planning your own parties, your hourly rate can add up.
Make Your Money Work Better for You
4. Resume Writer
It's nearly impossible to get a new job without a resume. Therefore, becoming a resume writer can pay.
Resume writers earn an average of $50 to $100 for a basic resume and up to $300 for an executive-level client, according to Indeed. Of course, you'll need to develop skills to make a resume written by you something better than a client could do on their own.
While there are no set criteria for becoming a resume writer, there are plenty of workshops available to help you hone your craft. You can also get certified by the National Resume Writers' Association and the Professional Association of Resume Writers.
5. Pet Sitter
If you're an animal lover, there are few things better than getting paid to babysit other people's pets. There's plenty of flexibility in this type of job, allowing you to secure regular clients or simply take one-off jobs when it suits you.
Pet sitters earn an average salary of $16.09 per hour, according to Indeed. You can advertise your services on your own — i.e., using social media, Craigslist, networking — or connect with clients using platforms like Rover and PetBacker.
The main con of this type of work is the low pay. Therefore, it can be a great choice if you truly love animals and just need to earn a few bucks, but there might be better ways to bring in a notable amount of cash.
6. Virtual Assistant
One of the best side hustles for women known for being super organized is serving as a virtual assistant, similar to the job of an in-person executive assistant or administrative assistant. A virtual assistant handles tasks like email monitoring and organizing, making travel arrangements and answering calls.
Make Your Money Work Better for You
Virtual assistants earn an average salary of $21.02 per hour, according to Indeed. If you're searching for more of a traditional side gig that you can do from home, this could be an ideal fit.
It's worth noting that while you're working virtually, you will still be someone's assistant. Depending on your boss, you might be expected to work long or erratic hours, so get on the same page from the start.
7. Mobile Notary
A side hustle that holds a lot of weight is a notary. They are responsible for verifying the identity of people signing important documents, ensuring they're willfully signing the papers and that they understand what they're signing.
Nearly half of all part-time, self-employed notaries earn more than $500 a month, according to the National Notary Association. Even better, nearly 30% earn more than $1,000 per month.
So, if you're trying to figure out "How can I make $1,000 on the side?" this could be it. To become a notary, you'll need to meet the eligibility requirements of your state and follow the steps in their commissioning process.
8. Secret Shopper
If you love to shop and have sharp observational skills, becoming a mystery shopper could be the best job you've ever had. Generally speaking, companies need secret shoppers to gauge the quality of customer service and overall experience at their locations.
You'll be hired by a third party to visit an assigned retail store and report back on a variety of factors, such as the cleanliness of the location, employees' product knowledge and the manner in which you were treated. Secret shoppers earn an average of $25 per hour, according to ZipRecruiter.
Make Your Money Work Better for You
Do note, there are plenty of fake job listings for secret shoppers. Steer clear of them by reading online reviews before signing on with a company, never paying any upfront fees and checking the Mystery Shopping Providers Association to make sure the company is legitimate.
9. Sell an Online Course
If you have a certain area of expertise, package up your skills and start a blog post or turn it into an online course. There are plenty of platforms that make this much easier than it sounds, including Kajabi and Teachable.
You might think an online course has to be something traditionally academic, but that couldn't be further from the truth. For example, if you can create the perfect smokey eye or make pasta from scratch, these are special skills people will pay to learn.
Making an online course can allow you to earn $500 to $50,000 or more, according to Mykademy. Earnings vary by several factors, including the size of your target audience, conversion rate and the price of your course.
Given the competition, it's probably best to assume your courses will bring in earnings on the lower end of the scale — at least at first. However, this is a savvy way to earn passive income and possibly expand your viewership enough to create a demand for more classes in the future.
10. Tailor
Sewing is a special — and highly useful — skill many people don't have. Therefore, if you're a master with your sewing machine or even a basic sewing kit, people will want your services.
Make Your Money Work Better for You
Your offerings can vary according to your skill set, tools and the amount of time you want to dedicate to the cause. For example, you could limit your services to simply mending holes in garments or you could also do alterations and even create custom pieces.
This type of work is very flexible, so you can take on more projects when you have extra time and less when your schedule is packed. Tailors, dressmakers and custom sewers earn a mean hourly wage of $15.11, according to the Bureau of Labor Statistics.
Final Take
As opposed to full-time jobs, popular side hustles for women to make money allow plenty of flexibility while either working from home or even starting a small local business. Of course, what might be a great fit for you won't necessarily be the right choice for someone else, so take the time to find an option that truly feels like a great fit.
Some of these gigs might feel like getting paid for a hobby you're already passionate about, while others will be more like having a traditional job. Consider your skills, interests and the amount of time you want to commit to your side hustle when making your selection.
FAQ
How can I make an extra $2,000 a month with a side hustle?

All side hustles are based on skill sets, the time you can put toward them and volume of work or customer base. Though your profit will vary depending on these factors, here are some potentially lucrative side gigs:

–

Virtual assistant

–

Start a blog

–

Affiliate marketing

–

Mobile notary

–

Secret shopper

–

Sell an online course

–

Tailoring

What is the highest-paid side hustle?

Some of the higher-paid side hustles include becoming a virtual assistant, mobile notary, party planner or tailor – as long as you have the skills to do them well.

How can girls make extra money?

Some of the best ways for girls to make extra money include gigs such as babysitting, grocery shopping, pet sitting or opening an Etsy shop.
Make Your Money Work Better for You
Caitlyn Moorhead contributed to the reporting for this article.
Our in-house research team and on-site financial experts work together to create content that's accurate, impartial, and up to date. We fact-check every single statistic, quote and fact using trusted primary resources to make sure the information we provide is correct. You can learn more about GOBankingRates' processes and standards in our editorial policy.