Mountain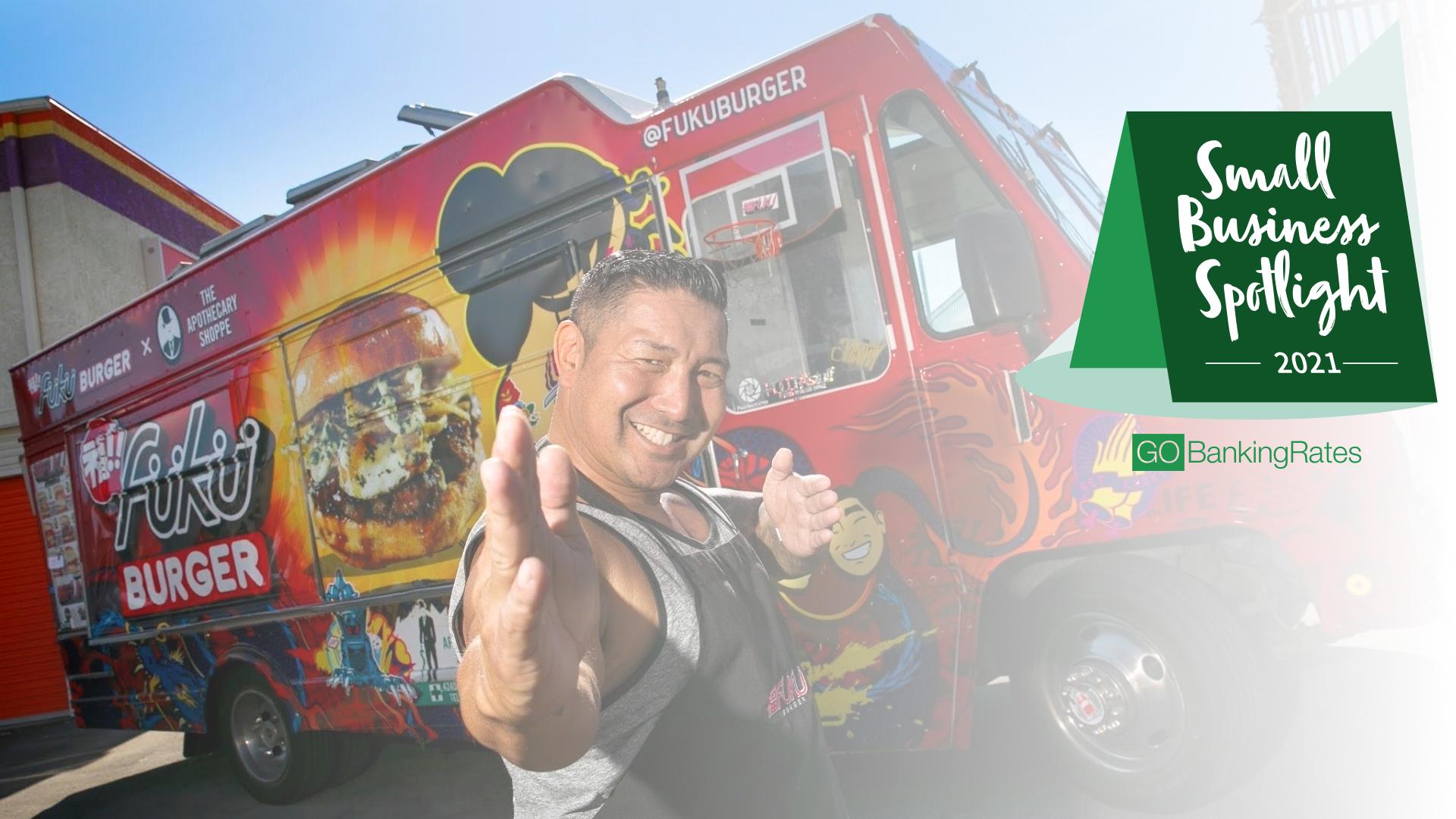 Pictured: Fukuburger
To return to the Small Business Spotlight page click here.
The Mountain region includes small businesses in Arizona, Colorado, Idaho, Montana, Nevada, New Mexico, Utah and Wyoming. In this region, Arizona had the most small businesses nominated.
You can check out the complete list of businesses nominated for GOBankingRates' Small Business Spotlight in this region below — and read more about the region's featured nominees in the links below.
Featured Nominees
Regional Nominees
Arizona
Abbey Adult Care Home (Tucson, in-home care)
Amber Croy's TLC Pet Salon (Mayer, dog grooming): "She is awesome with all the pets. Does a fabulous job on them also. She is such a kind hearted person."
Dutch Bros Coffee (Bullhead City, coffee shop): "During this last year they have kept smiles on their faces, never changed up on their product or service. They always kept others encouraged through the hard times."
Early Bird Coffee Shop (Parker, mom and pop restaurant): "They have such wonderful staff, good food, pleasant environment."
Fibber Magee's (Chandler, bar/restaurant): "Fibber Magee's has a perfect combination of food and drinks environment for singles and family."
FPS Ent (Tucson, pool service)
Hacienda Inn (Cottonwood, Mexican restaurant): "It's been in business 49 years and own by the same people… everyone in town goes there to eat."
Howard Family Plumbing (Mesa, plumbing):
More on Howard Family Plumbing:

"Cody Howard repaired my water heater at a moment's notice at a reasonable fee. He tried to get a warranty but the manufacturer denied the claim. I give him five stars for cost and service!!"
La Rosa de Michoacan (Kingman, restaurant/ice cream/bakery):  "They have quality food at good prices, food, fruit drinks, ice cream and bakery! Not very well known sitting on edge of town."
Landmark Cafe (Sierra Vista, restaurant): "They have good food and the staff give great service. They remember your name and your usual order."
Little Friends Learning Center (Tucson, child care center): "Little Friends Learning Center stayed open all through the pandemic. Making sure parents had a safe place for their children to go, while parents were at work."
Lloyd's Cleaners (Sierra Vista, laundry): "[Lloyd Brennan] treats everyone as if he has known you for years and he does a lot for our community. Most of all Lloyd is a man of integrity and I believe the reason Lloyd is successful is due to his respect for those who work hard."
Med Cuisine Restaurant & Bar (Tucson, restaurant): "These folks stayed open every day they were allowed adapting to COVID regulations … they are all very hard workers. They kept great customer service and were cheerful despite the demands."
Patti McCormick Insurance (Prescott, Medicare insurance agency): "Patti goes above and beyond for all of her clients in whatever capacity she is able to help them! She not only does this during open enrollment, but all year round!!!"
Reddi Services (Peoria, HVAC & plumbing): "This is a great small business they pride themselves on treating employees like family which in return is passed on to the customers … the customers are happy which makes the company happy so any way you cut it its a win, win, win for all."
Semper Fi Heating and Cooling (Mesa, heating and cooling):
More on Semper Fi Heating and Cooling:

"Everyone from receptionist up was amazing to work with. This business represents the best this country has to offer in a small business. Veterans United."
Sherrin Rose Financial Services, LLC (Prescott, senior medical supplemental insurance): "Ms. Rose's ability to dedicate personal education regarding explanation for a plan specifically for their needs for new and current clients."
The Toasted Mallow (Gilbert, specialty treats): "They treat (you) like family when you walk in the door and their marshmallow treats are unique and delicious! This company truly cares about their community!"
Colorado
Allergy Free Baking Company (Morrison, bakery):
More on Allergy Free Baking Company:

"Family owned business serving Denver metro area. They are so nice on top of making killer baked goods for families managing allergies of all kinds. We have an egg allergy in our house so AFBC has made sure we had cupcakes and goodies for every major event during the pandemic."
BRW Tax & Accounting (Colorado Springs , taxes): "They are a "relational" firm so they want to grow with you as your business grows by also offering tax advisement, bookkeeping and accounting. They take care of the finances so the business can take care of their business."
Carlson's Income Tax Service, LLC (Greeley, tax preparation): "Quality work by dedicated, educated personnel. Big or small, they'll help you all! And, they'll do it with a smile!"
Creators Commonwealth of Colorado (Colorado Springs, nonprofit): "Creating a dream that is sustainable and protects its residents from predatory housing. Beautiful and sustainable. Caring for Colorado Natives, creators, makers, and Veterans."
Denver Poke Company (Denver, restaurant): "The best poke I've ever had. I missed this place so much since moving on a to remote work (it was near our office) that we have driven in on Friday to get takeout because it's that good!"
DMD Window & Door (Wheat Ridge, sales and installation of doors/windows): "Great company, honest, ambitious and caring."
Essential Products, Inc (Castle Rock, gift shop): "This business sells great products and gives back to the community. They donate a lot of intimate items to the Hope and help center in Castle Rock."
Herb's Hideout (Denver, bar and musical entertainment): "Laura Newman employs a loyal staff, books talent and is a phenomenal owner who knows business."
Just Ask Computers (Colorado Springs, sales): "The most feasible pricing around. Excellent customer service."
Krissy Mays (Grand Junction, massage therapist): "Krissy May's is creating healthy living experiences and specializing in cranial healing with the very young and elderly."
La Fiesta Mexican Restaurant (Denver, restaurant): "This restaurant has been family owned since the '60s and their food is very good."
Las Palmas 1 (Golden, restaurant):
More on Las Palmas 1

"This cozy little restaurant in Golden, Co., offers great Mexican cuisine. I've tried mostly everything and everything is so delicious. Come try it!"
Raised In A Barn Furniture (Weldona, manufacturer): "This business gives offenders a second chance at a productive life in their community. And they provide great services and a beautiful product!"
Rocky Mountain Protective Service (Colorado Springs, security): "The company and management care for its employees as well as the well being of everyone around them. They take pride in protecting the community and educating the public to keep them safe."
Rumba Authentic Latin Cuisine (Colorado Springs, restaurant): "A great restaurant, they make you feel like family, food excellent, drinks amazing, very clean, they make (you) feel safe, staff very nice, is a really amazing place."
Shah's Kabob & Gyro (Pueblo, restaurant): "The food is excellent, and this family owned business has struggled through the pandemic. Yet stayed on their feet! It is the only place in Pueblo that offers genuine Mediterranean food. Grateful to them for their service to our community."
Idaho
Fudge Factory Grill & Ice Cream (Glenns Ferry, restaurant): "Love their homemade desserts and fudge. The owner has struggled through the pandemic but is still open."
Great Wall Restaurant (Boise, restaurant):
More on Great Wall Restaurant:

"The Great Wall has been a locally owned and family operated restaurant for over 40 years … I've worked for this restaurant for a little over five years and watching the community continue to support this locally owned establishment and its employees day after day through COVID-19 has honestly made me appreciate working for this small locally owned business. While all the other restaurants around us chose to close their doors on the community and its employees due to COVID-19 this one didn't. They chose to think outside the box and give their employees the option to continue to work through COVID-19 by coming up with ways to help the community as well. Whether it was takeout, deliveries or essential groceries that the Boise community was needing during these trying times, the Great Wall was open to help."
Hands On (Twin Falls, art/pottery): "This isn't just art, this is therapy. The imagination that goes into this business and creativity they have for their clients is amazing."
iLoveKickboxing (Boise, kick boxing): "…best trainers in town, a great business, wonderful people to train with."
Pam Sevec – Chiropractic (Bonners Ferry, chiropractor): "Pam is the type of Chiropractor that is very interested in her patients' health. If she is concerned about you she will suggest that you seek out a specialist for help."
Pickle's Place (Arco, restaurant): "They have home-cooked meals. You are treated very good by the owners and the staff. They put all they can into making the customers happy and wanting to come back."
Montana
Madison Valley Ranch (Ennis, fly fishing lodge on the Madison River): "Highly recommended spot for fly fishing."
Nevada
A&C Creations (Las Vegas, advertising)
ABI Bookkeeping (Pahrump, taxes and accounting):
More on ABI Bookkeeping:
"Bonnie Shemp, owner, is not only an amazing business person, she's kind, and cares about each of her clients. Her staff shows the same friendly and efficient service. She makes time for her clients and makes sure they get the best service possible."
Chip Off the Block Deli (Las Vegas, deli)
Crystal Mirage Pool & Spa Service (Las Vegas, swimming pool cleaner): "Didn't miss a day through the Pandemic."
ELOVE8 (Las Vegas, spiritual/metaphysical online store): "… elevate others through love and light … teach self empowerment through self love, healing, & intentional living."
Especially For You (Gardnerville, boutique and gift shop): "This shop has been in business for 25 years and in a super small town. Like most, it was a slow start, but over the years has climbed to the top! Even winning awards within the community…it's the best place to shop in all of northern Nevada."
Fukuburger (Las Vegas, restaurant): "It is very unique. It's filled with vintage stickers, friendly servers and the food is DELICIOUS. My friend and I go to this burger joint at least once weekly and the fries are phenomenal!"
JnlServices (Las Vegas, cleaning): "It helps everyone to stay clean from the COVID and others."
Moneytree (Las Vegas, loans): "They go out of their way to make you feel welcome, special and appreciated. From saying hello when you enter with a smile to ensuring you feel satisfied when you leave."
Quality Grading & Paving (Henderson, paving and grading): "This company goes above and beyond, not only to help their employees at this time but also their customers."
Royal Coffee Roasting Co. (Las Vegas, coffee shop): "We drive across town several times a week, not only because they have great drinks, but the people who work there are amazing. The energy of the staff at all four locations is off the charts exceptional and keeps us going back constantly. They are always upbeat and make you feel like you're their only customer."
The Butcher Block (Las Vegas, butcher shop):
More on The Butcher Block:

"We have never shopped at a butcher shop until we came across The Butcher Block, now it is the only place we will buy meat. Exceptional staff always goes above and beyond. Amazing meat selection plus a deli (Chip Off the Block deli, listed above) that makes fresh sandwiches and burgers (the Wishbone is definitely a favorite when we go). They also have fresh jerky, sauces, homemade sausages and great wings. Anything they have can be cut or weighed to the desired size. They offer vacuum sealing for freshness. We are weekly customers."
New Mexico
Ace Hardware (Socorro, hardware): "Always helpful and kind. The best go-to place."
Affordable Fencing (Tijeras, fencing company): "Affordable Fencing is a business that has been serving the East Mountain area for several years owned and operated by a well-known local of the East Mountain community. Affordable Fencing is a great business to call when needing a gate or fence around your property. Thanks Affordable Fencing for low prices and putting your local community first."
Clancy's Irish Cantina (Farmington, restaurant and pub):
More on Clancy's Irish Cantina:

"They genuinely care for their employees. When the restaurant caught fire in November 2020, they started a GoFundMe to raise money for their employees to help them. They were closed for six months and during that time they always helped their employees."
Day's Hamburgers (Las Cruces, restaurant): "They make the best tasting hamburger around and it's a 4th generation burger spot — delicious!"
Eagle Creek Aussies (Capitan, dog breeder): "Pam S. Allen is a top-notch breeder of mini Australian shepherds."
Goodfellas Auto Care Collision and Detail (Albuquerque, auto repair):
More on Goodfellas Auto Care Collision and Detail:

"It has GREAT reviews, honest, friendly service and above and beyond, excellent, exceptional work!"
Skarsgard Farms (Placitas, natural food farming and delivery): "Skarsgard Farms has evolved over the years as the face of agriculture in our region has changed. We recognize that New Mexico is not an ideal point on the map to produce food year-round, so we partner with growers in neighboring states in addition to New Mexico to fill the void in diversity and availability of produce here in the Land of Enchantment. This turns our community into a regional community, inclusive of New Mexico, Arizona, California, Colorado and Mexico so that our members can receive amazing, certified organic produce all year long instead of being limited by the seasonality of our local area."
Utah
Coffee Noir (Salt Lake City, coffee shop): "Congenial staff and great coffee."
Cult and King (Park City, hair care): "It's nontoxic, great for the environment because it's glass and you buy refills, smells and works amazing!"
Elevated Grounds Coffee & Espresso (Lindon, coffee shop):
More on Elevated Grounds Coffee & Espresso:

"They are a women-owned business and the only coffee shop/cafe in the area. They've worked hard to keep the business opened so we could try to have normalcy during COVID."
Fluid Coffee and Beverage Goods (Salt Lake City, coffee machine sales and repair): "The level of expertise and customer service is unequaled in Salt Lake. Machines are often fixed and/or calibrated over the phone."
Ignite Spot Outsourced Accounting (Kaysville, accounting and CFO services): "Ignite Spot takes the time to get to know your business and staff to give you a custom accounting service that fits your needs. The founder, Eddy Hood, is passionate about making businesses more profitable and offered clients support while applying for PPP funding during the peak of COVID-19. This firm isn't the typical after-the-fact bookkeeping service that only cares about compliance. They go out of their way to make sure you understand your financials and proactively offer advice so you can be a better business leader."
Neighbors Market (North Salt Lake, convenience store):
More on Neighbors Market:

"We have been visiting Neighbors Market for almost 30 years now. It is a local corner mart that is a staple in our community. Neighbors Market has been & is currently providing all of the basic essentials you would expect from your local market but also provides unique items such as fresh fruit & vegetables from their small produce department to fresh-made bagels & 4-meat sandwiches from their deli area. Also, in a world that is lacking in this final department, the familiar faces of their pleasant customer service staff is just what is needed to top this place off. Thank you Neighbors Market for being there for us for so many decades now, Hope to see you thrive through a few more!"
Rapid Tool (Ogden, machine shop): "The owner of this business and his employees always go the extra mile to ensure their customers are completely satisfied. Everyone is friendly and professional."
O'Brien Car Audio (Rock Springs, stereo equipment): "They do a thorough job inside and out. On GPS, remote starts, cameras, car audio — anything any vehicle consumer would be interested in having a safe vehicle."
Obo's Market & Deli (Pinedale, convenience store): "Convenient store with all good special items — deli, dessert, to-go lunch."
Wagner Chevron Food Mart & Liquor (Diamondville, convenience store): "Because Susie is definitely out to please the customer, if she doesn't have what they want or need she will get it. Plus going way out for the workers making fresh burritos every morning."
Check out all the other regions and their small business nominees: 
East North Central: Indiana, Illinois, Michigan, Ohio and Wisconsin
West North Central:

 

Iowa, Kansas, Minnesota, Missouri, Nebraska, North Dakota, South Dakota
New England:

 

Connecticut, Maine, Massachusetts, New Hampshire, Rhode Island, Vermont
East South Central:

 

Alabama, Kentucky, Mississippi, Tennessee
South Atlantic:

 

Delaware, Florida, Georgia, Maryland, North Carolina, South Carolina, Virginia, West Virginia
Middle Atlantic: New Jersey, New York, Pennsylvania
West South Central:

 

Arkansas, Louisiana, Oklahoma, Texas
Mountain:

 

Arizona, Colorado, Idaho, Montana, Nevada, New Mexico, Utah, Wyoming
Pacific:

 

Alaska, California, Hawaii, Oregon, Washington
And check out more of the featured small businesses:
To return to the Small Business Spotlight page click here.