Here's What Ex Trump Advisor Michael Flynn Is Worth After Selling His Home to Pay Legal Bills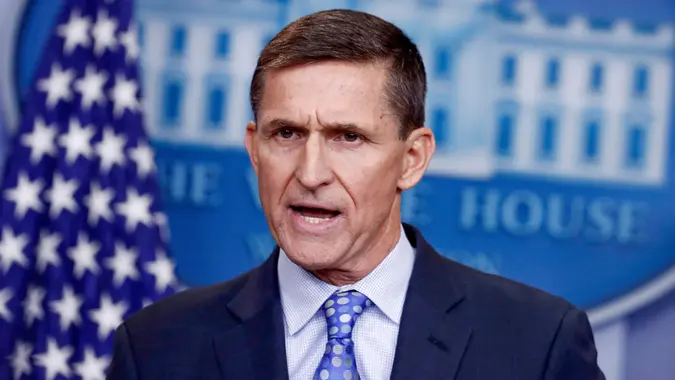 Carolyn Kaster/AP/REX / Shutterstock.com
Robert Mueller recommended Michael Flynn receive no prison time for lying to the FBI because of his assistance in the Russia probe.
Flynn is President Donald Trump's former national security advisor.
Flynn was forced to sell his home in 2018 to pay for legal fees.
Special counsel Robert Mueller recommended no prison sentence for retired general Michael Flynn, according to a court filing on Dec. 4. Mueller cited the "substantial assistance" that Flynn, President Donald Trump's former national security advisor, provided for his probe into Russian interference during the 2016 election.
Trump tapped Flynn for his former position back in November 2016, despite warnings from then-President Barack Obama that the former general was not to be trusted. Flynn's entire appointment lasted less than a month, after it became apparent he'd been withholding information from the Oval Office regarding his connections and communications with Russia.
As Flynn's future becomes more uncertain, find out the net worth of this former Trump appointee.
Birth year: 1958Net worth: Possibly more than $1 millionSources of income: Investment products; speaking and consulting feesCareer highlights: Director of Defense Intelligence Agency; national security advisor for three weeks
From Assistant to Senior Adviser: How Much Trump's Staff Makes
Michael Flynn Net Worth: $480,000 to $1M
Michael Flynn's net worth is difficult to peg accurately. Besides his myriad of assets, Flynn is known to hide information and misinform. The figure GOBankingRates used is based on his early 2017 financial disclosure upon his appointment as national security advisor, but Flynn later amended those documents to reflect other sources of income, such as speaking fees from Russian news outlet RT. He also later disclosed his advisory role related to Cambridge Analytica, the controversial data firm behind Trump's campaign that pilfered millions of Facebook users' data.
Make Your Money Work Better for You
This year hasn't been too financially kind to Flynn, either. In March, Flynn sold his townhouse in order to offset his legal bills. Flynn bought the home in early 2012 for $700,000, according to Realtor.com, and he put it up for sale for $835,000, which would have resulted in a net gain had it not been for his defense fund. The sell-off was the result of Flynn pleading guilty to lying to the FBI regarding his communications with Russian actors.
Also See: A Look at Michael Cohen's Finances After He Makes a Surprise Court Appearance
Michael Flynn Career
Michael Flynn headed the Defense Intelligence Agency under the Obama administration, before abruptly resigning "amid conflict within the agency and between the general and leaders," CNN reported in 2014.
Flynn began advising Trump in 2016, with the two developing a close bond over shared ideology regarding foreign policy. Trump reportedly told Flynn to "stay strong" during the beginning stages of the Russia probe. The former security advisor was the first White House official to have charges thrown at him.
Keep reading about the net worths of other former Trump administration staffers.
More on Net Worth
We make money easy. Get weekly email updates, including expert advice to help you Live Richer™.
Make Your Money Work Better for You