Robert Mueller's Facebook Stock Investments and 8 More Money Facts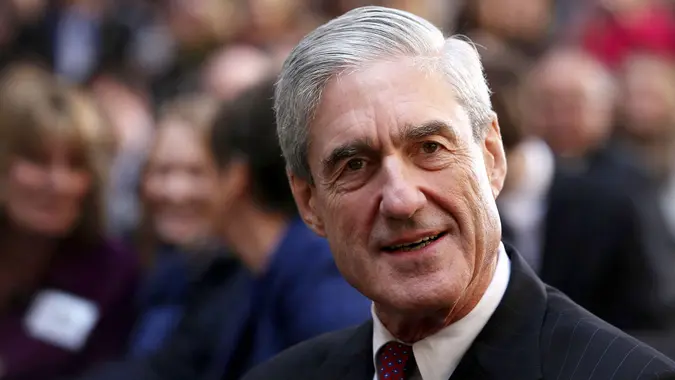 ©REX/Shutterstock
Robert Mueller is making millions less in his government job as Department of Justice special counsel than he was as an attorney.
Mueller's career highlights include taking down one of the most notorious crime bosses of the 20th century.
In his pursuit of justice, some of Mueller's targets have suffered severe damage to their net worths.
Robert Mueller has had a long and storied career in law enforcement, and he's no stranger to seeking justice. His most recent stints include serving as the Director of the FBI from 2001 to 2013 and being appointed as special counsel to an ongoing Department of Justice investigation concerning Russian interference related to the 2016 U.S. presidential election. He formally announced the end of the Russia investigation on March 22, finding no collusion between President Donald Trump and Russia regarding the 2016 presidential election.
Learn some financial facts about Mueller and the people connected to the Trump campaign who he has taken down — some with net worths that far exceed their White House staff salaries.
Click to keep reading about the richest politician in every state.
1. Mueller's Net Worth Could Be in the Millions
An exact net worth figure for Mueller's net worth is unknown, but he had to disclose certain financial information when he agreed to be the special counsel. In his disclosure, Mueller listed assets belonging to him and his wife valued at between $4.2 million and $15.2 million, according to Politico.
2. Mueller's Special Prosecutor Salary Is Likely Six Figures
Mueller is likely making around $161,900 in his role as special counsel, according to Money magazine. The salary figure came from the publication's review of a DOJ document dated December 2017. Federal employees received a small raise at the beginning of 2018, however, so Mueller might be making a few thousand dollars more, Money reported.
Make Your Money Work Better for You
Eye Opener: Here's the Insane Amount Lawyers Earn in Every State
3. The Price Tag for Mueller's Special Investigation Is in the Millions
Although it's undoubtedly increased by now, the price tag for the Russia investigation was nearly $17 million as of May 2018, according to the Washington Post, though that figure has likely risen to exceed $17 million.
Others to Know About: Brett Kavanaugh Net Worth
4. Mueller Earned More as a Lawyer
Before Mueller was appointed as special counsel, he worked for the law firm WilmerHale, earning $3.4 million as a lawyer for high-profile clients, such as Apple, Facebook and Sony, according to the Washington Post.
5. Mueller's Investments Include Facebook and Alphabet
In his disclosure, Mueller reported "modest personal or family investments in various tech firms, including Facebook and Alphabet, parent of Google," according to Politico.
6. Mueller Took Down John Gotti, Whose Net Worth Was $30 Million
Back in the '90s, Robert Mueller, then U.S. assistant attorney general for the criminal division, took down John Gotti, the notorious crime boss of the Gambino family in New York City. At the height of his power, Gotti's net worth was $30 million.
7. Mueller Indicted Paul Manafort, Who Was Found Guilty on 8 Counts
In August 2018, the twisted money trail of Paul Manafort finally caught up with him. Trump's former campaign chairman was found guilty of eight counts of financial crimes, including tax fraud and bank fraud. Manafort's net worth is $70 million, according to Celebrity Net Worth.
Check Out: The Money Behind Donald Trump's Cabinet and Advisors
Make Your Money Work Better for You
8. Mueller Investigated Michael Cohen, Whose Net Worth Is Now Negative
After Michael Cohen became the subject of Mueller's investigation for possible bank fraud and campaign finance violations, he complained that his legal expenses were bankrupting him. Legal bills, coupled with the $1.4 million he reportedly owes the IRS for evading taxes, put Michael Cohen's net worth in the red at -$1 million, according to Celebrity Net Worth.
9. Mueller Will Sentence Ex-Trump Advisor Michael Flynn
Trump's former national security advisor's fate has been sealed. After four delays in Michael Flynn's sentencing hearing for lying to the FBI about his communication with then-Russian Ambassador Sergey Kislyak, Flynn is slated to be sentenced at the end of November, after the midterm elections. Although Flynn's net worth is unknown, ABC News reported in March 2018 that Flynn's Virginia townhouse was put on the market for $895,000 to help pay for his legal defense.
Click to keep reading fast facts about Lara Trump, the president's daughter-in-law.
More on Politicians and Net Worth