Does Dollar General Do Cash Back in 2023?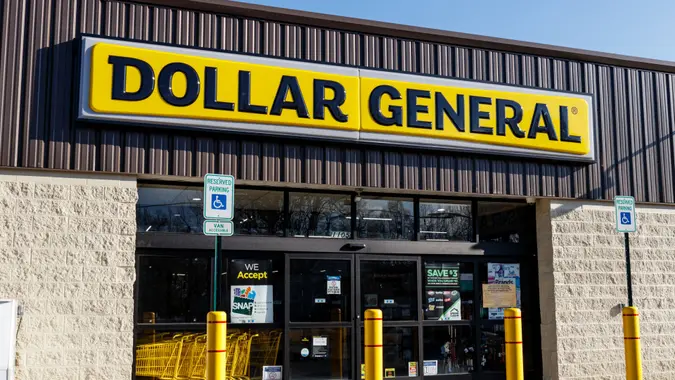 jetcityimage / Getty Images
Depending on where you live and bank, finding an in-network ATM for making a fee-free cash withdrawal isn't always convenient. However, if you're out shopping, some stores allow you to get cash back with a debit card purchase — but they may charge a fee for the service. Knowing which merchants allow cash back for free is helpful if you often find yourself in search of a fee-free ATM.
Read: 3 Ways Smart People Save Money When Filing Their Taxes
Does Dollar General do cash back — and is there a fee? This quick guide explains how cash back works at Dollar General.
Does Dollar General Do Cash Back?
Yes, you can get up to $40 cash back at Dollar General when making a purchase with a debit card. Cash back is only available in $10 increments.
Some locations require a minimum purchase of $5 to $10 to receive cash back, and some charge a fee of $1 to $2. Dollar General's 18,000 locations across 47 states make it a convenient place to get cash back, but if there's a fee, there might be better options than this one.
Make Your Money Work for You
Additional Cash Back Opportunities at Dollar General
There are two other ways to get cash back at Dollar General. See if either is available to you:
Earn Cash Back With a Credit Card
Many credit cards offer cash-back rewards for purchases. The amount you'll earn depends on the card and its rewards categories, but you'll typically see at least 1% cash back on all purchases from most cash-back cards, and some offer as much as 6% for specific spending categories.
While this doesn't help if you need the cash in-hand right away, it can earn you some extra money — as long as you pay off your balance monthly so you aren't accruing interest.
Earn Cash-Back Rewards With a Spendwell Cash-Back Account
A Spendwell cash-back account is a reloadable Visa debit card with many of the same features as a checking account, including direct deposit and online bill pay. If you opt for the Spendwell Cash Back account, purchases made with the Spendwell Visa debit card earn unlimited 1% cash back — but there is a $5 monthly fee, which can we waived after the first month with payroll or government direct deposits.
Make Your Money Work for You
The cash back is added to the cardholder's account and can be used for Dollar General purchases. 
What Other Stores Allow Cash Back?
These days, many stores allow cash back when making a debit card purchase, including most grocery and convenience stores. Some retailers, like Walmart and Target, also allow cash back. Cash-back limits, minimum purchase requirements and fees will vary by merchant and location.
Does Dollar Tree Do Cash Back?
You can get up to $50 cash back at Dollar Tree with a debit card purchase. Cash back is available in $10 increments, and there is a $1 fee for the service.
Takeaway
Dollar General does offer cash back, but because some locations charge as much as $2 for the service, you'll want to ask about your local store's cash-back policy before checking out. Those small fees can add up if you aren't careful.
Given the number of merchants that don't charge for the service, you should easily be able to avoid cash back fees.
Information is accurate as of Jan. 18, 2023.
Editorial Note: This content is not provided by any entity covered in this article. Any opinions, analyses, reviews, ratings or recommendations expressed in this article are those of the author alone and have not been reviewed, approved or otherwise endorsed by any entity named in this article.
Make Your Money Work for You