Home Depot 11% Rebate Guide: How It Works and When To Use It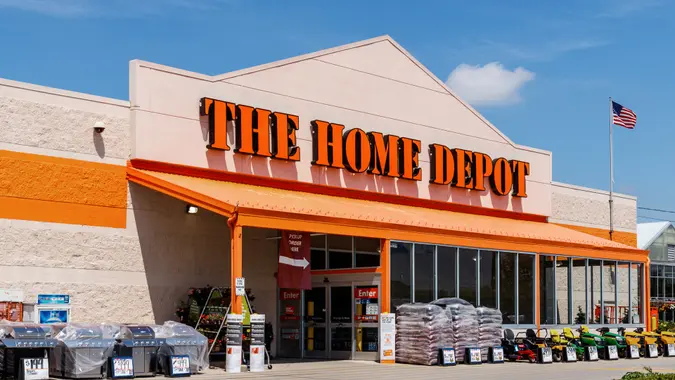 Jonathan Weiss / Shutterstock.com
Home Depot is known for offering consumers great deals on home improvement products. But did you know you may be able to earn 11% off at Home Depot? Before heading out to a store, there are a few things you need to know about this special offer.
It's only available in certain Home Depot stores and on set dates. In addition, it will only apply to specific categories of merchandise. Plus, you won't receive the money immediately since it's a rebate. Keep reading to learn more about the Home Depot 11% rebate.
How Does the 11% Rebate Work at Home Depot?
When you purchase qualified items at Home Depot stores during this rebate offer period, you can enter your receipt online. After doing so, you'll receive 11% back on a Home Depot eGift card.
You have 30 days to submit your receipt. If you have multiple receipts, the Home Depot rebate site instructs you to submit each one separately. You'll receive an email that tells you if your claim is valid or not. If it is, you'll receive an eGift card via email within four to six weeks from the date you submitted your rebate request.
If eight weeks have passed and you haven't received your rebate, the Home Depot rebate site instructs customers to call 866-451-1357. You can also use the Chat feature on the website to check the status.
5 Restrictions on Home Depot's 11% Rebate Offer
Receiving 11% back at Home Depot sounds like a great deal, but there are many restrictions that you'll want to be aware of. Do the research before you shop, so you aren't caught off guard.
Make Your Money Work for You
1. Only at Participating Locations
Home Depot offers the rebate to match the Menards rebate program. Menards is a competing home improvement store with locations in 15 states. Therefore, only Home Depot locations with a Menards in the vicinity offer 11% back on certain purchases.
The states with stores that may honor the rebate program are Arkansas, Iowa, Illinois, Indiana, Kansas, Kentucky, Michigan, Minnesota, Missouri, North Dakota, Nebraska, Ohio, South Dakota, Wisconsin, West Virginia and Wyoming.
Of those states, Illinois, Michigan and Ohio have the highest number of participating stores. Not all locations in participating states honor the discount. You can check the Home Depot rebate website to see if the Home Depot location near you participates in the program.
2. Only Available on Full Priced Merchandise
The Home Depot 11% rebate doesn't apply to any merchandise that's on sale. So, if an item is on sale for 5% or 10%, you might be better off waiting until the sale is over to earn greater savings. That is, as long as the product qualifies for the rebate.
3. Only Available on Select Merchandise and Brands
Many brands and products are excluded from the rebate program, including popular high-end brands like Weber and John Deere. The list of exclusions is over 1,300 pages long. This PDF can be found on the rebate site. The best way to find out if your product is included is to search for the specific SKU number you are looking to purchase.
Make Your Money Work for You
4. Not Available for Online Purchases
This rebate program was designed to save Home Depot shoppers money and draw them away from Menards, which offers 11% off at certain times of the year. Because of that, the 11% rebate is not available online.
5. Not Available on Merchandise With Pro Xtra Preferred Pricing
Elite and VIP members who receive Pro Xtra Preferred Pricing get personalized low prices on 1,000s of trade-specific items. If you are in this category, you cannot submit your receipts for the 11% rebate.
Menards vs. Home Depot: Which Is the Better 11% Rebate?
Since Home Depot introduced the rebate program to compete with Menards, the rebate programs typically run at the same time. In 2022, Menards ran the program for a few weeks out of every month up until Black Friday weekend.
Home Depot allows electronic submissions for receipts and issues an eGift card via email. Menards, on the other hand, requires you to fill out a rebate redemption certificate at the store's service desk or print it from the Menards website. You have to mail it in along with the rebate receipt at the bottom of your regular purchase receipt. You'll get a merchandise credit check in the mail within six to eight weeks.
The Home Depot program seems to be easier and faster than Menards, since every step — apart from making your purchase at a Home Depot store — is completed electronically.
Bottom Line
The Home Depot 11% rebate will be in the form of a merchandise credit and it's offered on select items at some stores in regions that also have a Menards. However, you may find better savings on your home improvement needs if you wait for sales that tie into holidays. Some to keep on your radar are President's Day, Memorial Day, Labor Day and, of course, the kick-off to the December holiday season, Black Friday.
FAQ
Here are the answers to some of the most frequently asked questions regarding Home Depot rebates.
Does Home Depot honor the 11% Menards rebate?

Home Depot honors the Menards 11% rebate, offering customers who shop at select Home Depot locations 11% back in the form of an eGift card at certain times of the year.

Does Home Depot give 11% off?

Home Depot gives 11% back in the form of a Home Depot eGift card at certain times of the year on some merchandise. But, it's not available at all locations, and the list of products excluded is more than 1,300 pages.

Does Lowe's price match Menards 11% rebate?

In recent years, Lowe's also offered an 11% rebate for select purchases at Lowe's stores that had a nearby Menards. However, there is no longer any recent information about the Menards rebate match program at Lowe's.
You can find current Lowe's rebates by visiting their Rebate Center website.
Information is accurate as of July 27, 2023. 
Editorial Note: This content is not provided by any entity covered in this article. Any opinions, analyses, reviews, ratings or recommendations expressed in this article are those of the author alone and have not been reviewed, approved or otherwise endorsed by any entity named in this article.