Are Banks Open or Closed on Memorial Day?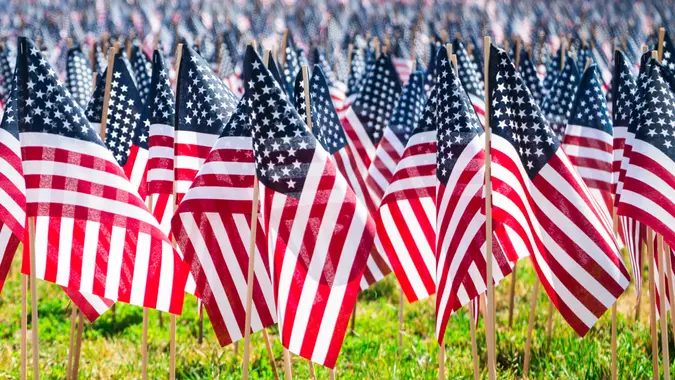 Castle City Creative / Getty Images/iStockphoto
Memorial Day — observed on the last Monday in May each year — is celebrated to honor and remember the brave Americans who lost their lives during their service in the military. In 2022, Memorial Day falls on May 30, which allows many people to have a three-day weekend to help kick off the unofficial start of summer.
See: Best National Banks of 2022 — Low Fees, High APYs & Accessibility
Find: Are Banks Open Today? Your Guide to Bank Holidays
Memorial Day also holds the distinction of being a federal holiday, meaning certain offices, such as the U.S. Postal Service and the Social Security Administration, will be closed that day. It helps to know if banks are open on Memorial Day so you should plan accordingly.
Keep reading to learn about your options for banking on this federal holiday.
Banks Closed on Memorial Day 2022
In the financial world, Memorial Day is a holiday for the Federal Reserve System, Nasdaq, the New York Stock Exchange and most banks. You should expect the following banks to be closed on Memorial Day:
California Bank & Trust
Chemical Bank
Dime Community Bank
Dollar Bank
ESSA Bank & Trust
F&M Bank
Farmers & Merchants Bank
First Commonwealth Bank
First Merchants Bank
Great Western Bank
Kitsap Bank
Merchants & Marine Bank
NBT Bank
UBank
UMB
Westfield Bank
WSFS Bank
How To Bank on the Memorial Day Holiday
Due to Memorial Day's status as a federally recognized holiday, odds are that you won't be able to stop in at your local bank branch on May 30. That doesn't mean you don't have access to your money, though. You can visit an ATM to withdraw or deposit money, or you can use online banking services to set up bill payments, check your account balances and transfer funds between your accounts. It's also possible to use a money transfer app or service like Zelle provided by your bank to send money to other people.
Check with your bank or credit union to find out which services — including online, mobile and telephone banking — are available on bank holidays. You also may be able to apply for a loan or credit card if your bank offers an online application. Then plan ahead so you can avoid any stress caused by not having access to your local branch or by reaching your daily ATM withdrawal limit.
Upcoming Bank Holidays in 2022
The Federal Reserve System will observe the following holidays that take place after Memorial Day:
July 4: Independence Day
Sept. 5: Labor Day
Oct. 10: Columbus Day
Nov. 11: Veterans Day
Nov. 24: Thanksgiving Day
Dec. 25: Christmas Day
Most banks and credit unions are closed on these holidays. Note that when a holiday falls on Sunday, financial institutions typically close on the Monday immediately after the holiday.
This article has been updated with additional reporting since its original publication.
Schedules are subject to change and may vary by branch. Information is accurate as of May 29, 2022.