7 Best Drugstore Item Deals at Sam's Club in February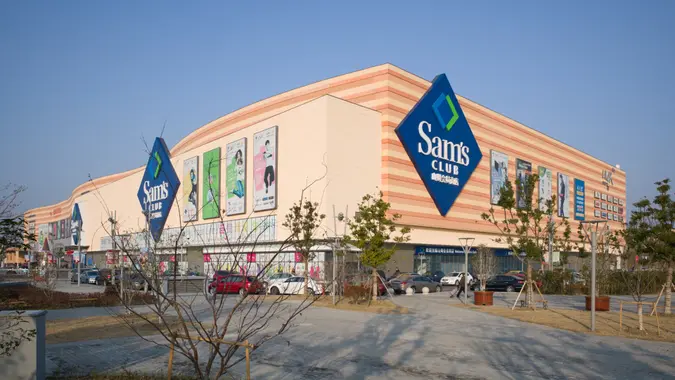 Richard Bradford / Shutterstock.com
Amid chilly temperatures and flu and cold season, Sam's Club shoppers are stocking up on all their health and wellness essentials. From cold medicine to tissues, Sam's Club has everything your household needs to stay in good shape during the winter months.
See the List: GOBankingRates' Best Banks of 2023
Find Out: 3 Ways Smart People Save Money When Filing Their Taxes
Here are the best drugstore deals to snag at Sam's Club in February.
Pedialyte AdvancedCare Plus Electrolyte Solution
Price: $15.98 for 3 ct.
Julie Ramhold, consumer analyst with DealNews.com, said many parents like keeping this product on hand for an easy way to replenish electrolytes in family members of all ages. Sam's Club shoppers will also receive two powder packets of Pedialyte with their purchase. These can easily be carried in bags and mixed into 16-ounce bottles of water to consume. 
Make Your Money Work for You
"While you can find Pedialyte at plenty of stores, this multi-pack is one of the better deals, especially as it's on sale in February," said Ramhold. As an added bonus, Ramhold said Sam's Club shoppers who buy this item in-club in February can save $4 when they use Scan & Go during their trip.
Take Our Poll: Are You in Favor of More Inflation Relief in 2023?
Vicks DayQuil and NyQuil SEVERE Cold & Flu Relief Liquid
Price: $21.48 for 3-pack
This February, Sam's Club shoppers can save $3 on this package of three bottles including one daytime and two nighttime medications. While the price tag may seem like a lot for cold medication, Ramhold said a two-pack of the same product would be about the same price elsewhere. Essentially, this gives shoppers a bonus bottle for free. 
"If you're treating a sick household, buying in bulk is definitely the best way to go," said Ramhold. "While there's a limit of three for members to purchase, this can still provide you with a decent stockpile if you need it."
Tylenol Cold + Flu Severe Day & Night Caplets
Price: $16.48
Families who prefer pills to liquids are covered by Sam's Club for their cold and flu medication needs. This February, Ramhold said you can save $3 on this pack of medication, which provides 48 day pills and 24 night pills. Keep in mind Sam's Club members are limited to purchasing three of these at a time.
Make Your Money Work for You
Mucinex 12-Hour Chest Congestion Expectorant Tablets
Price: $38.88
Trying to combat chest congestion? Ramhold recommends picking up a 120-pack of bi-layer Mucinex tablets for $6 off in February at Sam's Club. 
While the price can be around between $33 to $38 depending on your location, Ramhold said many people swear by this product. "Since you can typically take as few as two per day, this is a 60-day supply, so it should be more than enough for one person or small household."
Remember: Sam's Club members are limited to purchasing three boxes of this product during their shopping trip.
Kleenex Trusted Care 2-ply Facial Tissues
Price: $16.48 for 12 boxes
Whether you feel under the weather or in good health, it's always a good idea to stay stocked up on Kleenex. In February, Ramhold said this 12-box package will be $3.50 off, which should put the price at around $13 or so depending on your location. 
There's a limit of two per member, but even if you have a sick household, Ramhold said 12 boxes should be able to get you through a good bit of the nursing.
Make Your Money Work for You
Lysol Disinfectant Spray
Price: $14.28 for 3-pack
Pick up this disinfecting spray trio for $3 off at Sam's Club in February. While Ramhold said there's a limit of two packs per member this month, it should still provide a steady stockpile to keep on hand and use to combat germs during cold and flu season.
Puffs Plus Lotion Facial Tissues
Price: $17.16
Not a big fan of the aforementioned Kleenex brand? Snag a deal on these Puffs tissues at Sam's Club in February instead.
"You'll have to shop in-club with Scan & Go or utilize Curbside Pickup to take advantage of the deal, but when you do, you'll save $2 on your Puffs purchase," said Ramhold.
More From GOBankingRates
Make Your Money Work for You