South Atlantic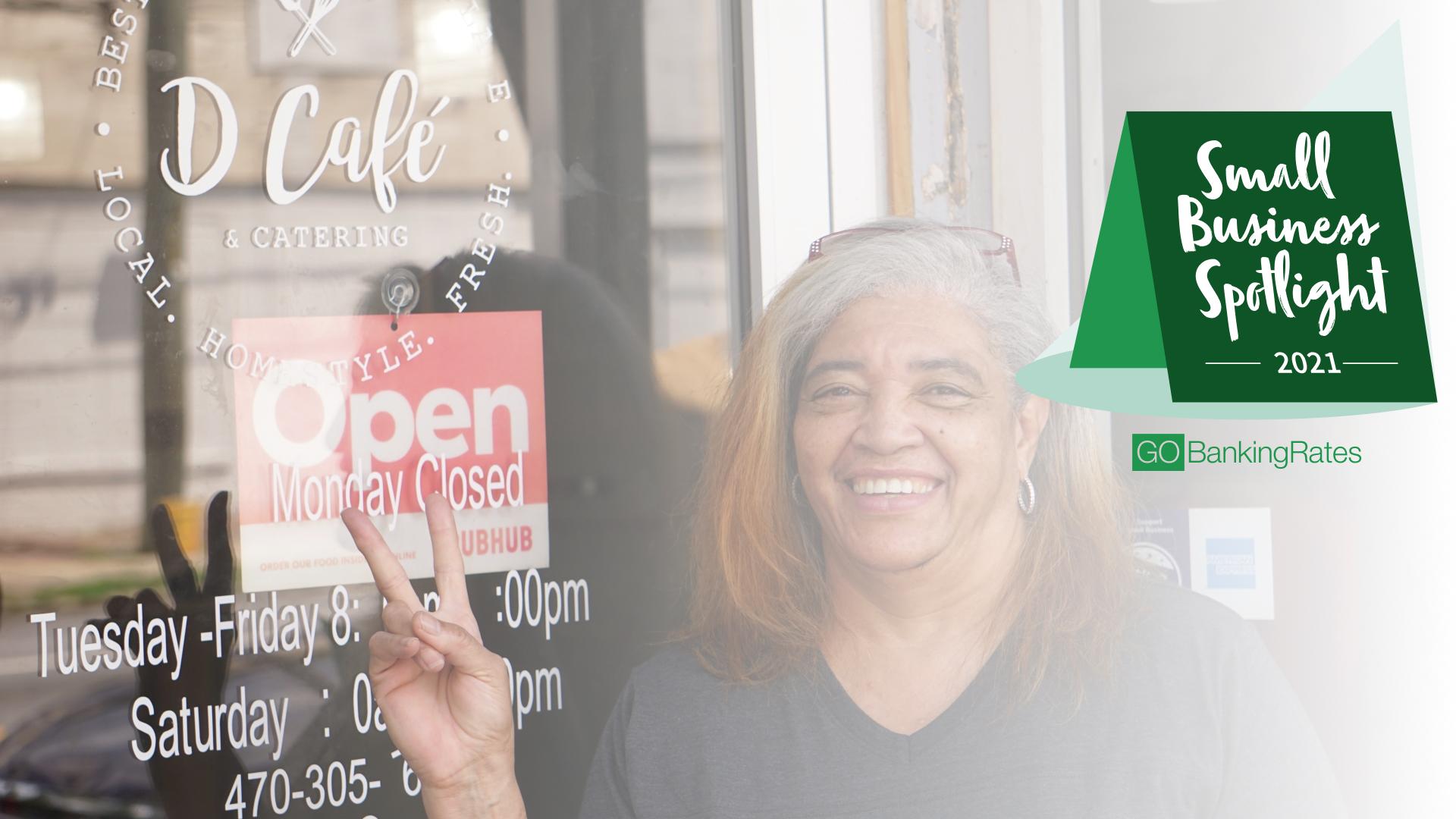 Pictured: D Cafe & Catering
To return to the Small Business Spotlight page click here.
The South Atlantic region includes small businesses in Delaware, Florida, Georgia, Maryland, North Carolina, South Carolina, Virginia, Washington D.C. and West Virginia. In this region, Florida had the most small businesses nominated.
You can check out the complete list of businesses nominated for GOBankingRates' Small Business Spotlight in this region below — and read more about the region's featured nominees in the links below.
Featured Nominees
Regional Nominees
Delaware
Florida
2 Dimensions Complete Lawn Maintenance LLC (Palm Bay, landscaping): "This husband and wife team know the ins and outs of this profession. Prices are more than reasonable, fully licensed and insured … Professional, respectable and knowledgeable. Recommend not anyone in the Brevard County Area."
24/7 Mobile Mechanic Auto Repair (Orange Park, mobile mechanic): "The owner … comes to his customers and helps them get back on the road for the MOST affordable prices!"
A One Stop Garden Shop (Loxahatchee, nursery/landscaping material): "This is a family owned nursery that puts their whole heart and love into this community."
Aderholdt Back Pain Institute (Bradenton, chiropractic): "Dr. Aderholdt … [will] tell you at your interview if he can help you or not, he will not start treating you then tell you that is all he can do."
All Pets Grooming Salon (Jacksonville, dog groomers):
More on All Pets Grooming Salon:

"This small business gives so much care and attention to detail when grooming my dogs. They know my dog's name when I call and know her personality. I have never had a disappointing visit there and highly recommend them."
Aminata's West African Hair Braiding (St. Petersburg, West African hair braiding boutique)
Angelina's Pizzeria (Deland, restaurant): "Angelina's has been our favorite place to eat good food and the staff are always so inviting."
Barnette Landscaping (Leesburg, property management/landscaping):
"I have never seen a woman work as hard, who cares about what she is doing. The customer satisfaction is through the roof … she is constantly giving back, doing a certain amount of yard services free weekly, always wanting to help those in need.  She loves what she does and it shows!"
Be Well, Friends LLC (Port St. Lucie, health/wellness/mind and body): "There's never any pressure for you to support. The owner … provides great information [for others] to begin their journey as they see fit."
Bob Hilson & Co. (Homestead, roofing and sheet metal): "A business that has a superb reputation and during pandemic all employees were kept on payroll and paid … the owners treated their employees like family with respect!"
Bridge Street Bistro (Bradenton Beach, restaurant): "Locally owned, beautiful view, great food and friendly staff. Great place to eat and have a nice meal."
Bridge to Life (Sarasota, recovery house): "… helps men and women get off the streets and out of jail or rehabs … having a safe place to live and find a new way of life."
Cabana Eyes Optical (Crestview, optical): "… treats everyone with respect. They are great with kids … Overall best small business for eyeglasses."
Cake Cuties Bakery (Tampa, bakery): "This business makes amazing cakes … is run by a minority single mother and disabled veteran. She is simply awesome and bakes with love."
Caribbean Mystique Spa (Tampa, spa and wellness): "[The owner] is very invested in how her customers are treated. If [you] have any issues, she goes beyond to make you happy."
Change For The Community (Orlando, consultation/project management): "This small business has definitely been a great help to the community especially during this time of crisis … this business has been very impactful in helping our community get funds for their own projects."
Charlotte Plumbing (Port Charlotte, plumber):
More on Charlotte Plumbing:

"We moved into our home during COVID times and we had a plumbing emergency, I called David, he answered the call and came that night. Not only did he fix my problem but also did a list of other things I needed. I would recommend him to everyone who needs a reliable good kind person who also a plumber."
Chef Yo's Real Food (Debary, deli and hot food): "… great food and is always fresh and hot!"
Chosen Vessels Publishing & Entertainment (Jacksonville, book publishing): "This company is a REACH OUT & TOUCH customer service company. They are available to talk to you one on one!"
Crawdad Inc (Jensen Beach, family-owned restaurant): "This business and owner go all out to provide the best New Orleans food."
Cup of Love Cafe (Oviedo, food): "Cozy environment, polite & friendly staff, unique & delicious food in a nice location."
Dasilvas Pizza Subs & BBQ (Kissimmee, food)
Deep South BBQ (Brooksville, restaurant): "Great service family owned amazing bbq."
DiMeo Property (Holiday, property clean up): "Nicky Dimeo … is an upstanding citizen in the community and has a full work crew that is amazing. Very efficient and trustworthy."
Elite Industrial Company LLC (Jacksonville, trucking company): "This company started with little to nothing … then got their own truck then it started breaking down but that didn't stop them they kept going."
Endless Summer Realty (St. Augustine, real estate sales): "The agents have a vast knowledge and experience of this area who will go the extra mile to ensure your move can be as smooth as possible before and after the sale."
FL Parts EDiscounter LLC (Tampa Florida, logistics)
Florida's Pristine Cleaning Services LLC (Palmetto, residential and commercial cleaning): "They work with any budget."
Four Seasons Catering & Eatery (Pensacola, restaurant): "It's a family business, lovely owners. Family-friendly."
Grey Ram Designs (Jacksonville, embroidery company): "Single owner, great with customer care. Exceptional workmanship but not at high big name cost."
Gross and Sons (Cottondale, wholesale and retail nursery plants): "She tries to help people who lost all their trees from Hurricane Michael replace them. Her prices are low enough for the people to afford them."
Hair Is My Business: Unisex Salon (Fort Pierce, hair salon): "Elaine [is a] courageous, strong minded entrepreneur, dedicated to helping her clients leave feeling great and looking fabulous!"
Hamburger Mike's (Melbourne, restaurant): "Great place to work!! Great food! Everyone there is always so nice and helpful and they are pet friendly."
Impeccably Gourmet Catered (Marathon, catering/personal chef): "Focus on fresh ingredients from the island and local water."
James Edinger's Landscaping (Lakeland, lawn care/landscaping): "James is such a charismatic gentleman. He always does a good job on everything he is doing."
Kreisler Tree Service (Mount Dora, tree work/arbor licensing)
Legion Transformation Center (Port St. Lucie, gym): "[Sharon Burman] has persevered through tough times. Her growing customer base is living proof of her program's effectiveness."
Los Diablos Cleaning Company LLC (Kissimmee, cleaning): "They go beyond to make sure my house is clean and smelling good … They even fit me in on a short notice."
Luna Tikis (Melbourne, tiki and wood carving)
More on Luna Tikis:

"Chris Gray, the owner and only employee started this business in his apartment carving a few tikis a month for customers he met at a gas station in Cocoa Beach. Every Saturday for years he would go to the gas station on a1a in Cocoa Beach and lug all of his giant wall hangers, mailbox tikis and wood carvings to show people. And three years later he was established and booming with business, and featured in the local paper more than once for his grassroots business success. COVID hit and things slowed down but he has never stopped trying to keep his business afloat."
Mary's Boys Exclusive Detail Car Wash (Fort Lauderdale, car wash and detailing): "This is run by a family of 5, 4 brothers and one sister, and they're a great family who is starting from scratch."
Mercy's Play & Stay (Fort Walton Beach, dog day care, boarding & grooming): "They have a heart for taking care of doggies."
My Card Bay (Tampa, sport cards)
My Macro Memoir (Fort Lauderdale, digital organization): "A company mission that prides itself on providing peace of mind via the power of knowledge."
Night Owl Taxi (Fort Myers, car service): "Night Owl is the best cab company in Lee County and Kenneth Nichols is the best driver in SWFL."
Noni by NewAge (Orlando, health and wellness): "All harvesters are additionally trained and certified to protect the integrity of the fruit and land."
Only Auto Repairs and Tires (Spring Hill, auto repair & tires): "[T]he owner is great and helps people out when they need it."
Payne's Furniture Outlet (Summerfield, furniture store): "This store is great because it's really about the customer … Very hands on … take care of all aspects of the sale to delivery."
Perry Fish Market (Perry, fish and seafood sales): "George, the owner is very personable and the work environment is laid back but professional."
Pet Food Junction (Palm Bay, pet foods): "An awesome Mom & Pop store dedicated to our pets! Be it cats, dogs, lizards, snakes OR my peacock!"
Poseidon's Pearls of the Sea (Ponce de Leon, jewelry): "This is the only pearl jewelry business that is around this area that sells stuff like this."
Pretty Bling N Thingz (St. Petersburg, online boutique): "I love this company because it donates part of its proceeds to the Sickle Cell Association and was started by a woman who has sickle cell."
Pro Quality Maintenance (Palatka, maintenance and handyman)
Proino Breakfast & Lunch (Clearwater, restaurant): "This is a small family business that prides themselves on serving fresh, great quality food, in a very friendly family orientated atmosphere."
Pure Florida Watersports (Wesley Chapel, kayak outfitters): "They've helped so many families get outside and socially distance safely via kayaking … go above and beyond for each and every person that visits their shop."
Reginald Warren Tax Preparation Services (Jacksonville, e-file provider/tax return): "This tax return professional is committed from start to finish when my taxes were behind 2 years and filed the correct paper to reinstated my S-corporation to sustain my business during this pandemic crisis."
Roots Miami Kava & Eatery (North Miami, kava lounge & live venue): "It is an amazing place for friends and artists to gather and sip kava … The owners believe in providing a great culture."
Rosen Robotics (Pensacola, drone services): "[A]mong his other services which has been real estate surveillance. Home/business damage surveys and even virtual reality available to the public."
Roy & Gio Snack Shop LLC (Umatilla, convenience store)
Savage Landscaping Solutions (Jacksonville, landscaping): "Cutting people grass, cleaning up people yards, cutting trees down and managing for people who needs it done for a low price."
Seaside Spine (Mary Esther, chiropractic care): "Dr. Herrera and Dr. Fabian are the most gentle, caring and professional chiropractors I've ever been to."
Shore Limo Services (Sarasota, limo services)
Southeast Disaster Restoration, LLC. (Sun City Center, restoration contractor): "They help retired people recover from storm and water damages."
Spearfish Grille (Siesta Key, restaurant): "Great food indoor and outdoor seating. Outstanding food and great service. Clean and sanitized after each table. Great live music on weekend nights."
Special Needs Group (Fort Lauderdale, rental and sales of equipment needed for travel by people with disabilities):
More on Special Needs Group:

"This company is very special and very much needed to facilitate travel for people with disabilities and the mature travelers. By renting and or selling wheelchairs, and other equipment as well as providing oxygen concentrators, they make travel easy as well as possible. They are very dedicated and conscientious in the work they do. They put service above profit. They give back to society through numerous projects they do to help those in need."
Stephens Custom Flooring LLC (Apopka, flooring)
Take a Car Auto & Truck Sales LLC (Miami, independent used car dealer): "They go far & beyond with their reliable cars & the superb personalized attention to each client's needs."
The Cut Barbershop (North Miami Beach, barbershop)
The Golden Hog (Key Biscayne, grocery store): "The owner and employees have faced the virus head on and still fought thru. Work non-stop, even after hours and days off to make sure everyone is happy."
The Salty Mermaid Art (Ormond Beach, retail): "[T]his store is beautiful and offers local artists a place to sell their beautiful art."
The Sweet Hand Cooking (Orlando, catering): "… has brought the feel back to having a dining experience with your family like none other."
Tomatoes Pizzeria (Greenacres City, pizza): "Everything is fresh, friendly, reasonably priced. Always clean, delivery and p/u."
Towns' Gardentenders, LLC (Winter Park, landscaping): "Great employees who take their job serious, my yard's better than ever has made them my ONLY choice for landscape installation."
Tressie L Wimbush Enterprises LLC (Pensacola, cleaning services)
Trinity Construction (Atlantic Beach, construction)
Tropical Restoration Services (Lighthousepoint, tropical restoration services): "Keep your home mold free and the quality of air maintaining your home for safe environment."
Utopia Juice Bar (Pompano Beach, vegan juice bar): "… help improve people's lives by promoting health and wellness."
Vets Pets (Panama City Beach, veterinarian): "Dr. Barr is the best vet on PCB. His rates are lower than any other vet and he and his staff go above and beyond to save your pet."
Georgia
Amazing Grace Cafe & Country Shoppe (Guyton, cafe and boutique): "A single lady runs it and she has really struggled in the small town of Guyton. Marlena's food is prepared fresh and so delicious."
Anthony Huether's Ironworks (Silver Creek, iron fabricator/blacksmith/molder): "[Anthony] is a hard working, honest, loyal, reliable man. His work is impeccable."
Back To Eden (Atlanta, hair & skin care): "I think this business is great because they make homemade hair and skincare without dangerous chemicals."
Bennett's Hometown Pharmacy and Boutique (Blackshear, pharmacy):
More on Bennett's Hometown Pharmacy and Boutique:

"I've been a customer here since moving to Blackshear almost 2 years ago. They have the best group of ladies who are working hard there every day to make sure I get my prescriptions on time… they actually know their loyal customers & will even deliver my medications to my house @ no charge. They really are some hometown gals."
Blessed Creations LLC (Fitzgerald, online retail store)
Body Be Silk (Lawrenceville, bath & body): "Luxe handmade indie bath & body products. Indie crafted beauty, made with love."
Brandall Lovvorn Drug Co. (Bremen, pharmacy): "They give indigent people and others like me the ability to charge our medications all through the month and pay our bills when we receive our Social Security checks or in some cases, other help from the government, such as welfare."
Brown Bag Deli and Cafe (Suwanee, restaurant): "They have great food. They treat their customers and employees like they are family."
Buzzery (Boston, restaurant): "Buzzery has delicious pizza, calzones and subs. The workers are fast and friendly."
Collins Lawn Care (Eastman, lawn care and more): "Exceptional young man built his own lawn care business for himself and my brothers … he's put in his blood sweat and tears!"
Countrywide Cleaning (Willacoochee, cleaning)
D's Cafe and Catering (Atlanta, restaurant): "Food is fantastic. Kudos customer service…  gives back (to the) community. Feeds homeless."
DeCarlo Family Chiropractic (Mableton, chiropractic): "They care about each other and their clients just like we are part of a family."
EarthTone (Atlanta, custom handmade products)
Express Effective Resume Services (Cordele, resume writing):
More on Express Effective Resume Services:

"I highly recommend because the owner Osha Harris goes above and beyond for her clients. She not only makes sure she writes you an effective resume, but her resumes are eye catching. She's there from the time she writes, gives you interview tips and even offers mock interviews to help you sell yourself and get the job. She's highly recommended. 10/10"
Eyeworks of Decatur (Decatur, eye care clinic): "Fantastic boutique eyecare clinic with chic glasses and great customer service!"
Galactic Quest (Lawrenceville, comic book/gaming shop): "… [has] Free Comic Book Days, and when he has guest artists and writers to sign their works."
Go Fish Clothing & Jewelry Co. (Savannah, clothing): "A great owner and friendly staff."
Green Career Services (Atlanta, environmental services/community engagement): "During the pandemic last year instead of using that time to relax and do less for communities they started community based biz opps, a hot meals, feeding program for school age kids … They implemented free COVID-19 testing, free masks, hand sanitizers and gloves to those needing them."
Greenline Health Solution (Fayetteville, elderly care): "…through all the pandemic they made sure all the patients was taken care of including us workers they went above and beyond."
Hidden Image Salon (Fort Valley, hair salon): "The customer service and the professional style is awesome."
Honest Tire Repair (Albany, mobile tire repair): "Mr. Mack (owner) does an awesome job when it comes to repairing and replacing tires on commercial and personal vehicle."
HOTT Theatre For Children (Atlanta, acting school): "This organization has helped so many children, but during the pandemic, children felt like they had a safe place with Lauren and her staff."
Juicyy Lips Cosmetics (Screven, cosmetics): "This business is amazing, it's super kid friendly even though we're mainly focusing on the adults."
Leverman LLC (Colbert, business development): "It's community focused using the underemployed and social media."
Lights Camera Restar (Marietta, nonprofit): "Their mission is to empower single parents."
Mid State Pools (Warner Robins, pool and spa retail/installation): "What makes Mid State Pools special are, quite frankly, the people who own it and the employees who work there … They provide exemplary service in the most professional and kindest way possible."
MunchieMealz (Eastman, bakery)
Natural Goddess & Natural Adonis, LLC (Atlanta, hair and beauty):
More on Natural Goddess & Natural Adonis:

"I have seen this business help restore the hair and confidence of so many people, especially cancer patients. This business gives away products to the cancer remission patients."
Old South BBQ (Smyrna, restaurant): "This is a family owned restaurant. Great food, service and atmosphere."
Perfect Movers (Fayetteville, moving service)
Pink Boots on the Ground (Atlanta, social advocacy): "While actively fighting the horror of human trafficking, without any assistance, this small powerful organization jumped into COVID-19 relief. Giving out a truckload of products and PPE to the homeless community."
Progressive Website Designs (Covington, website design): "Great company. Free websites for Veterans and Non-Profits"
Rocjaz Supplies (Augusta, essential supplies)
Ross Drug (Sylvania, pharmacy): "Neighborhood pharmacy fast friendly helpful free delivery."
Shirley Fisher DMD PC (Warner Robins, dental office): "Black own business, female veteran both Army and Air Force. In business over 20 years."
Staplehouse (Atlanta, restaurant): "Shortly after the pandemic began, despite their own great financial losses and raising two children, rather than destroy their food inventory, these folks began using it to prepare FREE MEALS for less fortunate people!"
The Baskin Law Group (Atlanta, law firm): "The leading attorney is very wise and intuitive towards the law he practices."
The Colonnade Restaurant (Atlanta, restaurant): "Great food at good prices. Exceptional employer."
The General Muir (Sandy Springs, restaurant): "The opening was delayed months due to the pandemic, but they pulled it off. The family story behind this Jewish deli is inspiring, the food is great and it delivers on expectations."
The Junk Stop Flea Market (Milan, flea market): "This Flea Market has something for everyone and the husband wife owners are kind hard working people that love doing for people."
The Wing Queen (Vienna, restaurant): "This restaurant is ran by a woman who has many struggles. She is a wife, mother and she has physical limitations one is she is partially blind in one eye but she manages to get up and keep going for her family. She has the best wings in this small town."
Tuesdays Taco Truck & Restaurant (Columbus, food):
More on Tuesdays Taco Truck & Restaurant:

"This small family owned business started as a taco truck a few years ago and just recently opened their first brick and mortar location. They have made a huge impact in our small city sponsoring charities, high school students and promoting other small businesses throughout the city. They are doing great things for our city. Tuesday's cares about not just their company being a success but every small business being successful. They are always the first business to step up and help our community in good times and bad. We love Tuesday's Taco Shop/Truck!"
Twins Pizza & Steaks (LaFayette, restaurant): "… he's been in business for 35 years, he's helped so many in our community, he is 75 years old and still works all day 5 days a week."
Wanda's Cafe + Bakery (Augusta, restaurant)
Willie Jewell's BBQ (Kingsland, BBQ): "… the food is awesome. Their prices are fair. They have really great service."
Getty Music Creations (Gaithersburg, independent music business)
L& M Exquisite Meals (Hyattsville, caterer): "… the food had a true southern taste. The service was so professional and safety served."
Local Homestead Products (Marston, farm store): "Young couple providing vegetables, flowers, bakery products, etc. (often from other farms and small businesses.)"
Locust Point Market (Hagerstown, corner store): "…have been going here my whole life, great corner store in my area."
Marion Thrift Store (Marion Station, used household necessities and furniture)
Remodeling Professor (Columbia, home remodeling coaching):
More on Remodeling Professor:

"Jim Molinelli is the Remodeling Professor. He is an architect with 25+ years of residential remodeling experience, who now helps homeowners through the remodeling process. He has books and classes that teach you how to find a contractor, how to interview your list of potential contractors and how to select the right one for your job. He helps you avoid costly mistakes and reduce your stress, so you love where you live again."
Rise Up Coffee Roasters (Salisbury, coffee shop and bakery): "They as so friendly everything is made fresh to order your coffee, smoothies, lemonade and tea. The dessert are very fresh as eco friendly products cups and containers and straws."
Angier Family Pharmacy (Angier, pharmacy): "It so nice to know if you ABSOLUTELY NEED MEDICATION, they will help you get it. High praise for Diana & her TEAM."
Aura Chatman Events & Design (Greensboro, event management/event production): "They create an unforgettable experience. They make your dream event a reality you will never forget."
Box Office Kitchen & Cocktails (Greensboro, restaurant): "… they have taken over Greensboro. Great cocktails and music and signature food items."
Carter's Customs (Raleigh, custom car parts): "He strives to provide the best product and the best customer service to all of his customers."
Cashion's Quick Stop (Cornelius, gas and convenience)
Coats Pharmacy (Coats, pharmacy)
Custom Benefits Direct (Murphy, health and life insurance)
EnJoi Natural Body Products (Greensboro, all natural skin care): "After using her natural soap and skin and hair oil, I feel and look younger."
Faith Automotive Services (Randleman, mechanic):
More on Faith Automotive Services:

"This small business is veteran owned and operated by a very honest and loyal mechanic. He tries to keep your cost low and if anything is isn't what you discussed, he makes sure you are aware before moving forward with the work. Always polite, meet your needs and goes above and beyond."
Hal's Pawn & Gun Shop (Concord, pawn and gun): "In business since 1978, it's a pillar in our community."
Heavenly Creations (Charlotte, glitter/crafts/DIY projects): "… she cares about each of her customers, and puts little thank you notes in her packages. It's family owned and operated by everyone they love."
Hot Dog World (Hendersonville, drive-in restaurant): "A great restaurant with excellent food with ole time service."
J-Car Transmission (Asheville, vehicle transmissions):  "The office and mechanical staff are first rate professional and friendly."
Jerniman's Campground (Ocracoke, campground): "Very nice owners and helpful."
Jessica's Mediterranean & American Eatery (Rutherford College, restaurant): "Some of the finest people in this community. Food is fantastic but this small business has seen a hard time during this pandemic."
Lester's Hardware and Rental Center (Kinston, hardware store): "… right here in town, don't have to drive out of way and they have mostly what you need. Also they have rented equipment. Nice folks."
Mary's Little Lambs Day Care (Gates, day care): "It is a little slice of heaven. Where helping children to become all they can be is the main priority."
Mill Road Grocery (Rockingham, convenient store): "These guys always help people. They've been open for years and never miss an opportunity to do good in the community."
Mimi's Treats (Goldsboro, balloon store)
Miracle-Ear (Winston Salem, hearing aid specialist): "… they stayed open during the pandemic and saw other patients from local area at no charge whose hearing aid office closed … Great help for our community during uncertain times."
Mugs Coffee (Charlotte North, local owned coffee shop): "Plain and simple Oliver is a good person that loves the business and his customers. He is a great community supporter."
Raise the Bar Therapy Services (Hampstead, outpatient therapy services OT/PT/ST):
More on Raise the Bar Therapy Services:

"Michelle Biele started her business with the principal of caring, and treating each patient holistically, with improved healing results, and happy patients. Michelle treats her staff like family. I love working at Raise the Bar."
ReMox64, LLC (Hillsborough, technology design/development): "This business has been around for a little over a year … provide the best quality and cost effective equipment and services to its customers and suppliers!"
Samaritan's Heart Ministries Inc. (Wilmington , nonprofit business): "This ministry feeds the homeless, clothes the homeless, also provides job skills and housing when available."
Sullivan Custom Homes LLC (Cashiers, construction): "They kept their crews working during the pandemic and helped the community as much as they could during pandemic."
Sweets By Dai (Durham, bakery): "This business is owned and operated by my sister Sharda Edmonds. She makes the most amazing sweet treats in her own home with nothing but love."
The Evening Muse (Charlotte, music venue): "The Evening Muse has been closed since March 2020, has held up through the yearlong closure and is excited to finally be reopening in May, 2021."
ABC Locksmiths, LLC (Greenwood, locksmith): "… making a point to keep all employees on payroll during COVID-19 epidemic."
Allen Construction (Charleston, carpentry)
Carolina Spaces Furniture & Design (York, interior design and furniture sales): "… continuing to be a recognized trendsetter, and a well-respected and in-demand design firm … won numerous awards in design and service from local, state and regional to national and global."
Ella's Boutique Etc. (Florence, boutique):
More on Ella's Boutique Etc.:

"This business was started eleven years ago by the owner using her 401(k) plan. She helps underserved girls by donating prom dresses and others in the community who sometimes cannot afford that special outfit for wedding, funeral, etc. She does fashion show for Breast Cancer Awareness Month … She is a staple in the community and we would like to keep her business open."
Fyre Pizza Co. (Anderson, restaurant): "The owners have put their blood, sweat and tears into this business … they have wonderful food."
Gaston Family Pharmacy (Gaston, pharmacy): "Great people who will always do everything to help you whenever they can."
Green Shadows Tree Care and Landscape (Spartanburg, landscaping)
Greene's Painting & Construction (Florence, painting): "Transformation takes place when you use their services … paying attention to every detail and to every corner."
J's Carpet (Greenville, flooring): "They make sure the customer is happy! Take their time make sure stuff is right."
Mayberry Diner (Cross Hill, restaurant): "Great home cooked type meals. Very reasonable prices. Staff very attentive, cleanliness."
Miracle Hair Design LLC (Yemassee, hair loss and retail): "She gives the best advice and is very concerned about your hair and skin needs."
Myrtle Beach Hotel Furniture (Myrtle Beach, used furniture retailer): "He is always available to help the community, donations, etc. If he does not have what you're looking for he will do his best to find it."
Parsley & Mint (Greenville, Mediterranean food): "First time I have ever eaten Mediterranean food. It was so good and fresh. I cannot wait to go back."
Precious Little Ones Nursery & Care (Florence, family child care home): "A Family Child Care Home that provides quality child care in its community with a passion to care for children and support families."
Serenity Keepers Home Care (Sumter, home health): "… this business helps families … The owner is nice, courteous, loving and willing to work with people. The employees are friendly and they love their job."
Spring Hill Pastry Shop (South Charleston, bakery):
More on Spring Hill Pastry:

"Spring Hill Pastry has been a favorite for everyone that has ever visited there. They have always delivered the best of everything they make."
Tee Time Landscaping, LLC (Conway, landscaping): "I love the customer service they provide for each of their clients."
The Peoples Bank (Anderson, banking): "… very authentic touch of Southern hospitality that only enhances their efficiency and effectiveness."
WEC Lotus Boutique & Designs (Lancaster, design & clothing boutique): "A local boutique who funds the women's enrichment center. Young women with unplanned pregnancies who are taught parenting skills, seamstress skills, retail & design sales, etc. … Love this place! And they have great jewelry and clothes! And make great decorative bows!"
What Ales You (Greenville, craft beer pub): "Bryant has weathered a COVID lockdown and against odds still sells beer, really nice beer."
Adiva Naturals (Richmond, skin care): "… her products are made with all natural ingredients to help balance the skin and hair back to its natural beauty and glow … there's mango, cherry, roses, vanilla, sandalwood and lemongrass to just name a few."
Anderson Sunoco (Arlington, auto repair): "I've relied on Anderson Sunoco to take care of my car for years … they've always been competent, courteous and reasonably priced."
Auto Tech Service Center (Winchester, car repair and maintenance): "They are a small business that helps their customers and treat you like family."
Beckner Boiler Co. Inc. (Roanoke, boiler repair): "Always fixes the problems. Even weekends, nights, holidays, etc. … outstanding results."
Blue Ridge Graphics (Charlottesville, silk screen printing)
Chang Hua Chinese Restaurant (Pulaski, restaurant):
More on Chang Hua Chinese Restaurant:

"No matter how busy they are or what kind of day they're having, they are always the most respectful, polite, courteous, glad to see you people … I have never received a bad order, food has ALWAYS been correct and fresh. I always leave there not only happy with my food and service, but also with a smile and a more brighter than I was when I got there. They have been serving our community since I was a child and deserve recognition for the quality of customer service and respect … Always great fresh food with large portions at affordable prices. Thanks to this wonderful family."
El Agave Authentic Mexican Restaurant (Ruckersville, Mexican restaurant): "Always friendly, food is the best Mexican in a 50 mile radius."
Express Taxes R Us, Ltd. (Petersburg, tax preparation/bookkeeping service): "The management and staff truly care about their clients' needs and financial education."
Fidelity Medical Billing, LLC (Oak Hall, ambulance billing company): "During the COVID-19, this company continued to operate by the faithfulness of 3 people."
Golden Hour Boutique (Virginia Beach, clothing): "2 amazing women who took a chance during a time when most would have thought it was a crazy move…opened a small clothing boutique that focuses on the power of a woman!"
Granger Financial (Leesburg, insurance and financial services): "… focused now more than ever on building generational wealth in underserved communities and helping individuals establish their own small businesses and pursue their dreams."
Gregory's Oceanfront Barbershop and Salon (Virginia Beach, barber and hairstyling):
"The owner helps people in the community that are facing difficulties that are not of their making … never looks for acknowledgment for his actions."
Hair4theKulture (Norfolk, hair store): "Excellent hair quality and options, great prices also offers payment options and clothes too, great customer service"
Joe the Cart Guy (Richmond, custom built food trailers): "JTCG is instrumental and in some cases, the only way a new and small business owner seeking to sell their food can get off the ground."
Kay-Jay's Catering (Carrollton, catering): "… best soul food on a truck."
Mack's Body Shop (Portsmouth, auto body shop):
More on Mack's Body Shop:

"I thinks it's a great business because it's family operated and run by a small staff of three people and regardless of the pandemic had achieved staying open and afloat for business taking in at least 3 to 5 cars a week regardless of paying 3,000 dollars in rent for the shop itself utilities not included … Wilber Moran is great person, very friendly and very lenient when it's comes to his customers."
MinistryResource (Mechanicsville, ministry procurement organization): "Mark Towell and Darrell Myers are the most caring, compassionate people … I can't say enough to how unbelievably this company serves its community, city and state."
Neighborhood Cookin', LLC (Springfield, food manufacturer): "After losing his job, [the owner] did what he knows best, cooking for his family. Diligent research helped him launch his business in August of 2020 … Check out this new and upcoming BBQ sauce!"
Palace Jewelers (Hampton, jewelry): "Delightful and professional service always."
Purcellville Family Restaurant (Purcellville, restaurant)
Raymund Favis DDS (Fairfax, dentist)
Richee Freeze (Roanoke, fast food): "Cooked to order food fresh & good variety. Very tasty & large portions."
Royal Chariot Transportation Services (Fredericksburg, transportation): "They really have amazing staff; reliable, affordable transportation."
ShayJ Boutique (Newport News, retail): "Keep u cute for a reasonable price."
The Witt Stop (Buchanan, restaurant): "It's always giving back to the community. The owner has such a big heart. She goes out of her way to make everyone feel welcome."
Tuggles Plumbing (Raven, plumbing/new house repair services)
Two Chefs Pizza (Arlington, restaurant)
More on Two Chefs Pizza:

"In short, the food is delicious! Not only is the menu extensive, but if I ever want a food cooked a certain way or a substitution, no problem. Besides the pizza, I love love love their pork souvlaki, made with pork tenderloin, that melts in your mouth. The zucchini sticks are crispy and delicious, as are the French fries. I admit I have favorites that might run out now, but I've never had something I wouldn't recommend. So the secret's out. Try them. You'll be glad you did."
Uncommon Redesigns (Virginia Beach, art workshops): "The instructors and team of all female assistants are a joy. You go make and learn to make artwork in classes set for a specific craft. A good vibe we need in our area!"
Victoria's Kitchen LLC (Richmond, kids cooking school): "… [During COVID, it switched] to a virtual platform for our cooking classes … also created matching cooking and baking kits for virtual classes and created … line of gluten free vegan baked goods!"
Victory Innovative Christian Academy (Virginia Beach, small educational system): " … helps student learn in a unique teaching environment!! They teach the way each student learns. The director is great and always give families a very low rate, based on their ability to pay tuition."
White Birch Juice Co. (Abingdon, juice bar/restaurant): "The White Birch is the only juice bar in our town … It has an awesome menu and it's just a cozy place to eat and the juices are AMAZING! The staff and owners are the friendliest people you can meet!"
Washington D.C.
dc scooter (D.C., scooters): "The best scooter rental DC has to offer."
Finest Cuts and Styles (D.C., barber shop): "This is a great small business, the owner is very pleasant, caring so much for his clients have been very helpful during this pandemic."
West Virginia
Bigley Auto (Kanawha, auto shop): "A great place to get ur auto service done."
Maloney's Pub (Summersville, bar & grill):
More on Maloney's Pub:

"Maloney's is a great place for families & friends to meet up and enjoy great food, great atmosphere & staff that has worked together for years creating a great family dynamic & ideal team effort to ensure its guests leave happy & fulfilled. You may be new to Maloney's but you leave feeling like part of the Maloney's tribe."
Neff's just as good but cheaper (Wheeling, handyman/etc.)
Old Fields Country Store & Deli (Old Fields, convenience store with gas and food): "It has everything from gas to food and u can even buy frozen steaks and other meat that the owner has done off his own farm, but the nice employees is what makes it the best."
Check out all the other regions and their small business nominees:
East North Central: Indiana, Illinois, Michigan, Ohio and Wisconsin
West North Central:

 

Iowa, Kansas, Minnesota, Missouri, Nebraska, North Dakota, South Dakota
New England:

 

Connecticut, Maine, Massachusetts, New Hampshire, Rhode Island, Vermont
East South Central:

 

Alabama, Kentucky, Mississippi, Tennessee
South Atlantic:

 

Delaware, Florida, Georgia, Maryland, North Carolina, South Carolina, Virginia, West Virginia
Middle Atlantic: New Jersey, New York, Pennsylvania
West South Central:

 

Arkansas, Louisiana, Oklahoma, Texas
Mountain:

 

Arizona, Colorado, Idaho, Montana, Nevada, New Mexico, Utah, Wyoming
Pacific:

 

Alaska, California, Hawaii, Oregon, Washington
And check out more of the featured small businesses:
To return to the Small Business Spotlight page click here.