Are Banks Open or Closed on Good Friday 2023?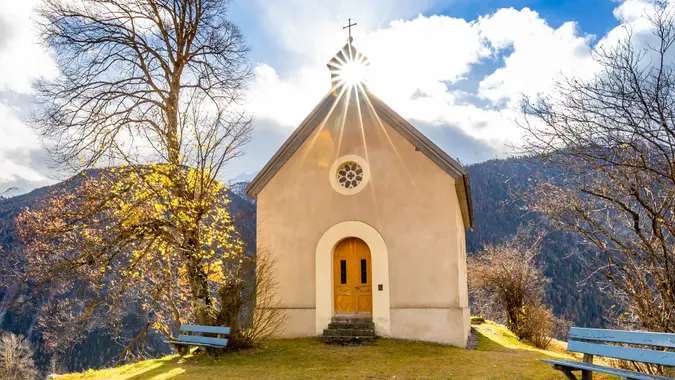 Damian Markutt / Unsplash
Good Friday 2023 takes place on Friday, April 7, and many Americans will observe the day by fasting and attending a religious service. But that doesn't mean it's a traditional bank holiday. Here's what you need to know about banking hours on Good Friday.
Are Banks Closed On Good Friday?
As Good Friday is not considered a federal or bank holiday, most public services including post offices, schools, libraries and banks typically remain open. The stock market will close on Good Friday, however, meaning that Nasdaq, New York Stock Exchange and other exchanges will not be trading.
Eleven states recognize Good Friday as a state holiday. Nine of those states mark it as a full holiday: Connecticut, Delaware, Hawaii, Indiana, Louisiana, New Jersey, North Carolina, North Dakota and Tennessee. It's an optional holiday in Texas and a half-day holiday in Kentucky. Residents of these states might find that some municipal services and businesses, as well as banks, are closed for Good Friday.
Banks Open Good Friday 2023
Good Friday is not among the 2023 federal bank holidays, but that doesn't mean all banks will open for business as usual. Make sure you verify the hours with your local branch before heading out on Good Friday.
Here's a list of banks that are usually open on Good Friday:
UBank
M&T Bank (although departments that follow the New York Stock Exchange holiday calendar are closed on Good Friday)
Banks Closed On Good Friday
No major banks have reported that they will close completely on Good Friday. However, many leave the decision to close up to individual locations, so if you have important business to conduct on Good Friday, check the hours at your preferred branch.
Most locations should be open to deposit money, pay bills or take advantage of other services as normal. For the few that won't be open, ATMs and online and mobile systems will all still be accessible if you find yourself needing to do some banking this Good Friday.
This article has been updated with additional reporting since its original publication.
The article above was refined via automated technology and then fine-tuned and verified for accuracy by a member of our editorial team.