Are Banks Open on St. Patrick's Day 2022?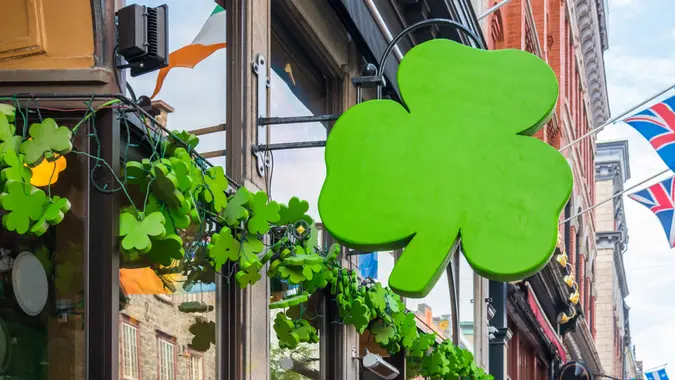 DavidPrahl / Getty Images/iStockphoto
St. Patrick's Day has evolved from a religious holiday into a day considered by many as a time to indulge in celebration and merriment. St. Patrick's Day marks the day many people historically celebrate the life of the patron saint of Ireland, Saint Patrick.
In recent decades, the holiday has become more secularized, extending to incorporate all facets of Irish culture — traditional and stereotypical. Before the current pandemic situation, in the U.S., it was common to wear green, drink beer and have a night out with friends and family. This may change this year in 2022, however, as long-standing traditions adapt for social distancing measures.
Take a look at what makes St. Patrick's Day unique and how it might affect the banking system.
Are Banks Open on St. Patrick's Day?
Most banks are open on St. Patrick's Day. Because St. Patrick's Day isn't recognized as a federal holiday, most financial institutions, schools and government offices will also remain open.
Banks Open on St. Patrick's Day
Below are just some of the banks that are open on St. Patrick's Day. Even banks not on this list are still likely to be open on March 17, though you can always call ahead to confirm your bank's normal hours of operation.
To be certain, call ahead to verify your bank's hours of operation on St. Patrick's Day.
When Are Banks Closed?
Federal law 5 U.S.C. 6103 establishes federal holidays and governs how holidays are observed if they fall on a weekend. When a holiday falls on a Sunday, it's usually observed on the following Monday. When a holiday falls on a Saturday, it is usually observed on the preceding Friday.
Here is a list of observed holidays in the United States in 2022:
New Year's Day
Martin Luther King, Jr. Day
Inauguration Day
Washington's Birthday
Memorial Day
Independence Day
Labor Day
Veterans Day
Thanksgiving Day
Christmas Day
Although most banks remain open on St. Patrick's Day, some might have modified hours. In the event you cannot make it into a retail branch, you should still be able to utilize online, mobile and other digital banking features.
Similarly, ATMs never take a day off, and many offer consumers the ability to make deposits and transfers in addition to a standard withdrawal. You can even use an ATM to simply check your account balance.
Tips for Banking on a Holiday
Banking on a holiday can seem tricky, but there are several ways to bank that don't require you to stop by a retail branch. Here are a few tools that allow you to bank on the go even while your bank is closed:
Online Banking
The internet helped revolutionize how banks do business. Many consumers opt to do their banking online. Several tools are available online that allow you to transfer, track activity and even schedule bill payments from your personal computer.
Eighty-four percent of retail bank customers say they have had at least one digital interaction with their bank within the last three months, according to J.D. Power. Some of the top national banks are pushing users to utilize digital resources as a way to lower costs and offer convenience to an evolving tech-savvy customer base. To put it in perspective, Bank of America considers 54% of its customers digitally centric.
Mobile Banking
Online banking isn't the only way to bank digitally. With the rise of smartphones, consumers are now turning to that "pocket computer" for their daily needs, including banking. Most modern banks are now rolling out proprietary digital applications that allow you to complete transfers, pay bills and set up text alerts, all from your mobile phone.
Additionally, mobile deposit features allow you to deposit a check on the go, meaning no trip into a bank branch is required. Simply take a picture of your endorsed check, provide some information about the deposit and watch it instantly go into your designated account.
Person-to-Person Payments
Person-to-person payments, or P2P, have become increasingly popular over the years, simply for their convenience and integration with many mobile banking applications. They allow users to send money directly from their personal bank account or credit card to another individual through a mobile device regardless of whether or not the parties share the same bank. More than 62% of millennials use P2P payments, Discover reported. Splitting a bill or rent payments has never been simpler.
This article has been updated with additional reporting since its original publication.
Information is accurate as of Mar. 10, 2022.