BBVA Near Me: Find Branch Locations and ATMs Nearby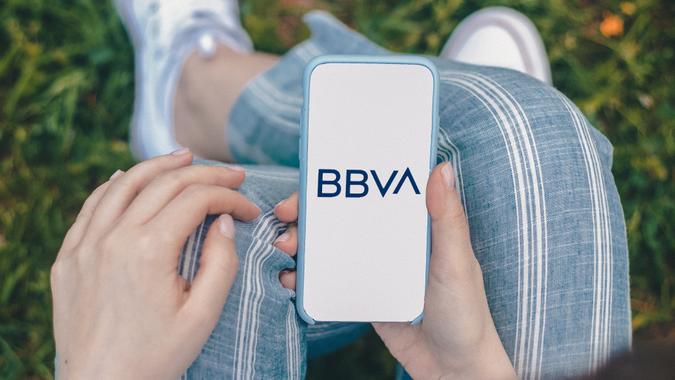 Yuliia Blazhuk / Getty Images/iStockphoto
BBVA Near Me
Find out where the closest BBVA branch is right now. Use this map to quickly pinpoint the location that's most convenient for you.
BBVA Locations Near Me
For the most current information available on the locations of BBVA branches and ATMs, use BBVA's locator tool. The tool is available for the following states: Alabama, Arizona, California, Colorado, Florida, New Mexico and Texas. Here's how:
Select a state to see all of the available cities where BBVA locations are present.
Select the city you're in — or the closest one to you — to see the addresses of branch locations.
Click "Use my current location" if you're not sure which city is closest. You will need to have location sharing activated on your device to utilize this option.
BBVA Branch Near Me
BBVA has 649 branches across seven states, with the largest number of branches located in Texas. Here's a breakdown:
| State | Number of Branches |
| --- | --- |
| Texas | 336 |
| Alabama | 89 |
| Arizona | 63 |
| California | 61 |
| Florida | 45 |
| Colorado | 37 |
| New Mexico | 18 |
BBVA ATM Near Me
If you're looking for a BBVA ATM near you, use this BBVA ATM locator. You can select whether you want to locate only BBVA ATMs or if you would like to include locations for Allpoint and 7-Eleven ATMs. Like BBVA ATMs, Allpoint and 7-Eleven ATMs are fee-free.
About BBVA
Here's what you need to know about BBVA's customer service options and operating hours.
Hours of Operation
BBVA bank lobbies and drive-thrus are open from 9 a.m. to 5 p.m., Monday-Thursday and 9.am. to 6 p.m. on Friday. BBVA branch locations and drive-thrus are not open on Saturday or Sunday. BBVA bank holidays include all of the Federal Reserve bank holidays, plus Juneteenth.
Customer Service
You can reach BBVA's customer service agents at 844-228-2872, Monday-Friday from 7 a.m. to 10 p.m. CT and Saturday from 8 a.m. to 4 p.m. CT. The automated system is available 24/7.
For faster service during business hours, BBVA recommends taking the following steps before calling:
Log in to the BBVA mobile banking app.
Tap on the microphone and say "customer service."
Verify your phone number and select a customer service area.
Press "Call Now."
BBVA's call centers are closed on New Year's Day, Independence Day, Thanksgiving and Christmas.
Other Banks, ATMs and Services Nearby

Bank Branches

ATMs

Other Services
This content is not provided by BBVA. Any opinions, analyses, reviews or recommendations expressed in this article are those of the author alone and have not been reviewed, approved or otherwise endorsed by BBVA.