How to Find Bank of America ATMs Near Me
If you're searching for "Bank of America ATMs near me," here are three easy ways to find them.
Bank of America comes in second among the biggest banks in the U.S., with $2.17 trillion in assets, according to Forbes. With its Preferred Rewards program, new customer incentive offers, and complimentary, one-year subscription to McAfee Internet Security, Bank of America attracts millions of customers.
Whether you have a BofA checking or savings account, you can use the bank's ATMs without incurring any fees. So that you don't have to use an out-of-network ATM that will charge fees, follow these step-by-step instructions for three different ways to find your nearest ATM.
1. Use a Search Engine Like Google to Find Bank of America ATM Locations
Using popular search engines like Google and Bing can be a great way to find the closest BofA ATM. Here's how:
Open your search engine.
Type in, "How to find Bank of America ATMs near me" or "Bank of America ATMs near me" in the search box and hit enter.
Review the map and list of ATM locations that pop up on your screen. The top three nearby ATMs are displayed with addresses and phone numbers, plus the option to visit the website.
Sponsors of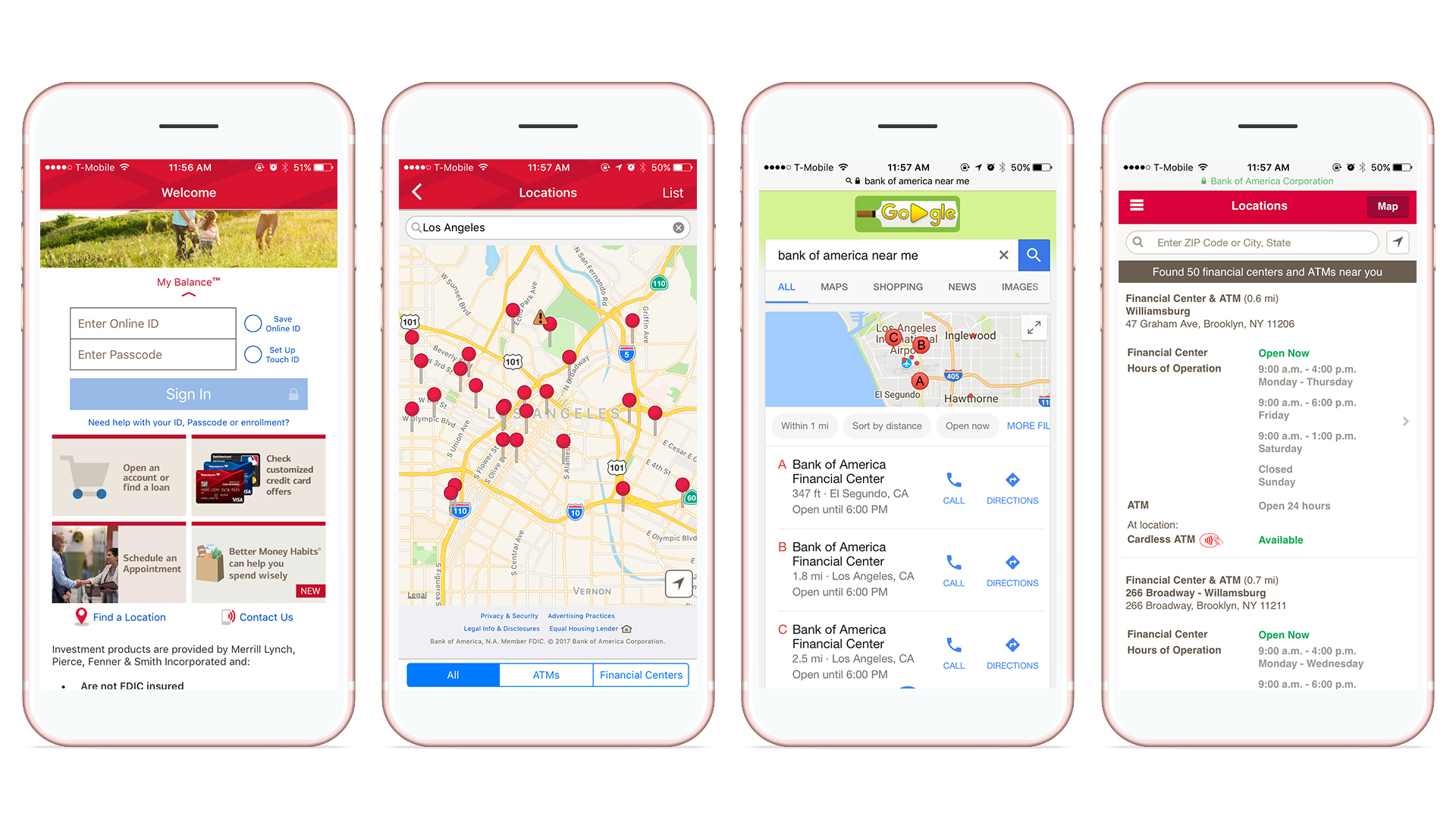 Related: Highest and Lowest ATM Withdrawal Limits at Chase, Wells Fargo and 14 Other Banks
2. Use the Online Financial Center Locator
Another way to find Bank of America ATM locations is to visit BofA's financial center online. Follow these instructions:
Head to the financial center locator at locators.bankofamerica.com.
Select your state from the list.
Click on your city.
View the results: The closest BofA ATM is displayed first — you can see how far away it is in the map image on the right.
3. Download the Bank of America Mobile Banking App
If you download banking apps, you can easily stay on top of your account activity and bank from anywhere with your mobile device. If you're on the go, you can access a list of the closest ATMs via the Bank of America mobile banking app.
Here's how to get a list of Bank of America locations by using the bank's app:
Sponsors of
Install the app from either Google Play or iTunes.
Open the app and tap on the words, "Find a Location" next to the red balloon.
Tap on "Allow" to enable location services in your device so the app can match you with nearby BofA ATMs.
Tap on the "ATMs" box at the bottom of the page and a map of your town will pop up with pins showing all of the BofA ATMs.
Tap the pin closest to your current location and the address will appear on the screen.
You'll need to adjust your mobile device settings so that your approximate current location can be found by your device's GPS. Look for "location" or "location services" in your settings menu to adjust the settings if your search results don't match your current location.
Related: Here's Your Bank of America Routing Number
Bank of America ATMs are talking ATMs that deliver private, spoken instructions through a headset for those who are blind or visually impaired, and talking ATMs provide all services. You can conduct a number of transactions from the teller machine, including depositing cash and checks, withdrawing money, checking your account balance and transferring money from one account to another.
Sponsors of
If you plan on traveling internationally, Bank of America recommends you set a travel notice on the card you plan to use while traveling. To do this, either sign in to online banking or use the mobile banking app to enter the details of your trip. You might even want to do this if traveling out of state to prevent any unnecessary fraud alerts.
More on Bank of America
More on Finding Banking Locations
Editorial Note: This content is not provided or commissioned by the bank advertiser. Opinions expressed here are author's alone, not those of the bank advertiser, and have not been reviewed, approved or otherwise endorsed by the bank advertiser. This site may be compensated through the bank advertiser Affiliate Program.