Here's Your KeyBank Routing Number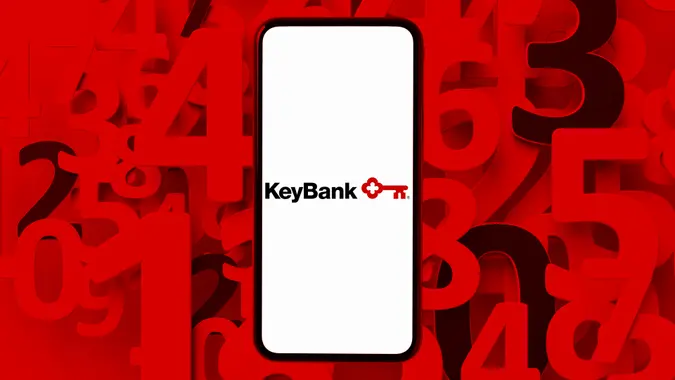 Your checking account's routing number is used for transferring funds to or from your account, so you'll need to know it in order to sign up for automatic bill payments, send a wire transfer or set up direct deposit.
If you're transferring money from your KeyBank account, or need to transfer money to a KeyBank customer's account, a routing number is necessary to complete the transaction.
KeyBank Routing Numbers by State
| State | Routing Number |
| --- | --- |
| Alaska | 125200879 |
| Colorado | 307070267 |
| Connecticut | 021300077 |
| Florida | 041001039 |
| Idaho | 124101555 |
| Indiana | 041001039 |
| Maine | 011200608 |
| Massachusetts | 021300077 |
| Michigan | 041001039 |
| New York | 021300077 |
| Ohio | 041001039 |
| Oregon | 123002011 |
| Pennsylvania | 021300077 |
| Utah | 124000737 |
| Vermont | 211672531 |
| Washington | 125000574 |
What Is a Routing Number?
A routing number, also known as a routing transit number or ABA number, is a nine-digit number assigned by the Federal Reserve to an American financial institution. The number is used for electronic bank-to-bank transfers within the U.S. Routing numbers are determined by the American Bankers Association and are only issued to federal- and state-chartered financial institutions that are eligible to maintain an account at a Federal Reserve bank.
Your specific KeyBank routing number is determined by where you opened your account. KeyBank has different routing numbers depending on the state.
How To Find Your KeyBank Routing Number
You can find your KeyBank routing number in more than one way. If you don't have this GOBankingRates chart handy to look up your routing number, you can find it on checks associated with your KeyBank account or by accessing your account online. On checks, the routing number is the first set of numbers located on the bottom left. The second set of numbers represents your account number and the last set of numbers make up the individual check number.
You will need both your routing and account numbers to receive funds directly into your KeyBank account.
What Do the Digits in Your Routing Number Mean?
The nine digits that make up your routing number contain identifiers that help pinpoint your account at your bank. The first four digits indicate the geographic location of the bank where you opened your account. The second four digits indicate your bank branch, while the final digit acts as a safety check to ensure the funds are being transferred to the right place.
If you are a KeyBank customer who's receiving an international wire transfer, you'll need to use the KeyBank SWIFT code to receive funds.
SWIFT stands for the Society for Worldwide Interbank Financial Telecommunication, and SWIFT codes are utilized by banks and other financial institutions to securely exchange messages or funds. Here's KeyBank's SWIFT code:
KeyBank SWIFT Code
KEYBUS3B
If you're wiring money internationally from KeyBank to a bank abroad, you'll need to use the destination bank's SWIFT code.
A final way to send and receive funds is through an automated clearing house transaction. The ACH system was originally developed as an electronic alternative to checks. Unlike wire transfers, which can be processed immediately, ACH transactions usually take one business day to process.
For most KeyBank customers, the ACH routing number is the same as the wire transfer routing number. Here's a look at different ACH routing numbers for different states:
State
ACH Routing Number
Connecticut
-222370440 for accounts opened prior to Oct. 11, 2016
-021300077 for accounts opened on Oct. 11, 2016 or later
Massachusetts
-222370440 for accounts opened prior to Oct. 11, 2016
-021300077 for accounts opened on Oct. 11, 2016 or later
Pennsylvania
-222370440 for accounts opened prior to Oct. 11, 2016
-021300077 for accounts opened on Oct. 11, 2016 or later
Whether you're setting up direct deposit at work or want your tax return deposited into your account, your routing number is an essential part of many different financial transactions.
Knowing your routing number — or knowing how to find it — will help ensure your money gets into your account faster and more efficiently.
Information is accurate as of March 16, 2023.
Editorial Note: This content is not provided by any entity covered in this article. Any opinions, analyses, reviews, ratings or recommendations expressed in this article are those of the author alone and have not been reviewed, approved or otherwise endorsed by any entity named in this article.