Here's Your Umpqua Bank Routing Number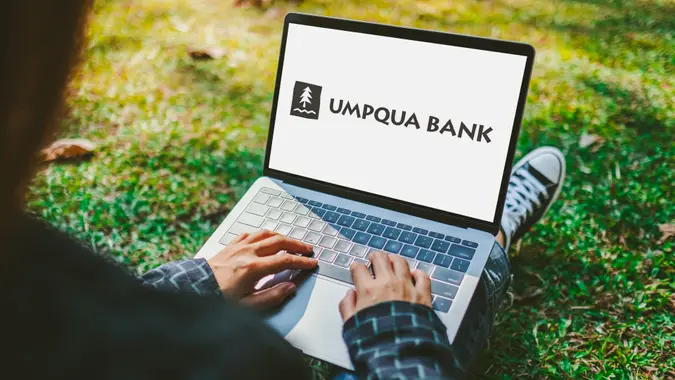 Umpqua Bank has roots in the timber town of Canyonville, Oregon, located along the South Umpqua River. It opened as South Umpqua State Bank in 1953 and has since gone through a name change and expanded beyond Oregon into Washington, California, Nevada and Idaho. Keep reading to learn the routing number for Umpqua Bank and how to use it.
Umpqua Routing Number
Here's Umpqua's routing number:
Umpqua Routing Number
123205054
You'll use this number to set up wire transfers, order checks and make direct deposits using your Umpqua account.

What Is a Routing Number?
Banks use routing numbers to identify each other. The numbers are made up of nine digits that contain information reflecting the identity of financial institutions involved with banking transactions.
The history of routing numbers dates to 1910, when the American Bankers Association introduced them to identify check processing endpoints. Routing numbers now serve a variety of functions, including being used to set up online payments.
Can Banks Have Multiple Routing Numbers?
Yes, banks can and do use multiple routing numbers. Larger banks such as Wells Fargo and Citibank use multiple routing numbers for different states and to reflect past mergers and acquisitions. But Umpqua Bank, being on the smaller side, only uses one routing number, regardless of where you opened the account.
How Do You Find a Routing Number on a Check?
Routing numbers are printed on the bottom-left part of a check beside the account number. If you've ever wondered why these numbers are printed in chunky font, it's because checks use a special typeface and toner known as magnetic ink character recognition code. This allows machines to read checks.
What Is the Routing Number for International Transfers?
When you wire funds overseas, you will use the participating banks's SWIFT codes. Umpqua Bank's SWIFT code is as follows:
Umpqua SWIFT Code
UMPQUS6P
SWIFT codes essentially function as routing numbers, but for international transfers. Banks use SWIFT codes to identify other banks' country of origin and, in some cases, the specific branch that is involved in the transfer.
What They Are and How To Find Them: Demystifying SWIFT Codes
More on Umpqua
More Routing Numbers
This content is not provided by Umpqua Bank. Any opinions, analyses, reviews or recommendations expressed in this article are those of the author alone and have not been reviewed, approved or otherwise endorsed by Umpqua Bank.