What Is a Cash Management Account?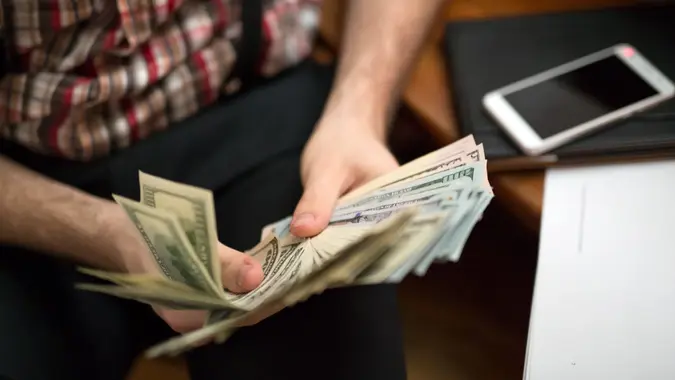 mammuth / Getty Images/iStockphoto
A Cash Management Account, or CMA, is an alternative to a traditional checking or savings accounts from a bank. These accounts allow you to access your cash while putting it to work.
CMAs aren't for everyone, so you should always evaluate all options carefully. Keep reading to learn what cash management accounts are, how they work and where you can get one.
What Is a Cash Management Account?
Cash management accounts are often offered by financial institutions other than banks, generally brokerage firms. They're designed to let you access the money you might have invested with the firm while giving you ways to earn interest. Most accounts give you a debit card and provide many features that checking accounts have. For example, the cash management account at Fidelity offers a full suite of spending and money management features as well as FDIC insurance.
In short, CMAs enable you to manage your cash, make payments and even earn interest while keeping your money safe.
Advantages of Cash Management Accounts
Take a look at some of the top reasons to have a cash management account.
May Simplify Banking
Cash management accounts are designed for investors who want to combine their banking and investing with one firm. That way, you can use one financial institution for all your spending, saving and investing goals. Because the accounts are with the same institution, it's easy to transfer money between cash and investments. Wealthfront, for example, provides easy transfers from its cash accounts to its investment accounts.
May Earn More Than Traditional Checking and Savings Accounts
CMAs may earn more interest than traditional banking accounts. For example, at the time of writing, the interest rate for Bank of America's Advantage Savings account is 0.01%. Cash management accounts can earn much more interest. For example, the current interest rate for SoFi's cash management account is 0.25%, when the account has a monthly recurring deposit of $500 or more every month.
May Have Better FDIC Protection Than Checking Accounts
Brokers distribute the cash that you deposit into multiple FDIC-insured bank accounts at program banks. That means that you can take advantage of multiple bank accounts and get FDIC insurance of $1 million or more for large amounts of cash all in one place.
Disadvantages of Cash Management Accounts
Here are some of the downsides to consider when you open a cash management account.
No Physical Branches
The primary disadvantage of cash management accounts is that they're offered by institutions that don't always have physical branch locations. So all of your interactions with customer support will be online only.
May Earn Less Than Other Investments
While cash management accounts can earn more than traditional checking accounts, they won't earn as much as other investment assets like stocks. So you should consider the opportunity cost of depositing large amounts of cash in one. That being said, they don't come with the same risks either.
Considerations
Here are some important factors to consider before you open your CMA.
Do You Need to Bank in Person or Do You Do Most of Your Banking Online?
Since most cash management accounts are offered by institutions with no brick-and-mortar locations, they're best suited for people who do most of their banking online. If you do a lot of banking at physical branches, a CMA may not be the best choice for you.
Do You Have Large Amounts of Cash You Want To Keep Safe but Accessible?
Because of the distributed nature of cash management account deposits, you can enjoy the cumulative effect of FDIC coverage. Some cash management accounts provide up to $1 million or more of FDIC insurance.
Do You Already Work With a Brokerage for Your Investment Accounts?
If you already have an investment broker, check with them to see if they offer cash management accounts. You could simplify your banking by consolidating with one financial institution you already work with.
What Companies Offer Cash Management Accounts?
Many financial institutions offer cash management accounts. Here are a few to consider.
Fidelity
Fidelity offers a cash management account for customers who prefer online banking and have high cash balances they want to protect. Here's Fidelity at a glance.
SoFi
Social Finance, Inc., commonly known as SoFi, offers a no-fee cash management account with additional perks, like access to its member community. Take a look at SoFi at a glance.
| FDIC Protection | Up to $1,500,000 |
| --- | --- |
| Interest Rate | 0.25% |
| Minimum Deposit | $0 for deposits; must deposit $500 per month to earn the advertised interest rate |
| Fees | No account fees |
| Features | Checks, bill pay, remote check deposit, direct deposit, access to member benefits like career coaching and financial advising |
Betterment
Betterment offers its customers a cash management account that also provides analysis and guidance. Here's a glance at Betterment.
| FDIC Protection | Up to $1,000,000 |
| --- | --- |
| Interest Rate | 0.30% (variable rate) |
| Minimum Deposit | $0 |
| Fees | No account fees |
| Features | Joint accounts, high interest rate, spending analysis and guidance |
Final Take
Cash management accounts are a flexible alternative to traditional checking accounts. These accounts often feature higher FDIC insurance limits and higher interest rates compared to typical bank accounts. CMAs are perfect for investors with large amounts of cash who want to protect that money while still having access to it.
Our in-house research team and on-site financial experts work together to create content that's accurate, impartial, and up to date. We fact-check every single statistic, quote and fact using trusted primary resources to make sure the information we provide is correct. You can learn more about GOBankingRates' processes and standards in our editorial policy.