What Is an Interest Checking Account and Should You Get One?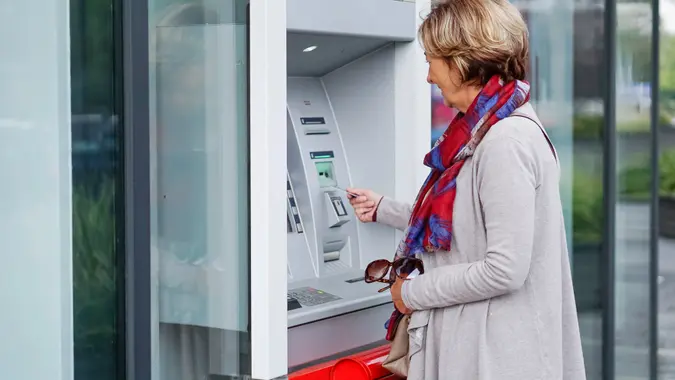 BakiBG / Getty Images/iStockphoto
A checking account is one of the most important tools in your personal finance toolkit, but the balances in these accounts typically don't earn interest. An interest-bearing checking account combines the flexibility of a checking account with the balance-boosting features of a savings account. Read on to learn more about these accounts and how they work.
See: How To Guard Your Wealth From a Potential Banking Crisis With Gold
What Is an Interest Checking Account?
An interest checking account is a type of checking account that earns interest. It works like a standard checking account that you can use to pay bills, monitor your money and keep it safe. Unlike a standard checking account, it comes with a bonus: This account earns interest on the balance. Customers with an interest checking account may also qualify for perks like instant access to check deposits, lines of credit, and credit score monitoring.
Banks may apply the same annual percentage yield to all interest-bearing checking accounts or use a tiered system designed to reward customers with higher balances or encourage customers to save. At one bank, for example, an account with an average daily balance of $1,000 may have an APY of 0.41%, while another account with a balance of $50,000 has an APY of 0.50%. Another bank may reserve the best rates for beginning balances — say up to $1,000 — and reduce the APY as the balance increases.
Upgrade Your Checking Account
Interest Checking Account vs. Savings Account
Interest-bearing checking accounts share two important features with savings accounts. They earn interest and come with FDIC protection as long as the bank is insured by the Federal Deposit Insurance Corp. However, savings accounts typically have higher APYs than checking accounts at the same bank. For example, Ally's interest checking account has an APY of on balances up to $14,999 and an APY of on balances greater than $15,000, while the bank's savings account has an APY of . For this reason, an interest-earning checking account is not a substitute for a savings account.
Interest Checking Account vs. Money Market Account
A checking account that earns interest has more in common with a money market account. With both types of accounts, you can withdraw cash from an ATM, write checks and use a debit card to make purchases. Money market accounts also tend to have higher APYs than checking accounts and usually require a minimum balance. Like a savings account, a money market account has less liquidity than a checking account, as you may notice restrictions on certain types of transactions.
Upgrade Your Checking Account
How Much Interest Do Checking Accounts Earn?
The amount you can expect to earn in an interest checking account depends on where you bank and how much you keep in the account. The APY can vary greatly between banks, and online and smaller banks tend to offer higher rates than large national banks. For example, Ally's interest checking account pays an APY of or , depending on the balance, and Capital One pays , but Chase Premier Plus Checking pays APY.
The advertised APY only tells part of the story. Some banks don't pay interest if the balance falls below a certain threshold. Other banks cap the APY and lower it as the balance increases. Still others reserve the highest APY for the accounts with the largest balances.
Example

These terms directly affect how much money the account can potentially earn. Say, for example, Sara wants to open an interest checking account and plans to keep $1,000 in the account at all times as overdraft protection and to cover emergency expenses. She considers several options:

Bank A pays 0.25% on balances greater than $2,500, so there's a chance her account would not earn interest.
Bank B pays 0.25% on balances up to $500 and 0.10% on balances between $501 and $1,000. At this bank, she would earn a higher rate on half of the balance and a lower rate on the rest.
Bank C pays 0.10% for balances up to $25,000 and 0.25% for balances greater than $25,000. In this case, Sara's account qualifies for the lower APY.

Each of these structures benefits a different type of customer. If you keep just enough money in your checking account to pay your bills and cover an emergency, consider an account that pays the highest APY for lower balances.
Upgrade Your Checking Account
Pros and Cons of Interest Checking Accounts
To help you decide whether an interest checking account is right for you, here are some pros and cons to consider.
Pros
The balance in the account earns interest.
Interest checking accounts have more liquidity than a savings account or money market account.
Accounts may come with additional perks like free checks, waived fees for counter services, and more.
Cons
It may require a larger minimum balance to earn interest.
APYs tend to be lower compared to savings accounts.
Final Take
Earning money on your checking account balance is a great idea, but make sure you choose an account that best suits your financial situation and habits. Note the terms of the account and what you have to do to qualify for the top APY to maximize the earnings, but compare the rates to savings accounts. Chances are that a savings account still pays better.
FAQ
Here are some answers to frequently asked questions about interest-earning accounts.
Can I get interest on a checking account?

If you open an interest-bearing checking account, your balance can earn interest each month. However, this type of account is not a replacement for a savings account. Keeping your emergency fund in a savings account or using one to save for a specific expense is often the better choice. A higher APY and less accessibility to the money means you're more likely to leave the cash alone and let it grow.

Which bank gives you 6% interest on a savings account?

Digital Federal Credit Union advertises an APY of 6.17% on balances up to $1,000. It drops to 0.16% for the rest of the balance in the account. With Mango Savings, you can earn 6.00% APY on balances up to $2,500 and 0.10% on the remaining balance.

Which bank gives you 7% interest on a savings account?

Digital Federal Credit Union and Mango currently offer the highest APYs available for a savings account. However, Landmark Credit Union does pay 7.50% APY for the first $500 in a Premium Checking account.
Upgrade Your Checking Account
Rates are subject to change; unless otherwise noted, rates are updated periodically. All other information on accounts is accurate as of June 7, 2023.
The information related to Chase Premier Plus Checking was collected by GOBankingRates and has not been reviewed or provided by the issuer of this product. Product details may vary. Please see the issuer's website for current information. GOBankingRates does not receive commission for this product.

Our in-house research team and on-site financial experts work together to create content that's accurate, impartial, and up to date. We fact-check every single statistic, quote and fact using trusted primary resources to make sure the information we provide is correct. You can learn more about GOBankingRates' processes and standards in our editorial policy.