What Is the Bank of America Cashier's Check Fee?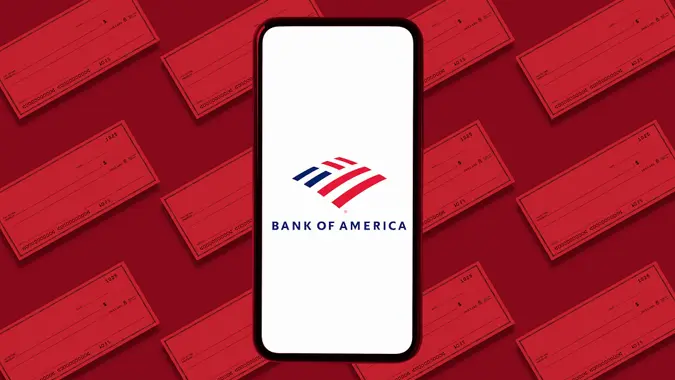 With a Bank of America, Member FDIC, checking or savings account, you have access to financial products, including cashier's checks. You might need a cashier's check for a large transaction for which a guaranteed form of payment is requested, like buying a house or a car.
Although some banking institutions will issue cashier's checks if you don't bank with them, Bank of America issues them only to account holders. Depending on the type of account you have with Bank of America, you might also have to pay a $15 fee. Keep reading to learn more.
What Is the Bank of America Cashier's Check Fee?
Bank of America offers cashier's checks to all customers with a checking or savings account for a $15 fee. If you are enrolled in Bank of America's Preferred Rewards program, however, this fee will be waived when you get cashier's checks.
Bank of America is not the only bank that charges a cashier's check fee. Wells Fargo and PNC Bank typically charge $10, though they both offer cashier's checks for free on certain accounts. Capital One charges $20 for online cashier's check requests or $10 in-branch.
How To Get the Bank of America Cashier's Check Fee Waived
The Bank of America cashier's check fee is $15. The only way to get the fee waived is by being enrolled in the Bank of America Preferred Rewards program. To qualify for Preferred Rewards, you must have a three-month combined average daily balance of at least $20,000 in your Bank of America deposit accounts and Merrill investment accounts.
How To Get a Bank of America Cashier's Check
To get a cashier's check from Bank of America, you need to visit your nearest branch and provide the teller with the following:
Your ID
Your bank account information
The exact amount of the check
The name of the payee
Upgrade Your Checking Account
The teller will look at your account to verify that you have enough funds to cover the check. After that, the teller will print the check and sign it. Once you pay the check fee, you can take the check and present it to the payee.
How Cashier's Checks Differ From Other Guaranteed Checks
Cashier's checks are different from money orders and certified checks. A certified check is a personal check that the bank certifies. They will sign it as a guarantee that you have the funds in your account and that your signature is genuine.
Like cashier's checks, money orders are prepaid. A money order, however, is limited to $1,000 or less. If you need to pay for something that costs more than $1,000 and the payee wants a guaranteed form of payment, you'll likely need a cashier's check. For smaller transactions, you can get money orders from financial institutions, post offices and even some retail stores, like Walmart. 
How To Avoid Cashier's Check Fraud
Because cashier's checks are generally trusted, they are frequently used in scams. Although you can usually withdraw funds from a deposited cashier's check quickly, if the check ends up being fraudulent, you'll be responsible for paying the money back to the bank.
Be careful about accepting a cashier's check from a stranger, even one issued by Bank of America or another trusted bank. To cut down on the likelihood of getting a bad cashier's check, follow these steps: 
If possible, ask for a cashier's check drawn from a bank with a branch near you.
Call or visit the bank on which the check is written to find out if it is genuine.
Know the difference between funds being available for withdrawal and the cashier's check actually clearing. Some banks are required by law to make funds available to customers even if the check hasn't cleared.
Upgrade Your Checking Account
Final Take
A cashier's check can be a convenient way to pay for a large purchase, such as a car or house. However, if you receive a cashier's check, you should be mindful of possible scams. You can always call the bank to verify if the check is genuine.
FAQ
Here are the answers to some of the most frequently asked questions regarding cashier's checks.
What is the maximum amount of a cashier's check at Bank of America?

While policies may be adjusted from time to time, Bank of America currently lists no maximum limits for cashier's checks. If the money is in your account and available, you should be able to get a cashier's check for it.

How much is a $100 cashier's check?

At Bank of America, any cashier's check costs $15. The total cost of a $100 cashier's check would be $115.

Where can I cash a $20,000 check without a bank account?

The best place to go may be the bank that issued the check. If the bank does not cash checks for non-customers, you may be able to find another bank in your area that will. If not, you can go to a check-cashing business, though you may be charged higher fees.
Chris Ozarowski contributed to the reporting for this article.
Information is accurate as of July 19, 2023.
Editorial Note: This content is not provided by any entity covered in this article. Any opinions, analyses, reviews, ratings or recommendations expressed in this article are those of the author alone and have not been reviewed, approved or otherwise endorsed by any entity named in this article.